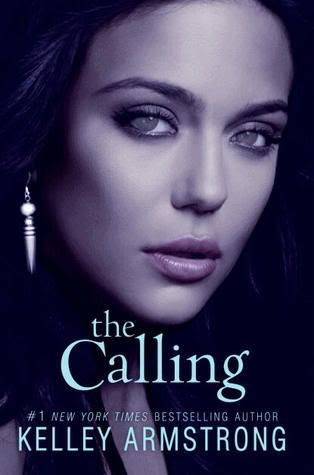 The Calling
by Kelley Armstrong
Pages:
326
Published:
April 10, 2012 (HarperCollins)
Source:
ATW ARC Tours
Rating
: Squee-worthy
Series or Stand-alon
e: Darkness Rising (2)
Further info/Purchase
:
Goodreads
|
Amazon
|
Barnes & Noble
Find the author online
:
Website
|
Twitter
Maya Delaney's paw-print birthmark is the sign of what she truly is—a skin-walker. She can run faster, climb higher, and see better than nearly anyone else. Experiencing intense connections with the animals that roam the woods outside her home, Maya knows it's only a matter of time before she's able to Shift and become one of them. And she believes there may be others in her small town with surprising talents.
Now, Maya and her friends have been forced to flee from their homes during a forest fire they suspect was deliberately set. Then they're kidnapped, and after a chilling helicopter crash, they find themselves in the Vancouver Island wilderness with nothing but their extraordinary abilities to help them get back home. Plentiful action and romance in this second installment in the Darkness Rising series will keep readers enthralled to the last page.
By now it shouldn't come as a surprise to anyone that I am a huge fan of Kelley Armstrong. Her Darkest Powers trilogy is partially what catapulted me back into reading YA novels and I am always super excited to read a new novel by her. With The Calling, the second book in her Darkness Rising series, Kelley begins to further bridge the gap between trilogies in a heart-pounding, gut-wrenching, stake-rising way. Picking up exactly where The Gathering left off, with The Calling, we're immediately plunged right back into the action as Maya and her assorted, eccentric group crash land on Vancouver Island. Struggling to maintain some sort of calm amidst the undeniable danger surrounding them, Maya, Daniel, and the others carry this impressive novel. Kelley Armstrong is so gifted at creating an atmosphere of peril, and this overtone is present throughout the story. Even when the group thinks they're safe, Armstrong has only fooled them and us into a false sense of security.
Not only is The Calling a thrill-ride with a side of uncertainty, in this installment we also get to see several characters take on bigger, more important roles, both in each other's lives, and as individual characters. Secondary characters from the first book, like Nicole, Sam, Corey, and Haley are bumped up a notch as to how they play into the bigger story being told, and it was really refreshing to see that Kelley Armstrong didn't let me down, in that aspect. I always find myself drawn not just to her main characters, but her minor characters, as well, because they're always memorable, which just seems - to me - to go hand-in-hand with her clear, concise, yet descriptive writing style. I am still not a fan of a few of the characters, but I loved getting inside Sam's motivations and seeing that there is more to her and to Corey than meets the eye. I look forward to learning a lot more about them! I think it should be really fascinating learning more about everyone's powers and how they play off one another. This group has a LOT of potential to do some great things! There are some serious trust issues brought up in The Calling that I hope they can all work through, though, but I found it to be really fascinating, sort of moment where the tables were turned on what they all thought of each other.
Another aspect of this book that I loved is that Kelley Armstrong even found a way to work in a bit of romantic tension, between Maya and Rafe, and unless I'm imagining it, between Maya and Daniel. I may be the only one here, on a little deserted island called Denial, but...I am REALLY cheering for Maya and Daniel. They have this incredibly strong friendship and bond, and I love that so much. Rafe and Maya are intense and powerful, and there was definitely that tense vibe there, but I just...for the first time ever, I'm disappointed in one of Kelley's couples. Always before, I BELIEVED in the couple she was writing about, because she showed us why they were good for one another, showed that they were in love. With Rafe and Maya, I don't feel anything, other than a detached sort of, "oh, okay, they're interesting." And maybe this is my preference for the boy-next-door showing, but I feel like Daniel and Maya have a lot of potential to be an amazing pairing. They may never go there, and if they don't, it's cool - they work so well as friends that as long as they're always at least friends, I'm going to be happy. Rafe and Maya happened so fast - they went from 0 - 60, in my opinion, and because of the circumstances surrounding them as a couple, I just can't get behind them. I do love me some Daniel though, and I adored watching him figure out what his abilities were, and seeing him being there for Maya. I definitely expect him to continue to be completely awesome in the third book. And really, Maya is such a strong, kick-ass character that even if she ends up alone, I'd be okay with that, too. I definitely wouldn't call Rafe/Maya/Daniel a love triangle, because Daniel has never said anything to really make a case for himself, but everyone but Maya seems to think that he's crazy for her, so we'll see!
The Calling is a terrific addition to Kelley Armstrong's Darkness Rising series. The characters are never able to slow down, so neither is the reader. You will not be bored while reading this novel; if anything, you'll be like me - seeing how fast you can turn the pages to discover what happens next. Between the character growth and the secrets revealed, and most especially, the links to and hints about Chloe and the others from the Darkest Powers trilogy, I genuinely cannot wait for the third and final book!