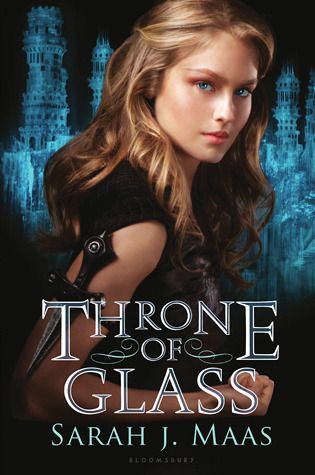 Throne of Glass
by Sarah J. Maas
Pages
: 416
Expected publication
: August 7, 2012 (Bloomsbury USA)
Source:
E-ARC from NetGalley
Rating:
Squee-worthy
Add it/Purch
ase:
Goodreads
|
Amazon
|
Barnes & Noble
Connect with the author
:
Website
|
Twitter
|
Facebook
___
After serving out a year of hard labor in the salt mines of Endovier for her crimes, 18-year-old assassin Celaena Sardothien is dragged before the Crown Prince. Prince Dorian offers her her freedom on one condition: she must act as his champion in a competition to find a new royal assassin.

Her opponents are men—thieves and assassins and warriors from across the empire, each sponsored by a member of the kings council. If she beats her opponents in a series of eliminations, she'll serve the kingdom for three years and then be granted her freedom.

Celaena finds her training sessions with the captain of the guard, Westfall, challenging and exhilarating. But she's bored stiff by court life. Things get a little more interesting when the prince starts to show interest in her... but it's the gruff Captain Westfall who seems to understand her best.

Then one of the other contestants turns up dead... quickly followed by another. Can Celaena figure out who the killer is before she becomes a victim? As the young assassin investigates, her search leads her to discover a greater destiny than she could possibly have imagined.
There's something so heady and thrilling for me about opening the pages of a new fantasy novel, and I definitely had that sense of excitement and wonder as soon as I began Throne of Glass. Even though we meet the main character, Celaena, under the most trying conditions, my heart went out to her as she was given an impossible choice: compete to become the champion of a king she doesn't respect, or stay in the mines of Endovier, and die there. I admired Celaena's strength of character, and the fact that she was definitely resourceful and a survivor. I identified with her throughout Throne of Glass because I made that instant connection with her.
Sarah J. Maas has breathed fresh life into familiar elements of fantasy with her debut novel. Along with wonderful characters, I'm a big fan of the world-building, which was solidly done. Adarlan felt like a real place, and I really enjoyed the time Maas took to craft the kingdom, as well as the other cultures and areas mentioned. Set against a backdrop of court intrigue, the places Celaena visits in Throne of Glass are burned brightly into my memory, awaiting further exploration. I felt like I was right there with her, discovering the glass castle, daring to attend a masked ball, training with Chaol Westfall, and entering the competition to be King's Champion.
Plot-wise, Throne of Glass has a lot of fantastic things going for it. I absolutely loved the idea of the Champion competition, and I was of course, cheering for Celaena. But what I didn't expect to find among the eclectic group of thiefs, murders, and assassins were one or two other characters who really stood out in my mind as memorable, like Nox and Pelor. I really enjoyed the notion that, although at first glance, all of these men were bad to the core, that there could be a few who had more in common with Celaena than she originally thought. I thought that Nehemia was another brilliantly written character, and I also really came to like Captain Westfall. Under his gruff exterior, he was actually a fabulous counterpart to Celaena, and I greatly looked forward to their interactions!
What I loved about Throne of Glass was that as the book went on, the mystery surrounding the competition grew deeper and more difficult to unravel. Sarah J. Maas did a fantastic job of keeping the tension high throughout the story - there was never really a moment when I breathed easy, or was allowed to forget what was at stake. And then there's the brewing tension between Adarlan and other countries, not to mention the fact that potential Champions keep dying. It all added a seething undertone of fear and unease to Throne of Glass that I approved of!
If I have any complaint with Throne of Glass, it's that there was too much information coming at me at times. I like it when authors slowly reveal their cultures, secrets, and such. I know at times, especially in fantasy, an "info dump" can be really difficult to avoid, but I felt like that happened somewhat. And although I really DID like the romance that developed, and that it was actually given time to do so, so that it all felt natural, I was disappointed that I just kind of didn't "get" said romance. I'm the oddling that usually cheers for the underdog, and although there isn't really a love triangle in Throne of Glass, unrequited love is hinted at, and I have to wonder where that might go in the sequel.
Definitely give Throne of Glass a chance, though, especially if you are a fan of fantasy novels! The characters are well-developed, and there's a great element of mystery and danger. I'm very much looking forward to the sequel and seeing where Sarah J. Maas takes her series!
Other books by this author
(All are prequel e-novellas to Throne of Glass)