Hourglass by Myra McEntire
Published: 06.14.2011 (Egmont)
Pages: 397 (Hardcover)
Series: Hourglass (1)
Rating: 5 of 5 stars
Further info: Goodreads | Amazon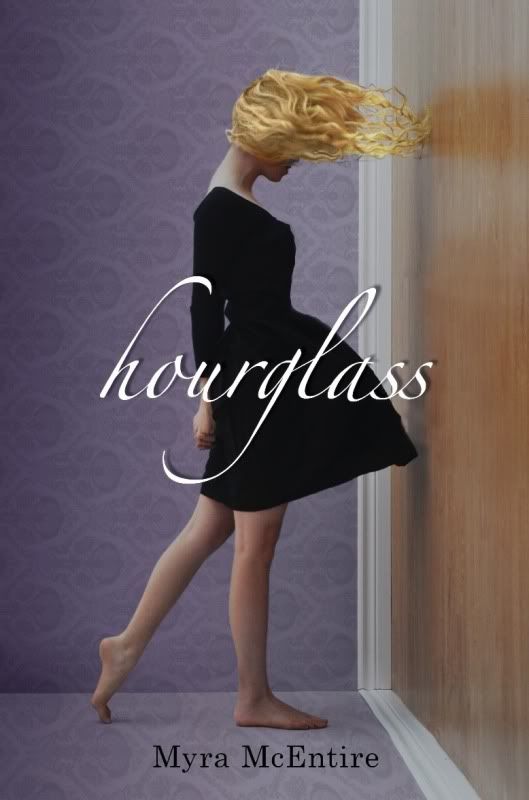 One hour to rewrite the past . . .
For seventeen-year-old Emerson Cole, life is about seeing what isn't there: swooning Southern Belles; soldiers long forgotten; a haunting jazz trio that vanishes in an instant. Plagued by phantoms since her parents' death, she just wants the apparitions to stop so she can be normal. She's tried everything, but the visions keep coming back.
So when her well-meaning brother brings in a consultant from a secretive organization called the Hourglass, Emerson's willing to try one last cure. But meeting Michael Weaver may not only change her future, it may change her past.
Who is this dark, mysterious, sympathetic guy, barely older than Emerson herself, who seems to believe every crazy word she says? Why does an electric charge seem to run through the room whenever he's around? And why is he so insistent that he needs her help to prevent a death that never should have happened?

My Review
I'm just going to say it and get it out of the way: I loved this book. It gets 5 stars, of 5. Which over the last couple years, hasn't happened very often. As my reading tastes have changed, 4 and 5 stars is harder to gain. But this book was...fantastic. Start to finish. I opened it and fell into the story immediately, and closed it on the last page only regretting I'd read it THIS soon and the sequel is not even titled yet, let alone publishing any time soon.
Emerson Cole is one of the most refreshing lead female characters that I have come across in a long, long time. All too often the trend in books tends to be heroines who have no faith in themselves, and in their abilities (whether said ability is supernatural, or simply doing well in school.) If there is one thing I cannot stand, it's a female with no sense of self worth. Emerson definitely did not fall into that category. She had moments where she doubted herself, moments where she struggled to retain her grip on reality, and moments of self-doubt. But she was also real. And she had
confidence
. I could go on and on about how much I love her, and can't wait to see more of her!
Myra McEntire has created a stunning, yet believable premise with her debut novel,
Hourglass
. Shaken by her ability (curse?) to see what she thinks are ghosts from the past, Emerson Cole is dubious when Michael Weaver - who is only a few years older than her - approaches her via her brother offering to help her learn to deal with what she is saying. Even more shocking than her instant connection to him: she isn't seeing ghosts. What she IS seeing, and Michael's involvement, sets the tone for the rest of the novel. Watching Emerson and Michael get to know one another was fascinating, as was understanding their bond. Too many authors pull out the "love at first sight" card, but what I liked SO much about these two is that they were "intense interest" at first sight, which grew and was explored over the course of the book. They didn't rush into one another's arms - if anything, they both resist their attraction, with good reason, and the tension between Emerson and Michael only made Hourglass all that more enjoyable.
I just cannot get over Myra's mythos. The supernatural is definitely here, it's a prevalent theme, and Emerson's skepticism made it all the more genuine feeling, along with a fantastic cast of supporting characters. For me, Michael's best friend, Kaleb was as interesting and alluring as Michael, if not so, in a couple ways. I absolutely want to know more about the delicious Kaleb, and others, and I really hope Myra further explores the interactions and camaraderie between the group at Renegade House. I feel like each of them has a story to tell, even Ava, who serves as a troubled foil for Emerson.
I want to say so much more, but I don't want to spoil anything for anyone. (I'd LOVE to discuss in the comments though! Hint, hint!) All I really can say is that this book...is one you need to read if you are a fan of YA, sci/fi-fantasy, and the paranormal. The pacing is great - moves along quickly without leaving you behind. The characters are fleshed out and believable. The romance is subtle and genuine, but still left me a little breathless.
Hourglass
just might be my favorite book of 2011 so far.
Memorable Quote
"Most of what I say is complete truth. My edit button is broken."- Emerson