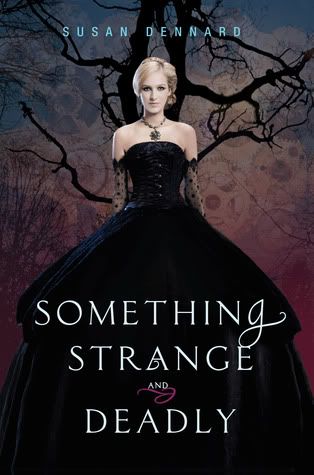 Something Strange and Deadly
by Susan Dennard
Pages
: 400
Expected publication
: July 24, 2012 (Harper Teen)
Source
: ARC from the publisher
Rating
: Squee-worthy
Add it/Purchase
:
Goodreads
|
Amazon
|
Barnes & Noble
Connect with the author
:
Twitter
|
Website
|
Book Website
___
The year is 1876, and there's something strange and deadly loose in Philadelphia…

Eleanor Fitt has a lot to worry about. Her brother has gone missing, her family has fallen on hard times, and her mother is determined to marry her off to any rich young man who walks by. But this is nothing compared to what she's just read in the newspaper—

The Dead are rising in Philadelphia. And then, in a frightening attack, a zombie delivers a letter to Eleanor…from her brother.

Whoever is controlling the Dead army has taken her brother as well. If Eleanor is going to find him, she'll have to venture into the lab of the notorious Spirit-Hunters, who protect the city from supernatural forces. But as Eleanor spends more time with the Spirit-Hunters, including their maddeningly stubborn yet handsome inventor, Daniel, the situation becomes dire. And now, not only is her reputation on the line, but her very life may hang in the balance.
The mark of a good book, for me, is a book that, even after I close it, I think about it - about the characters, the plot, the world-building, and the relationships. All that and more happened with Something Strange and Deadly, a debut novel that promises, "parasols and zombies," and delivers MUCH more. Author Susan Dennard takes familiar elements of steam punk novels and adds in her own flair in the form of spirited characters, and a strong, heart-pounding zombie adventure that left me utterly enchanted, and yet also terrified to close my eyes the night I finished this novel.
I have to talk about the characters, because for me, they were absolutely the most spectacular portion of Something Strange and Deadly. I almost don't know how to go about choosing a favorite, since Dennard did a fantastic job at crafting each character, no matter how major or minor, to play their role to perfection. I loved, hated, or feared them, from Eleanor's fussy, uptight mother clinging to what was left of a good name with a lot of debt, to Clarence, Eleanor's would-be suitor, who made me want to shake him one moment, then hug him the next. I immediately felt for Eleanor, trapped in a world she only halfway fits into, caught between her desire to have her brother home safely, and her mother's suffocating need to force Eleanor into a profitable marriage. Eleanor Fitt - often addressed as Miss Fitt - feels exactly like her name, and my heart went out to her right away. We bonded, Eleanor and I, because who HASN'T from time to time felt out of place, and like our wants aren't being considered? While I do think that Eleanor's mother cared about her, at the same time, I feel like the majority of her actions were selfishly based on what she wanted/needed, rather than consulting Eleanor.
The wonderful characters continued as we are introduced, shortly after a Dead attack, to the Spirit Hunters, a small group of ghost-hunters (and at this point the Supernatural fangirl in me was absolutely giddy with anticipation and delight) who are tracking a powerful necromancer. Eleanor meets Joseph, Daniel, and Jie, each who have a great deal to add to Something Strange and Deadly, in terms of backstory and personality, as well as what they can teach Eleanor. Joseph, every inch the gentleman, is a fantastic leader for the Spirit Hunters, rounded out by free-thinking and courageous Jie, and of course...Daniel.
Oh, Daniel. Inventor, mystery, scarred, haunted Daniel. I fell for him with his first words, as he dubbed Eleanor "Empress," and I fell even harder for him and Eleanor. What I truly adored about Daniel and Eleanor is that their relationship was rocky from the start, and so it made it THAT much sweeter when we saw the little moments where they learned to trust and grudgingly respect one another. Daniel and Eleanor tirelessly antagonize one another - and NOT in the tired "new boy at school annoys main character," way of so many books. They truly didn't get along at all at first, and I ate up every minute of their interaction, as they slowly peeled away one another's layers, becoming reluctant allies before they were anything else. The blush of romance between them is tempered by the fact that zombies are roaming Philadelphia, and so there's a great deal of potential still between them, as well as a thrumming tension.
Throughout Something Strange and Deadly are enigmas, twists and turns that will break your heart and leave you wanting more. Even though it was predictable at times - I figured out the biggest twist long before it was revealed - the end still absolutely took my breath away. Susan Dennard isn't afraid to take chances, or even do something completely shocking. She doesn't play it safe, so please, don't expect a safe read. Expect danger, intrigue, and high-stakes romance. Expect to laugh, and expect to cry. Woven in amidst the threat of the Walking Dead is also a great deal of heart, and soul, hidden in the interactions between the Spirit Hunters, between Eleanor and Daniel, between Eleanor and Jie, and so forth.
Even though I knew Something Strange and Deadly had to end, I still didn't want to admit it was over. At around 400 pages, which might be too long for some stories, Dennard still clearly has plenty of adventures in store, since there is a sequel - A Darkness Strange and Lovely - due out next year. (Oh, why must I wait SO long?!) With truly memorable characters and breath-taking danger, you'll want to pick up YOUR copy of Something Strange and Deadly when it hits shelves. I guarantee you, you'll be thinking, like me, about this story long after you read the final page.