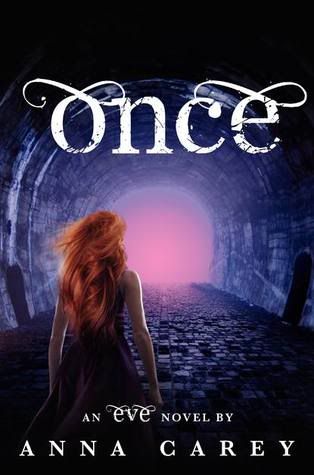 Once
by Anna Carey
Pages:
320
Expected publication
: July 3, 2012 (Harper Collins)
Source
: Borrowed from Anna @
Literary Exploration
Series or Stand-alone
: Eve (2)
Rating
: Beam-worthy
Further info/purchase
:
Goodreads
|
Amazon
|
Barnes & Noble
Find the author online
:
Twitter
|
Website
Sixteen years have passed since a deadly virus wiped out most of the Earth's population. After learning of the terrifying part she and her classmates were fated to play in the rebuilding of New America, eighteen-year-old Eve fled to the wilds and Califia, a haven for women determined to live outside the oppressive rule of the king of New America.
However, her freedom came at a price: she was forced to leave Caleb, the boy she loves, wounded and alone at the city gates. Eve quickly learns that Califia may not be as safe as it seems and soon finds herself in the City of Sand and the palace of the king. There she uncovers the real reason he was so intent on her capture, and the unbelievable role he intends her to fill. When she is finally reunited with Caleb, they will enact a plan as daring as it is dangerous.
But will Eve once again risk everything—her freedom, her life—for love?
With the second book in the Eve trilogy,
Anna Carey
adds several fascinating layers to the mythos and world-building already established;
Once
picks up a few months after Eve's arrival in Califia - though I felt like I'd barely caught my breath before Eve was leaving Califia and on to the next, harrowing stage of her journey. And for me, that was the biggest flaw in
Once
. The writing is as fantastic as always, and the characters are well-developed and compelling, as is the larger story being told. But as I progressed further into
Once
, I never felt like I had a chance to really absorb any of the information being revealed before it was time for Eve to run again, or another revelation.
Once
is so fast-paced that it didn't really hit me until the end how much truly HAD happened, and really, in such a short amount of time. The same could be said for the new characters - it all went by in such a blur that I didn't feel like we really got to know any of them, or delve past their surfaces. There also wasn't nearly enough for me of the familiar characters I love.
Plot-wise,
Anna Carey
ramps up the stakes with
Once
, bringing Eve into the lair of the villainous King of the City of Sand, where she sees how much re-building is being done, and realizes how vastly different these people's lives are from the sheltered one she lived back at school, and from the hand-to-mouth existence the boys in the dug-out eked out while she stayed there. There is a disgusting opulence in the City of Sand compared to those on the fringes, on the run, and that's not all that Eve discovers. She also finds out the truly startling reason the King was so intent on drawing her to his city, and what plans he has for her, and has to struggle to come to terms with all of that - which is the last thing the maturing Eve wants to do. While she still made some questionable decisions in
Once
, Eve impressed me with the growth she has shown since she fled her school in the first book - but I think she still has a long way to go.
Mingled in with all the action and danger is a good dose of romance between Eve and Caleb, and even the possibility of one between Eve and one of the young, rising stars in the City of Sand, though it's clear where Eve's affections lie.
Once
further develops Eve and Caleb's relationship in a way that is tender and genuine, and is possibly the biggest draw to the series for me. (I won't lie, I've swooned over Caleb a time or five.) My biggest complaint there is that
Once
ends up falling back on a few devices from the first book, and it was frustrating for me that I felt like when it came to Eve and Caleb, they were playing out the same roles they had in
Eve
. I kept waiting for more, for that moment that would set
Once
apart from other books, and ultimately, I never found it in the pages of this book - but after the way
Once
ended, I do have high hopes for the third and final book. There is a huge cliffhanger which is sort of cruel in a way, when you put it in the context of how long we'll have to wait for that next book.
It's hard for me to review
Once
, because I didn't hate it. I liked
Once.
But I didn't love it. I'm still not truly connected emotionally with Eve - instead of my heart pounding in fear for her, I feel detached as I read about her, and because of that, I'm not as "into" the books as I wish I was. The writing is fresh and great as usual, but there's just that spark missing to really draw me in. If you, like me, saw a lot of potential in
Eve
, I would recommend reading
Once
, as it has definitely set up the final book to be fairly epic, but if you also had trouble connecting with Eve, or if you didn't truly LOVE the first book, I would caution you to go into this one warily, else it might disappoint.
Once
fell a bit flat for me - it just didn't pack the emotional punch I was wanting, or sweep me off my feet, though that's not to say it isn't still a good book, and I hope readers will enjoy it.
Have you read EVE or ONCE? If so, what did you think? What would you like to see in the RISE, the third and final novel in the trilogy?