Eve by Anna Carey
Published:10.04.2011
Pages: 318
Series: Eve (1)
Rating: 3 of 5 stars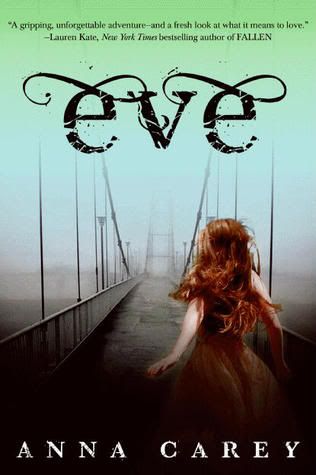 The year is 2032, sixteen years after a deadly virus—and the vaccine intended to protect against it—wiped out most of the earth's population. The night before eighteen-year-old Eve's graduation from her all-girls school she discovers what really happens to new graduates, and the horrifying fate that awaits her.

Fleeing the only home she's ever known, Eve sets off on a long, treacherous journey, searching for a place she can survive. Along the way she encounters Caleb, a rough, rebellious boy living in the wild. Separated from men her whole life, Eve has been taught to fear them, but Caleb slowly wins her trust...and her heart. He promises to protect her, but when soldiers begin hunting them, Eve must choose between true love and her life.
My Review
The night before her graduation, sheltered Eve has an eye-opening experience: she discovers what waits beyond the walls of her school.
And for the first time in her life, Anna Carey's sheltered heroine has to make a decision for herself that will profoundly affect her future.
I admired Eve's courage...the bravey it takes to leave behind the only life she's ever known, but I wanted to cringe reading about her on her own, because of how ill-prepared she is to cope with the situation she's in. Eve doesn't know how to make a fire or hunt, or gather any food. She simply has never been taught anything; the school and the Teachers have always provided everything she needed.
Eve loses a little of her doe-eyed innocence throughout the book, but her naive view of the world colored the book for me, and I never really connected with her as a character. I couldn't help but sympathize with her to an extent - everything she's ever believed is in question. She's being forced to ask herself if the people who have always taken care of her ever had her best interest at heart, if the King of New America can really be trusted, and so forth. But I think I kept waiting for her to take some major steps forward, which didn't really happen until the very end of the book, for me.
I found a lot about this book interesting though. I thought Arden, a secondary character, was fascinating. I am really hoping she will show up in the sequel. I enjoyed her both as a foil to Eve, and as an individual. I also loved Caleb. He was a rather swoon-worthy love interest (and I could kiss Anna Carey for NOT including a love triangle.) Caleb and Eve gravitate toward one another a little quickly, but much more slowly than in some books I have read. To me, their connection felt sweet and genuine, and was one of my favorite things about the books, as well as Eve's time with the group of refugee boys.
Some things that got under my skin: the King's ulterior motive. It was tossed out there, but never really fleshed out. I assume that will be explained in the sequel. Also, it bugged me that at one point Eve clearly stated she didn't have many memories of her mother, but then throughout the book, she has vivid flashbacks. And I was kind of dismayed that there wasn't more information about the plague. I feel like the world-building could have been a little more fleshed out.
Otherwise, this was an interesting look at a rebuilt America, and I am definitely intrigued enough to look into the sequel when it is available.
Disclaimer
This book was provided to me from the author in exchange for an honest review. No money or compensation of any kind changed hands.
Memorable Quote
I opened my eyes to the face I'd imagined so many times. Caleb smiled, his hair tickling my forehead. I pressed my hands to his cheeks, wondering if I was having a waking dream. His skin was warm against my fingers. I wasn't sure whether to cry or laugh.

Instead, I just hugged him. Our bodies pressed into one, our arms pulled the other nearer and nearer still, until nothing was between us, not even air.