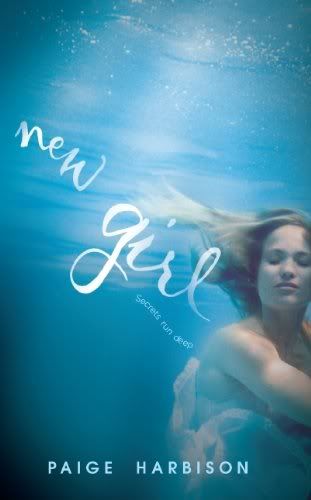 New Girl
by Paige Harbison
Pages
: 304
Expected publication
: January 31, 2012 (HarlequinTeen)
Series or stand-alone
: stand-alone
Source
: Received via NetGalley
Further info/purchase
:
Goodreads
|
Amazon
|
Barnes & Noble
Rating
:
Shrug-worthy
Find the author online
:
Website
|
Twitter
They call me 'New Girl'...

Ever since I arrived at exclusive, prestigious Manderly Academy, that's who I am. New girl. Unknown. But not unnoticed—because of her.

Becca Normandy—that's the name on everyone's lips. The girl whose picture I see everywhere. The girl I can't compare to. I mean, her going missing is the only reason a spot opened up for me at the academy. And everyone stares at me like it's my fault.

Except for Max Holloway—the boy whose name shouldn't be spoken. At least, not by me. Everyone thinks of him as Becca's boyfriend but she's gone, and here I am, replacing her. I wish it were that easy. Sometimes, when I think of Max, I can imagine how Becca's life was so much better than mine could ever be.

And maybe she's still out there, waiting to take it back ...
My Review
I was originally completely psyched to read Paige Harbison's novel, New Girl, touted as a modern-day nod to the classic novel, Rebecca. I read and thoroughly enjoyed Rebecca when I was in high school - it was mysterious and creepy, and I just devoured it. So when I got my hands on New Girl, I couldn't wait to start it; unfortunately, it quickly became clear that this was not the book I had expected. Paige Harbison introduces us to dual narrators - the unnamed protagonist, and the vivacious, deeply disturbed Becca Normandy, the girl who has it all on the surface. Told in the present day as our "new girl" arrives at the prestigious Manderlay Academy (a nod to the novel that inspired this book), and alternately, from Becca's point of view, we see both girls in various lights throughout the course of Paige's novel.
Becca disappeared some months ago, and the chapters from her narrative, which are woven through New Girl introduce us to a girl who craves attention and love so fiercely that she'll do - and does - anything to get, and keep the spotlight. At first, I had every intention of liking Becca, or at least feeling sorry for her. It seemed clear she had to have been through something terrible, something that would explain her state, her almost innate ability to manipulate those around her; sadly, exactly what that was, was never aptly explained; instead, it seemed as if Becca simply was who she was. And quickly, I lost any sympathy for her. She did seem very lost and broken underneath her facade, which became clearer as she moved from one boy to the next, faking a relationship and running away from the one that might have brought her real love, but to me, there was no pay-off there for following her maniacal point of view. I was never sure if Paige Harbison intended for her to be sympathetic or just purely malicious.
On the flip side, our other protagonist was grounded in reality. I liked her immediately, and I felt for her, arriving at the academy where everyone was still either mourning Becca's disappearance, or insisting she was still alive and that the "new girl" would never be able to take her place. It didn't seem to matter to the majority of the secondary characters that the heroine never gave any indication she wanted to do any such thing, and the repeated reminders that she was nothing like Becca - nowhere near as pretty, popular, amazing, etc etc became grating. I felt terrible for the protagonist (yes, I 'm refraining from saying her name, since Paige Harbison doesn't give it away until the end) but there were so many times that I wanted her to stand up for herself. The few times she did, I thought she should have handled herself and the situations differently, instead of giving the group what they wanted.
The characterizations were severely lacking in New Girl. Some characters, such as Max and Johnny had more depth, but even their full potential was never explored. Max came across as sensible and caring one moment, and utterly conflicted and unable to make his own decisions the next. It was clear to me that he wasn't over Becca, yet he continues to pursue an on-again off-again flirtation with the heroine, and succeeds in pushing her away several times. (I kept wishing she'd slap him; instead, she was always there, waiting.) Johnny confused me, too. He seemed like a decent guy, but he never really did much to redeem himself for the poor choices he made. And the girls. Oh, my. All the girls were cookie-cutter characters. I lost track of how many parties this group of girls and guys threw; someone was always drunk, topless, or on pills of some sort. I'm sure that Paige Harbison was trying to accurately capture the feeling of being a teenager, away from home, experimenting, but these characters were all so FLAT. There was little to no depth, and a sense of immaturity woven throughout New Girl. I was a bit uncomfortable with the fact that sex came up so often, as well as other sexual encounters, yet when it was mentioned, it was in a very juvenile manner. The phrase "we did it," was tossed around, leaving me to wonder why Paige Harbison couldn't present the subject matter in a more tasteful manner - I'm not asking for more detail, since this is a YA novel, but there are other terms (ie. love making) that could have been used.
There was a good sense of mystery to New Girl, and for me, the dual points of view were actually very fascinating, and, I thought, a wonderful plot device. However, this book was NOT the Gothic read I was hoping for, and overall, it had too many flaws - weak characters, little-to-no growth over the course of the novel, and the fact that Becca's behavior was never satisfactorily explained. New Girl ended on a good note, but it wasn't a strong conclusion for me, and after all the build-up, I felt like there was no sense of accomplishment or understanding.
Disclaimer