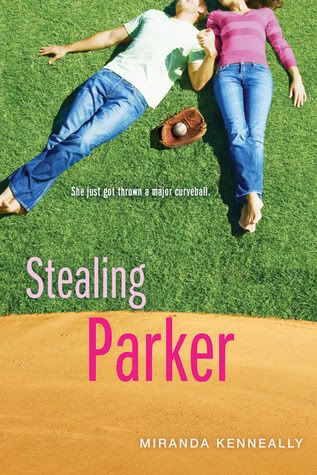 Stealing Parker by Miranda Kenneally
Pages: 245
Expected publication: October 1, 2012 (Sourcebooks Fire)
Source: ATW ARC Tours
Rating: Squee-worthy
Add it/Purchase:
Goodreads
|
Amazon
|
Barnes & Noble
Connect with the author:
Website
|
Twitter
___
Parker Shelton pretty much has the perfect life. She's on her way to becoming valedictorian at Hundred Oaks High, she's made the all-star softball team, and she has plenty of friends. Then her mother's scandal rocks their small town and suddenly no one will talk to her.
Now Parker wants a new life.
So she quits softball. Drops twenty pounds. And she figures why kiss one guy when she can kiss three? Or four. Why limit herself to high school boys when the majorly cute new baseball coach seems especially flirty?
But how far is too far before she loses herself completely?
Immediately after finishing
Miranda Kenneally's
first novel, Catching Jordan, I grabbed my copy of the follow-up companion novel,
Stealing Parker
. I needed a second dose of
Kenneally's
fabulous writing style and those reach-out-and-grab-your-heart-hard characters she seems to so effortlessly and fluidly create - characters that linger with you after you finish their story, characters you can't help but care about, worry over, and cheer for, hoping they get the happy ending they deserve.
Parker Shelton went from having a perfect life with her close-knit, supportive family to living a waking nightmare after her parent's divorce when her mother came out as a lesbian. When
Stealing Parker
opens, Parker is in something of a downward spiral, and I wanted to hug her, from the start of her story to the finish. She feels shunned by her church, abandoned by her mother, father, and brother, and worse, she's cut herself off from her love of softball - a love she shared with her mother. My heart went out to Parker as
Miranda Kenneally
explored the messed-up family dynamic; it was clear that each person in Parker's family was equally lost, and afraid to admit it. Parker especially was a vulnerable, sympathetic character, and I wanted so much to tell her that it would be okay - but yet, even I wasn't sure if it would be.
Kenneally
winds up with a fast-pitch story that hammers home some important themes about family, loyalty, friendship and religion - and does it in the perfect way. Despite the heavy issues that
Stealing Parker
touched on, I never felt preached at; instead, it was clear Kenneally took the time to not just gloss over, but actually delve into the issues at hand, all of which served to humanize all the characters, from the major to the minor. Parker's struggles feel real - as real as the judgmental stares at her church, as real as the new friends she makes, as real as her search for herself becomes. Her self-discoveries are fraught with a genuine sense of confusion and growth, which I loved. I ached for her as she questioned herself and her faith, and I wanted to cry at several moments, too. And I also want to praise
Kenneally
for including the scenes and character growth with Parker and her family members, especially her mother.
Part of why I adored
Stealing Parker
so much, other than the characters, is the setting. Both it and Catching Jordan are set here in my home state of Tennessee, which was quite awesome to read about, considering I knew the places Parker was talking about and going, and the other schools the baseball team played against. I may or may not have grinned more than once as my beautiful state was mentioned!
And finally, I also fell head over heels for the romance in
Stealing Parker
. What I love the most about the couples
Miranda Kenneally
creates is that this is not insta-love, nor are the pairings presented as the be-all/end-all couple. What
Kenneally
writes is a true-to-life look at the mysteries and beautiful moments of first love, the heady feeling of falling and not knowing what's going to happen next. And while the characters do go through struggle to be together and get it right, in the end, the reader is left with a brilliant sense of a new beginning, which I love, because instead of tying things up too neatly,
Kenneally
leaves us hoping for the best for the characters we love, and knowing they'll have a wild ride ahead of them.
Add
Stealing Parker
to your fall to be read. It's a home-run of a book - a major hit with me that just kept spiraling up when I thought it couldn't get any better, reaching higher to land over the fence and among one of my new favorite YA contemporary reads!
Other great reads from this author:
Catching Jordan
Bad, Bad Thing
(expected publication: 2013 Sourcebooks Fire)
You're sure to fall for:
Anna and the French Kiss
by Stephanie Perkins