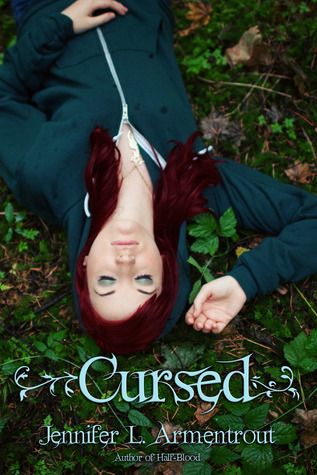 Cursed
by Jennifer L Armentrout
Pages
: 312
Expected publication
: September 18, 2012 (Spencer Hill Press)
Source
: ARC from the publisher
Rating
: Squee-worthy
Add it/Purchase
:
Goodreads
|
Amazon
|
Barnes & Noble
Connect with the author
:
Website
|
Twitter
___
Dying sucks--and high school senior Ember McWilliams knows firsthand. After a fatal car accident, her gifted little sister brought her back. Now anything Ember touches dies. And that, well, really blows.

Ember operates on a no-touch policy with all living things--including boys. When Hayden Cromwell shows up, quoting Oscar Wilde and claiming her curse is a gift, she thinks he's a crazed cutie. But when he tells her he can help control it, she's more than interested. There's just one catch: Ember has to trust Hayden's adopted father, a man she's sure has sinister reasons for collecting children whose abilities even weird her out. However, she's willing to do anything to hold her sister's hand again. And hell, she'd also like to be able to kiss Hayden. Who wouldn't?

But when Ember learns the accident that turned her into a freak may not've been an accident at all, she's not sure who to trust. Someone wanted her dead, and the closer she gets to the truth, the closer she is to losing not only her heart, but her life. For real this time.
Once again, Jennifer L Armentrout has written a book that captivated me from beginning to end! In Cursed, I met and instantly clicked with Ember McWilliams. Ember is the type of character who feels SO REAL that you can't doubt how genuine she is, and you're at once completely involved in her thoughts, feelings, and her journey. Once I connected with Ember, I was emotionally invested in what happened to her, and in Cursed. I couldn't look away, and there were times that I felt exactly what Ember was feeling.
I think my favorite part of JLA's writing is how amazingly true-to-life her characters seem. Whether she's writing about a damaged, lost girl (Ember) or a swoon-worthy-yet-flawed guy (Hayden) or the equally gifted-yet-troubled members of his "family," these characters FEEL like teenagers. They're relatable. They make choices - good and bad. Despite what's going on around them, they have their own issues, and that's understandable. Armentrout's "voice" is flawlessly and seamlessly what it should be; being in Ember's head felt totally realistic.
Plotwise, Cursed is different from JLA's other novels, because it isn't steeped in mythology, or touching on the extra-terrestrial. Instead, there is a mythos of another kind, a thoroughly creepy world that Ember slowly realizes is closing in around her. When she's brought into Hayden's existence and his home, she learns she isn't the only "gifted" person in the world (although she thinks of herself as cursed, hence the title.) I loved trying to guess what would happen next, as I, like Ember, realized that the stakes were higher than she'd ever imagined, and that there was so much more going on than she'd dreamed. Cursed just pulses with mystery and danger, as Ember starts to realize she isn't alone, but she also isn't safe. Like Ember, I never REALLY knew who to trust, or where to turn. I love a book that keeps me on my toes, and JLA definitely did that with Cursed!
And then there's Hayden! Ohhh, Hayden. Along with a cast of secondary characters that I'm anxious to know more about (more Kurt, please!) there is Hayden...this spectacular, amazing guy who sees so much in Ember, and really proves his worth time and time again, as a friend to Ember, and possibly more. I adored their chemistry, and wanted A LOT more scenes with them. I loved how tender Hayden is with Ember, and how he brings out the good in her, and slowly helps her see it in herself. In another book this might have rankled me - I don't really dig the plot of a guy teaching the girl how to "be something," but this was different, because there WAS that deep bond and friendship between Hayden and Ember, and their feelings for one another developed naturally, as Ember learned to trust herself, and her "gift."
I also loved a lot of the side characters. I think I've mentioned Kurt. *coughs*I'll take him*coughs* I also fell really hard for Olivia, Ember's little sister. And I'd love to know more about the aloof Parker, and Gabe, who I sort of warmed up to over the course of Cursed.
I'm definitely hoping Jennifer has a sequel up her sleeve, because all Cursed really did was get me hooked on this new world she's created! Cursed never lets up on the action, danger, or romance. If I wasn't guessing, I was holding my breath, or clapping at another awesome exchange between Ember and Hayden, or Ember and one of the side characters. There's SO much potential for a series, and I hope JLA delivers! If you want a prime example of why she's becoming one of my favorite authors, look no further than Cursed!
I want to give away not one but TWO ARCs of Cursed to TWO lucky winners!