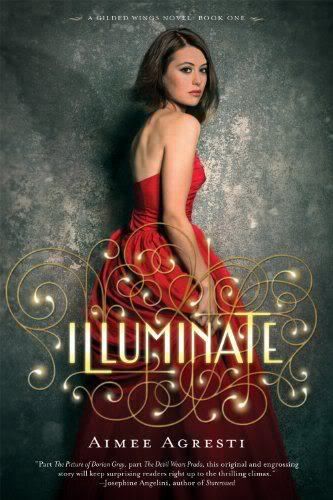 Illuminate
by Aimee Agresti
Pages
: 544
Expected publication
: March 6, 2012 (Houghton Mifflin Harcourt)
Series or standalone
: Gilded Wings (1)
Rating
:
Swoon-worthy
Further info
:
Goodreads
|
Amazon
|
Barnes & Noble
Find the author online
:
Twitter
|
Website
Haven Terra is a brainy, shy high school outcast. But everything begins to change when she turns sixteen. Along with her best friend Dante and their quiet and brilliant classmate Lance, she is awarded a prestigious internship in the big city— Chicago—and is sent to live and work at a swanky and stylish hotel under the watchful eyes of a group of gorgeous and shockingly young-looking strangers: powerful and alluring hotel owner Aurelia Brown; her second-in-command, the dashing Lucian Grove; and their stunning but aloof staff of glamazons called The Outfit.

As Haven begins falling for Lucian, she discovers that these beautiful people are not quite what they seem. With the help of a mysterious book, she uncovers a network of secret passageways from the hotel's jazz-age past that leads her to the heart of the evil agenda of Aurelia and company: they're in the business of buying souls. Will they succeed in wooing Haven to join them in their recruitment efforts, or will she be able to thwart this devilish set's plans to take the souls of her classmates on prom night at the hotel?

Illuminate is an exciting saga of a teen's first taste of independence, her experience in the lap of luxury, and her discovery she may possess strength greater than she ever knew.
Aimee Agresti's
debut novel,
Illuminate
, caught my eye some time ago, and I coveted it shamelessly. In the meantime between discovering it and reading it, I had forgotten some of what it was about, but as I dug deeper into this utterly satisfying and seductive novel, I remembered with heart-pounding clarity just why I had wanted to read it so badly.
Illuminate
is a stunning first offering, launching the story of Haven Terra across a heart-pounding, sensual landscape. Within the first few pages I was hooked, and I immediately fell hard for Haven. Shy, quiet Haven reminded me so much of myself in high school - starting to develop into who she would become, yet caught in-between two versions of herself.
When Haven is given the opportunity to intern at Chicago's posh new Lexington hotel, she is thrust into a world and a type of luxury she never imagined. Along with her best friend, Dante, and fellow classmate, Lance, the three embark on their adventure, though it soon turns out to be more.
Aimee Agresti
made me love Dante almost immediately, from his funky hair to his outlook on life and boys, to his relationship with Haven. Dante was so good for her, and for the most part, good - to - her. He and Haven, despite their differences, were also a lot alike, but they were both unique, and
Aimee
painted them in wonderfully vivid and different shades. I adored every bit of their interaction, and wanted more. Lance is another story entirely; my love for Lance may not be able to be contained in this single review. Lance was reserved and practical and protective, and I absolutely adored him. The fact that he takes things in stride and just makes a plan and goes about it only made me love him more. All of
Aimee's
characters are so well fleshed-out that after only a few chapters with them, I felt like I knew all of them, from the debonair and tormented Lucian (*swoons*) to the conniving, manipulative Aurelia.
Aurelia and her minions are deliciously evil, and as
Illuminate
spun its web around me, and their plans were fully revealed, although I never felt any sympathy for the devil (pun intended) or the Outfit, I was fascinated by each of them - impossibly gorgeous, every dream fulfilled, but at the highest price imaginable: one's soul. Just as Haven discovered what the world she had leap headfirst into was truly all about, what hid behind the shiny veneer, so did I. When the stakes rose, I was right there with Haven, heart-pounding, as she knew she had to take a stand.
Aimee Agresti
brings her readers into the heat of the moment, watching Haven grow from a timid girl to a fierce young woman in time for
Illuminate's
fiery climax.. The growth we see in Haven's character was absolutely stunning, watching her embrace her full potential, and by the end of the book, I was so proud of her, and excited to see where the forthcoming books take her.
The relationships in
Illuminate
were my favorite aspect. Haven and Dante, Haven and Lance, Lucian and Aurelia, Lucian and Haven. I wanted to wrap my arms around Lucian while he struggled between the light and the dark parts of him, his very soul and existence hanging in the balance. He got to me, with his blue-gray eyes and his ability to melt Haven - and me - with a few words. I definitely want to see more of him in the books to follow, just like I want - and need - more of Lance and Dante. I especially can't wait to see how Lance and Haven's relationship grows, because seeing them interact was so lovely, and genuine, a bit surprising, but ultimately completely amazing. I also really loved Haven's relationship with Joan, her adoptive mother. It was a real treat to see a supportive parental character in a YA novel! Joan was a wonderful role model for Haven.
Finally, I want to talk about the pacing a bit. It was shaky at one or two points - for part of the book, only a day would pass, then more than once, we jumped ahead several weeks at a time. It worked for me, for the most part, though, because the pacing eventually evened itself out. The one real "gripe" I have is that there was a certain mystery in
Illuminate
that wasn't resolved! I am really hoping that Aimee will choose to explain that to us in the sequel, which I'll be anxiously awaiting!
Illuminate
gets a swoon-worthy rating from me because it is genuine, emotional, exciting, mysterious, and basically everything I could ask for in a good book!
Disclaimer