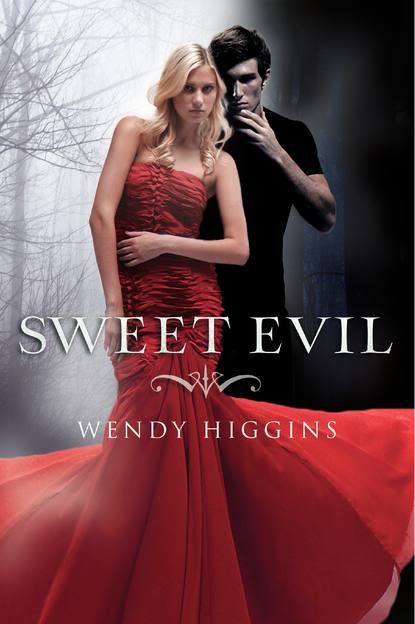 Sweet Evil
by Wendy Higgins
Expected publication
: May 1, 2012 (Harper Collins)
Pages
: 464
Series or stand-alone:
Sweet Evil (1) (I think!)
Rating
: Squee-worthy
Source:
ARC from the publisher
Further info/purchase:
Goodreads
|
Barnes & Noble
|
Amazon
Find the author online
:
Twitter
|
Website
What if there were teens whose lives depended on being bad influences? This is life for sons and daughters of fallen angels in
Sweet Evil.


Tenderhearted Southern girl, Anna Whitt, was born with the sixth sense to see and feel emotions of other people. She's aware of a struggle within herself, an inexplicable pull toward danger, but it isn't until she turns sixteen and meets the alluring Kaidan Rowe that she discovers her terrifying heritage, and her will-power is put to the test. He's the boy your daddy warned you about. If only someone had warned Anna.

A cross-country trip to meet her father forces Anna to face the reality that hope and love are not options for her kind. When she confronts her destiny, will Anna embrace her halo or her horns?
My Thoughts
Debut author
Wendy Higgins
delivers as astoundingly heart-pounding, poignant, breath-taking book with
Sweet Evil
, the story of Southern "good girl," Anna Whit, and the drastic turn her life takes when she meets Kaidan Rowe; Kaiden is THAT guy - mysterious, sensual, and immediately works his way totally under her skin. What surprises the sweet, good-natured Anna the most isn't her attraction to Kaidan, but rather, it's that he is something she's never come across before: he's like her.
Wendy Higgins
made it impossible NOT to fall for not only Anna, but Kaidan. The two of them together in any scene, on any and every page, were a tantalizing mix of oil and water; despite their similarities, they are also very different, and the ways in which
Wendy
showcases that were stunningly beautiful and heart-wrenching at times.
Sweet Evil
is a study in many things: love, fear, evil, good, and ultimately, what a person's soul is worth. There were a few moments when I feared it would stray into a territory too religious for my tastes (though if it had, I couldn't fault the author!) but
Wendy Higgins
managed to infuse
Sweet Evil
with a sense of spirituality, and something else: hope. Even in a story that, at times, was dark and things seemed hopeless and inevitable for Anna, somehow, the darkness never quite overcame the light.
Sweet Evil
isn't preachy, and I think a lot of people tend to see books as either religious or not - a spiritual tone gets lost in the mass labeling. But
Wendy Higgins
knows when and where to use that approach, and how to do it right, and make it all seem fitting, and more of a "good versus evil" approach. There are times when Anna prays, and other such religious mentions, but none of it is ever over-done, or handled poorly; if anything, it is lovingly done, which really impressed me, to have all that going on there, kind of battling the dark.
I was also a big fan of the characters, and while Anna and Kai were both amazingly genuine, there was also a wonderful cast of supporting characters. I was especially fond of Anna's dad, and really found myself wanting to get to know him more in the book/s to come. And what I loved was that each of the secondary characters stood out to me - none of them felt like a stereotype, except maybe a few that simply didn't get a lot of page time. I really loved Kopano, and even may have giggled a bit over him. I think it's wonderful that
Wendy Higgins
presents so many different, vivid characters for us as readers to enjoy, and that some of them are fantastic foils to others.
And of course, I have to talk a bit more about Anna and Kai. I knew they were going to be special from the moment I first saw this cover. When it arrived, I held it close, and couldn't wait to start it; shortly after beginning Sweet Evil, I was deeply involved in Anna and Kaidan's story. Kai is tormented, and Anna is incredibly drawn to him, but make no mistake - this isn't insta-love. This is organic, and this is real - they are a simmer, a growing flame, an attraction that builds throughout the course of Sweet Evil. As often as I fell for them, I was frustrated because of what they were going through, and I will say that they felt totally real, and I was RIGHT THERE with both of them, especially seeing things through Anna's eyes.
Wendy Higgins
really brought their tension and their yearning for one another to life so well, so achingly truthfully. What I loved is that we get to see Anna fall in love, but because of her situation, it isn't strictly the happy first love - it's something more, something infinitely more complicated and fragile. It's as harrowing as it is renewing, and the growth that Anna experiences through her relationship with Kai and because of everything happening to and around her is both encouraging and bittersweet.
Sweet Evil
took me through the gamut of emotions: fear, shock, sadness, frustration, happiness, hope, and even a few teary-eyed moments. The pacing was perfect for the story being told; at 464 pages,
Sweet Evil
is longer than most YA books these days, but that was fine with me, because I was totally engrossed in the story being told. Everything worked for me - the pacing and passage of time, Anna's growth as a person, the overall plot, and the romance.
Sweet Evil
is sure to resonate with readers - I know it did with me - and if you're anything like me, you'll be thinking about it for a long time.
Further Thoughts
Are you comfortable or uncomfortable with religion/spiritual themes in books? Do you think there is a time and place for that theme? What about "angels and demons" books? Is that a trend you're interested in seeing more of?