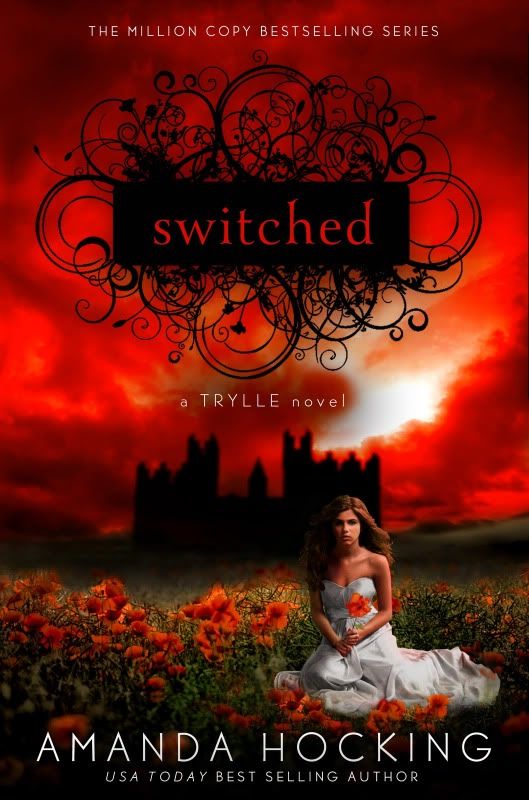 Switched
by Amanda Hocking
Pages
:293
Published
: January 3rd, 2012 (St Martin's Griffin)
Series or Stand-alone
: The Trylle trilogy (1)
Source
: Won from Goodreads
Further information
:
Goodreads
|
Amazon
|
Barnes & Noble
Find the author online
:
Twitter
|
Blog
Rating
:
Squee-worthy
When Wendy Everly was six years old, her mother was convinced she was a monster and tried to kill her. Eleven years later, Wendy discovers her mother might have been right. She's not the person she's always believed herself to be, and her whole life begins to unravel—all because of Finn Holmes.
Finn is a mysterious guy who always seems to be watching her. Every encounter leaves her deeply shaken…though it has more to do with her fierce attraction to him than she'd ever admit. But it isn't long before he reveals the truth: Wendy is a changeling who was switched at birth—and he's come to take her home.
Now Wendy's about to journey to a magical world she never knew existed, one that's both beautiful and frightening. And where she must leave her old life behind to discover who she's meant to become…
My Review
Author Amanda Hocking is a bit of a legend in the indie publishing world, becoming THE best-selling Kindle author, and within a few pages of Switched (which is now being re-published now that Amanda has a traditional publishing contract), it was apparent just why so many others had previously downloaded and devoured her novels. Switched opens with Wendy Everley's mother wielding a knife at her, then fast-forwards eleven years, re-introducing us to an older version of Wendy, who has been raised by her aunt and older brother, in the absence of her mother. Wendy is troubled and sensitive, and often misunderstood. I loved her immediately. Her emotions are beautifully painted across the pages of Switched, and I gravitated toward her throughout the novel. I understood her; who hasn't felt at times that they don't fit in? Wendy is sympathetic and genuine - she doesn't pretend to be someone she isn't, and her desire to make a good impression on others later in the book mixed with her frustrations came across as incredibly sympathetic, and I applaud Amanda Hocking for creating such a strong heroine. I can see a lot of potential for character growth in Wendy in the next two novels!
Switched catapults the reader into Wendy's new world, the community of Trylle - set in Minnesota, though it feels like another world. Amanda Hocking's world is richly alluring, and the world-building is superb, giving Switched a timeless sense - antiquated at times with the notion of a Trylle monarchy and hierarchy (that is nevertheless fascinating), yet wholly possible. Amanda Hocking has also put forth an intriguing cast of secondary characters scattered throughout Forening (the Trylle community.) From perennially sunny Rhys, to cool, impeccable, mysterious Queen Elora, to distracted, powerful Tove, to sensual, devoted Finn, each of Hocking's characters will pull the reader in, in various ways.
From the moment Wendy enters Forening for the first time, I was captivated. I immediately wanted to know more about the world of the Trylle - trolls, though quite different than in the stories we're used to. Everything changes for Wendy, and I was right there with her, pained for her when she was upset, overwhelmed when she was in awe. Amanda Hocking did a superb job of holding my attention; my only complaint with the pacing is that it seemed like Switched went by in a blur. It was too short for me, and I felt like I blinked, and it was over. I wanted much, much more time with the characters, because love or hate, they had my attention, and I needed to know what was going to happen next, but there were also some moments and plot points that I felt could have been slowed down and wouldn't have suffered. The climax of Switched was breathless and awesome, leaving me hanging by a thread for the sequel, Torn, so I definitely have no complaints about the overall lure of the book.
I also want to touch on the relationships between the characters. I think that that is Amanda Hocking's strongest suit, and probably what absolutely held me riveted while I read Switched. From the start, and Wendy's relationships with Matt and Maggie, her brother and aunt, I was thrilled. Despite her early childhood, Wendy had a great relationship with both, with perhaps some room for improvement, but they were very supportive of her and encouraging, maybe a little bit TOO much encouraging (Wendy's behavioral problems and such are explained, but I thought her family could have pushed her harder.) Then we have Wendy and Rhys, and I just wanted to hug them both - I think they're going to end up being really good for and to one another. And Wendy and Elora, which, I want to see more of them interacting but I also want to know more about Elora. (I also need more explanation about her and why she treats Wendy the way she does.) But by far, the stars of Switched were Wendy and Finn.
I'm not a fan of insta-love. I think it's a weak plot device, usually. And I wouldn't call Wendy and Finn insta-love. There's interest and fascination on both of their parts, and at times, their feelings for one another, especially Wendy's for Finn did seem to explode too quickly, and I would have loved more time with them, seeing their mutual attraction and caring develop. But there was something so real and genuine about them. Despite the fact that Finn wasn't always nice to Wendy (he has his reasons) I never felt like he didn't care about her, and vice versa. I really respect Amanda's ability to write a potential pairing as heart-felt as Wendy and Finn. And, considering that I'm head over heels in love with Finn, I definitely am looking forward to seeing him around a lot in Torn. (He better be.) Finn endeared himself to me immediately, with his loyalty to what he believes in, and his protective streak, which is about a mile wide.
Overall, I would definitely recommend Switched. I'm (im)patiently waiting for Torn, and I know I'll devour it in a matter of hours, just like with Switched.