Tempest by Julie Cross
Expected publication: 01.17.2012
Pages: 352
Series: Tempest (1)
Source: ARC received via NetGalley
Final rating
:
5 of 5 stars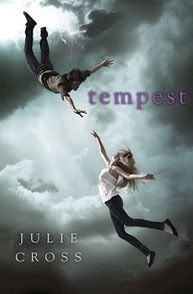 The year is 2009. Nineteen-year-old Jackson Meyer is a normal guy… he's in college, has a girlfriend… and he can travel back through time. But it's not like the movies – nothing changes in the present after his jumps, there's no space-time continuum issues or broken flux capacitors – it's just harmless fun.

That is… until the day strangers burst in on Jackson and his girlfriend, Holly, and during a struggle with Jackson, Holly is fatally shot. In his panic, Jackson jumps back two years to 2007, but this is not like his previous time jumps. Now he's stuck in 2007 and can't get back to the future.

Desperate to somehow return to 2009 to save Holly but unable to return to his rightful year, Jackson settles into 2007 and learns what he can about his abilities.

But it's not long before the people who shot Holly in 2009 come looking for Jackson in the past, and these "Enemies of Time" will stop at nothing to recruit this powerful young time-traveler. Recruit… or kill him.

Piecing together the clues about his father, the Enemies of Time, and himself, Jackson must decide how far he's willing to go to save Holly… and possibly the entire world.
My Review
Every once in awhile a book comes along that's different, unique, in that it reaches out and grabs at you, pulls you headfirst into the story, and does not let go. For me, Tempest was that book. I read it over the course of one day, and agonized over having to leave it for any amount of time. I cried my eyes out a few times, actually sobbed, at the depth of emotions this book made me feel. I finished it about two weeks ago and I'm still thinking about it, wondering what the sequels will hold, wishing it was time for any information on the sequel. I'm still thinking about Jackson, about Holly, and about all the other characters I met while reading this book. I'm having a little bit of separation anxiety, now that it's over. This book affected me, way deep down. It
changed
a small part of me, took me out of my comfort zone, in reading a book narrated by a male, and has lingered with me. Julie Cross has gained a reader for life in me.
In Tempest, we meet Jackson Meyer, who is for all intents and purposes, a normal, 19 year old male: except, oh, he can time travel. Along with his geeky friend Adam, Jackson has experimented a little bit with his new found ability - discovered on accident - but nothing consequential. I loved Jackson immediately. Julie Cross wrote for him very believably - Jackson was one of those guys who wanted to hug one minute and shake the next: clueless sometimes, but with a good heart. I kind of latched on to him, and found myself cheering for him throughout the book. I wasn't sure if I would enjoy this book, being that it is from his point of view, but it worked out very well. Julie's writing is very smooth, flows easily, and Jackson is a sympathetic narrator.
I also fell really hard for the actual plot of the book. At one point early on, Jackson states,
...I have to constantly remind myself of one very important fact: Hollywood gets everything wrong when it comes to time travel.
And in Julie Cross's Tempest, Hollywood does have it all wrong. Cross has created a new sort of mythos when it comes to time travel, those who can travel, how they can, and what they are after. Over the course of Tempest, we learn more about Jackson's abilities, as well as meet other travelers: good and bad. I'm really intrigued by "the bad guys," of this series, and their motivations. I feel like we'll see a lot more of them in the next two books, which is good! There's a really interesting history and dynamic there that I'm interested in seeing how it all plays out, especially a few things that were hinted at near the end of Tempest.
Of course I can't properly review this book without talking about the romance. I loved every minute of Jackson and Holly's interaction. I thought it was fascinating, getting to see him with 009 Holly and with 007 Holly. It really made me think about the difference a few years can make in a person's life, seeing the two versions of Holly. I thought they were very sweet and cute and loved the progression of their relationship. Holly was a really strong character, which was nice to see!
I'm also still geeking out over Adam Silverman. I didn't expect to love him as much as I did, and I think that's mostly because of 007 Adam. He had some great one-liners and some moments of comic relief. And Jackson's father is very fascinating. Personally, I hope he has as big of a part in the sequel as he did in Tempest, because I really love how their father-son relationship evolved in the book. I feel like all the secondary characters were fleshed out very well, but there are definitely some minor characters I want to see more of in the sequel.
The parts that struck me the hardest were Jackson's interaction with one of his family members. I can't say who, since that's a spoiler, but I lost it a couple times. Every one of those few scenes was so precious to me. I feel like in some ways, those scenes were the heart of the book, at least for me.
I adored this book. I can't give it any less than 5 stars, even with there being a couple of a little too convenient plot arcs. I highly, highly recommend you either preorder a copy, or go out and buy a copy in release day. I don't think you'll regret it!
Recommended for:
fans of Diana Gabaldon, Myra McEntire. (I haven't read a lot of time travel books; however, I have a mad love for Doctor Who, so if you are a Whovian, you'd probably also enjoy this novel.)
Memorable Quote
I retrieved my journal from the bag lying in the grass and wrote only four words. A reminder for days even more difficult than this one. Because the truth is...even though I have no idea what comes next... at least for today: I have no regrets. - Jackson
Disclaimer