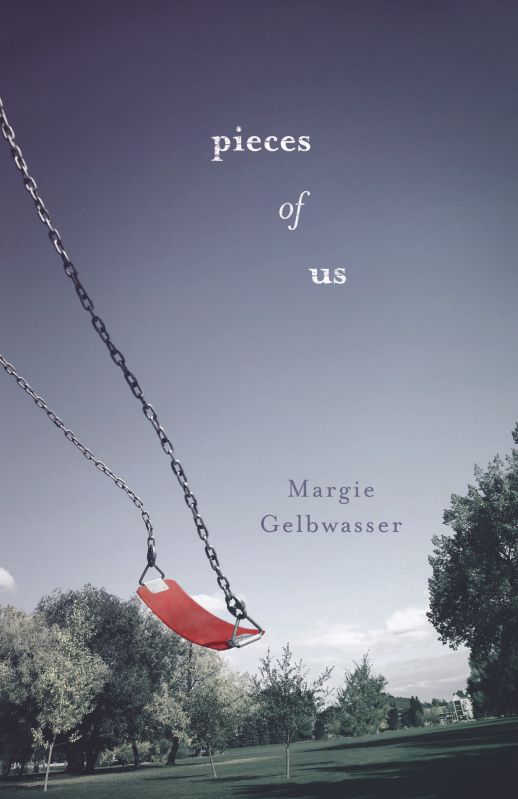 Pieces of Us
by Margie Gelbwasser
Pages
: 336
Expected publication
: March 8, 2012 (Flux)
Rating
:
Cringe-worthy
Source:
E-ARC from NetGalley
Further info/purchase
:
Goodreads
|
Amazon
|
Barnes & Noble
Find the author online:
Twitter
|
Website
Two families. Four teens.
A summer full of secrets.

Every summer, hidden away in a lakeside community in upstate New York, four teens leave behind their old identities…and escape from their everyday lives.

Yet back in Philadelphia during the school year, Alex cannot suppress his anger at his father (who killed himself), his mother (whom he blames for it), and the girls who give it up too easily. His younger brother, Kyle, is angry too—at his abusive brother, and at their mother who doesn't seem to care. Meanwhile, in suburban New Jersey, Katie plays the role of Miss Perfect while trying to forget the nightmare that changed her life. But Julie, her younger sister, sees Katie only as everything she's not. And their mother will never let Julie forget it.

Up at the lake, they can be anything, anyone. Free. But then Katie's secret gets out, forcing each of them to face reality—before it tears them to pieces.



My Review
I find myself a bit of a loss as to how to review Pieces of Us. I knew going into this novel that it was going to be dark, but I don't think I anticipated HOW dark it would turn out to be. Margie Gelbwasser presents a story that is more than a tale of four troubled teens - it's a look at the darker aspects of humanity. This could have been a very compelling read, because the author's writing is in fact quite good, but somewhere along the lines, it fell apart.
Told in alternating points of view from sisters Julie and Katie, and brothers Alex and Kyle, Pieces of Us follows two broken families over the course of a year. Each of the main characters is dysfunctional in various ways, and while the differing points of view were very easy to follow, because the characters are so distinct, I felt at times like the story was moving way too fast between the characters. Each chapter was only a few pages long, sometimes only two pages, and it had a rather whiplash effect after awhile. Spending so little time with each character before moving on made it hard to connect with any of them; ironically, the character I liked the most was Kyle, who's second person present point of view was the most detached.
I had many issues with Pieces of Us, and one of them may seem minor, but there were a great deal of typos in the book. And not small ones, scattered throughout. There were a lot, and it would sometimes be misspelled words while in other sentences, a crucial word would be missing, eg "I told Katie to go to the store" would be "I told Katie go to the store." That really really irked me after awhile - I started wondering if anyone had edited the book.
My other issues was the parenting, or lack thereof in Pieces of Us. Kyle and Alex's mother was absolutely horrible - detached to the point that she didn't care if her boyfriends abused her sons - and I despised Katie and Julie's mother. She was entirely focused on appearances, proud of Katie when she was dating the star athlete, and disparaging of Julie. Then when the sister's situations were reversed, Julie became the favorite daughter, and seemed to totally forget it wasn't that long ago her mother told her that not everyone could be pretty, and Julie should find another way of attracting friends and romances. Katie and Julie's father was a weak character who gave in to his wife; she was a vain woman who felt she had "settled" for a different life than she deserved. I really hated Anna, the sister's mother, to the point that I wanted to crawl into the pages and strangle her. She did so much damage to both of her daughters.
Finally the characters were well developed, but I grew more and more disturbed as I read further into Pieces of Us. With his father's death, Alex became emotionally abusive toward Kyle, going so far as to force him to participate in his sexual trysts, claiming all the while that he was protecting Kyle, that Kyle needed him. Alex was incredibly misogynistic, while Kyle was struggling to retain a sense of normalcy. Katie, meanwhile, hid behind so many facades and made various poor choices, and Julie had loyalty to anyone - not to her boyfriend, her family, or friends. Julie started out as a shy character, jealous of her older, "perfect" sister, and devolved into someone cold and arrogant so fast that my head was spinning. I did have some hope for Katie and for Kyle in the end, but for the most part these four characters were so broken I doubt any of them could have recovered.
Overall Pieces of Us is a fast-paced read, which did hold my interest. I considered not finishing it, but I did want to know what happened to these characters. I will say that it was a morbidly fascinating read; however, I would not recommend it for younger readers due to extreme themes of abuse, rape, alcohol, and rough sex. There aren't enough good things about it for me to recommend it to anyone, sadly.
In accordance with FTC guidelines,

I received this book from the publisher via NetGalley in exchange for an honest review. No money or compensation of any sort exchanged hands. I review books with no intention of monetary gain; rather, I review books out of my love of reading.