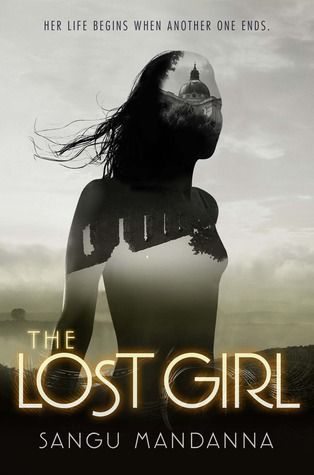 The Lost Girl
by Sangu Mandanna
Pages:
432
Expected publication
: August 28, 2012 (HarperCollins)
Source
:
ATW
ARC Tours
Rating:
Squee-worthy
Add it/Purchase
:
Goodreads
|
Amazon
|
Barnes & Noble
Connect with the author
:
Website
|
Twitter
___
Eva's life is not her own. She is a creation, an abomination—an echo. Made by the Weavers as a copy of someone else, she is expected to replace a girl named Amarra, her "other", if she ever died. Eva studies what Amarra does, what she eats, what it's like to kiss her boyfriend, Ray. So when Amarra is killed in a car crash, Eva should be ready.

But fifteen years of studying never prepared her for this. Now she must abandon everything she's ever known—the guardians who raised her, the boy she's forbidden to love—to move to India and convince the world that Amarra is still alive.

What Eva finds is a grief-stricken family; parents unsure how to handle this echo they thought they wanted; and Ray, who knew every detail, every contour of Amarra. And when Eva is unexpectedly dealt a fatal blow that will change her existence forever, she is forced to choose: Stay and live out her years as a copy or leave and risk it all for the freedom to be an original. To be Eva.

From debut novelist Sangu Mandanna comes the dazzling story of a girl who was always told what she had to be—until she found the strength to decide for herself.
When I began The Lost Girl, I was prepared for a story of technology gone wrong, but what I found instead was a heart-wrenching tale of love, loyalty, and the importance of having your own identity. It's something we all take for granted - the freedom of making our own choices about what to eat, what to wear, what to read or study, or what to like and dislike. What would YOU do if everything about your life was decided based on you having to copy the life of someone else? Imagine a world like that...imagine trying to keep even a spark of yourself alive...and then you will have an idea of what Eva's life is like in Sangu Mandanna's debut novel.
Eva has lived her entire life mimicking her "other's" likes, dislikes, and studying her mannerisms and thoughts, all in order to replace Amarra if Amarra ever dies. Mandanna created a stunningly poignant character in Eva, whose strongest wish is also the simplest possible: to be seen as her own person. When Amarra suddenly dies, Eva is ripped from the only life she has ever known - including the life-like secondary characters who have been her caretakers: Mina Ma, Ophelia, and Erik - and has to face the fact that she is now, for all purposes, Amarra.
Eva tore at my heart as she fought against the inevitable; her only choices are to become Amarra or to be unmade - literally unstitched by the Weavers....and let me tell you, they are frightening! I wanted to reach out and hug Eva, and tell her that she wasn't alone. Her quest to find herself, while trying to be someone else, was terrifyingly real. As Eva bleeds through into Amarra and she runs the risk of her secret coming to life, I was hopelessly involved in The Lost Girl, following Mandanna's every word, hanging on the end of every chapter.
Emotionally, I definitely connected with Eva, and with a few of the other characters. Mandanna has crafted everyone with care here, weaving them as carefully as the echoes are created. While all of the minor characters felt as if Mandanna spent time with them, developing them, the stand-outs were Sean - Eva's would-be love interest -, Nikhil, Amarra's younger brother, and Matthew. Oh, Matthew. From his first scene, I adored him. He's the type of sly, intelligent character you know you shouldn't trust, shouldn't even LIKE, but you still find yourself falling hard for him. And while I definitely did NOT like Amarra, it was fascinating, how MUCH of a presence she was in this story, considering she and Eva are never face to face, of course.
I didn't expect there to be a love story at all in The Lost Girl, but there are several. I thought the tentative, largely unsaid feelings between Eva and Sean were just gut-wrenchingly honest and all the more beautiful because of it. Likewise, the conflict and torment between Ray and Eva - who he mostly sees as Amarra - was almost painful to read about, yet drew me in all the same.
There are many questions asked in The Lost Girl - questions about mortality, about life, and death, and about the weight of the human soul, and if anything of it ever lingers after death. The pages are soaked in both love and grief, seen in the eyes of Amarra's family, Eva's "familiars." Sangu Mandanna has created a clever plot that never left me bored - if anything as the story progressed, I read faster, driven to find out what happened next. Between Eva's struggles to maintain her identity, and the ominous Weavers, nothing about The Lost Girl is safe, but it is definitely a book that you will think about long after you read the final pages!
Other books by this author:
None yet! Hoping this is a series though!
You're sure to fall for: