Voodoo Dues by Stephany Simmons
Pages: 71
Published: 07.23.2011
Series: Lian and Figg (1)
Source: Received via author
Final Rating: 3.5 of 5 stars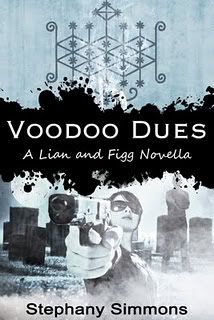 From the beginning of Figg's employment, there is something not quite right about the bar. There are few customers, a parade of neighborhood psychics and pentacle adorned visitors, all coming to hold court with her enigmatic boss. Figg is not sure what is going on, but she is determined to find out!

When the local voodoo queen shows up, and the next morning her grandson ends up dead outside the bar things get interesting.

Figg pesters Lian into telling her the truth about his former life, and is thrust into a world where the things that go bump in the night are real. There's a murder to solve, zombies to lay to rest and a villain that neither of them saw coming.
My Review
Stephany Simmon's
novella, Voodoo Dues dives right into the action, setting the tone for this fast-paced, delightful urban fantasy offering. We're introduced to the mysterious Lian and the vivacious, spirited Figg, a bar owner and his bartender until they get mixed up in something neither of them ever bargained for. I liked Figg at once – she's saucy, self-aware, unique, and doesn't pretend to be anything she isn't. I wasn't sure about Lian – I didn't quite understand him or his motivations at first, although it all became somewhat clearer over the course of the novella, but I definitely wanted more time with him, to truly "get" him.
Voodoo Dues
is a fun read, light-hearted at times, dipping into the serious at others. As Lian and Figg become embroiled in voodoo culture, including the local voodoo queen, Rene Champtillion, it soon becomes clear they're in over their head. Neither of them expected to have to deal with someone raising zombies from the dead, much less the other dangers coming their way.
The characters were what stood out in this novella for me. Rene is a character I'd like to read more about, possibly even in her own short story or novella. I was rather drawn to her, to the aura around her. I also have a big soft spot for Carl, and his spirit guide. There were several moments I snickered or laughed aloud thanks to him, and the unexpected comic relief he provided.
I really loved the tension, sexual and otherwise, between Figg and Lian. I was left craving more of that, of them. They had a really cool vibe, and I would love to read even a full-length novel about them, in order to better explore their bond. Voodoo Dues took them beyond where they had been, the employer-employee connection, kinda hurtled them toward the next level without ever fully stating they were there yet.
Overall, I really enjoyed Voodoo Dues. I can't rate it a 4 or 5 star read, but in this case, 3.5 is NOT bad, in my opinion. My rating is in no way meant to indicate I did not like this novella. I simply felt as if it was too short! The 71 pages flew by – I wanted, and needed more. I sincerely hope that Stephany Simmons writes more, and I have hope, going on the Goodreads listing, calling VooDoo Dues the first in a series. I need more of Lian and Figg, their interaction, his history, and their future adventures.
Recommended for fans of
: Patricia Briggs, Richelle Mead.
Memorable Quote
I strutted over to the Liberace inspired couch and took a seat, looking around at all the shiny, gaudy as hell decor. "Nice to meet you Carl."
"I can't tell you how happy I am that my cover is blown." He was no longer speaking with effeminate attitude. The previous forced soprano dropped to a Barry White bass. Carl ripped the gaudy headdress off and threw it on the floor, the wig followed next, the jewelry, and then the dress. Finally there was a very large, very bald black man standing in the middle of the room clad only in tightie whities.
"Um… awkward," I said indicating his state of undress.
Disclaimer
In accordance with FTC guidelines,

I received this book from the author in exchange for an honest review. No money or compensation of any sort exchanged hands. I review books with no intention of monetary gain; rather, I review books out of my love of reading.