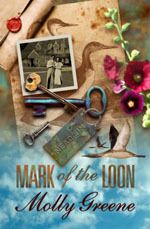 Mark of the Loon by Molly Greene
Pages: 294
Published: May 14, 2012
Source: E-book from the author in exchange for an honest review
Rating: Squee-worthy
Add it/Purchase:
Goodreads
|
Amazon
|
Barnes & Noble
Connect with the author:
Twitter
|
Website
___
Madison is a skilled property "flipper" who renovates distressed homes in addition to her busy real estate sales career. She struggles with the inability to put down roots years after the sudden death of her beloved parents. Madison and her three wise, hilarious friends all wonder if she uses her busy, work-centric lifestyle as an excuse to avoid connection with anyone but them.

When Madison checks out a probate sale outside Healdsburg, California, she falls in love with the European-style house on a private tract of land overlooking Lake Sonoma. In fact, she likes the place so much she climbs in the window for a private tour. With help from lawyer and friend Genevieve Delacourt, Madison soon learns that the estate's corrupt attorney has manipulated the sale and is attempting to steer the purchase to an anonymous client in a deceitful plan for personal gain.

Good fortune enables her to purchase the Blackburne's property, but far more than a new home and lush gardens await discovery during this renovation. As Madison works on the remodel, she's drawn into an old love story with dangerous consequences. In the process, she discovers herself as she unearths buried secrets. The series of events both endanger Madison and lead her to love – and a permanent home. Mark of the Loon is the skillful combination of history, mystery, and romance in a novel that explores deep friendship, choices, and how individuals cope with loss.
Serial house flipper Madison Boone caught my interest in the opening chapters of Mark of the Loon; Madison buries her grief over losing her parents in renovation and selling homes, and in her closest friends. Since I can understand the urge to hide from that kind of heartache, I immediately connected with Madison - in her, author Molly Greene has created a sympathetic character who makes her own share of both good and bad decisions, surrounded by a terrifically developed group of female friends. Part women's fiction, part mystery, part contemporary, Mark of the Loon is a fantastic and heart-felt novel!
Greene's debut novel has so much going for it, from the deep and genuine friendships between Madison, Gabi, Gwen, and Anna, to the next layer down - Madison's issues and how they're explored -, not to mention the tentative and sweet romance that organically develops for Madison and Cole Welles. Not only was I never bored, I was absolutely fascinated as Madison pulled back the curtain on the couple who owned the house before her and filled it with their stories and their love. I enjoyed learning about Mallory, the woman who shared Madison's initials, and her husband. I didn't expect the mystery surrounding them, but it was a delightful addition to Loon!
As Molly Greene's novel slowly unfolded, I fell deeper into the story being told. I wasn't merely reading about Madison's life; I felt like I was there - discovering the quaint old home and impulsively buying it, falling for Cole amidst being terrified of doing so, digging into the enigma of the past owners of Madison's new home. I definitely was as surprised as Madison was by how everything worked out in the end!
With supportive and amazing friends any girl would be lucky to have, an exploration of healing from old grief, a truly swoon-worthy and steadfast love interest, and side characters who, even though they aren't in Mark of the Loon very often, nevertheless were a hugely felt presence, Greene's novel is a truly heart-felt and poignant read. Whether you're looking for a mystery, a romance, a contemporary, something with humor, or even a touch of the paranormal, Mark of the Loon has something for everyone!
Treasure Me
by Christine Nolfi