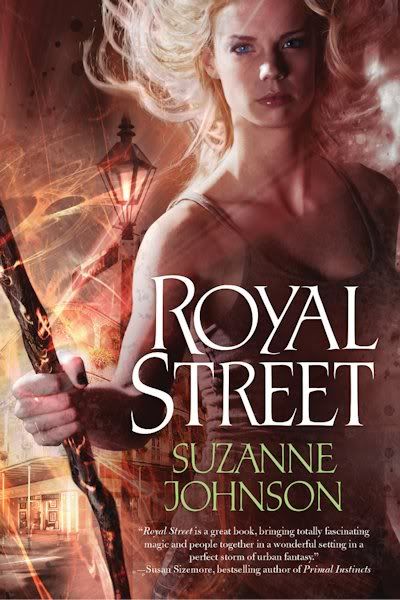 Royal Street
by Suzanne Johnson
Expected publication
: April 10, 2012 (Tom Doherty Associates)
Pages
: 336
Rating
: Squee-worthy
Source
: E-ARC from the publisher
Series or stand-alone:
Sentinels of New Orleans (1)
Further info/purchase
:
Goodreads
|
Barnes & Noble
|
Amazon
Find the author online:
Twitter
|
Website
As the junior wizard sentinel for New Orleans, Drusilla Jaco's job involves a lot more potion-mixing and pixie-retrieval than sniffing out supernatural bad guys like rogue vampires and lethal were-creatures. DJ's boss and mentor, Gerald St. Simon, is the wizard tasked with protecting the city from anyone or anything that might slip over from the preternatural beyond.

Then Hurricane Katrina hammers New Orleans' fragile levees, unleashing more than just dangerous flood waters.

While winds howled and Lake Pontchartrain surged, the borders between the modern city and the Otherworld crumbled. Now, the undead and the restless are roaming the Big Easy, and a serial killer with ties to voodoo is murdering the soldiers sent to help the city recover.

To make it worse, Gerry has gone missing, the wizards' Elders have assigned a grenade-toting assassin as DJ's new partner, and undead pirate Jean Lafitte wants to make her walk his plank. The search for Gerry and for the serial killer turns personal when DJ learns the hard way that loyalty requires sacrifice, allies come from the unlikeliest places, and duty mixed with love creates one bitter gumbo.
Suzanne Johnson's urban fantasy, Royal Street starts off with a bang: a bottle of rum, a junior wizard, and a sexy, undead pirate - and the action and mystery never lets up from there. As an apprentice sentinel (the sentinel is a wizard who keeps all the creepy-crawly oogly-boogly's from slipping through the barrier of the other side and into New Orleans), Drusilla Jaco, or DJ as she prefers to be called, is a force to be reckoned with when it comes to her potions, but lacking in the physical magic department. She can paralyze you with a potion, but can't throw you across the room - so imagine strong-willed DJ's surprise and frustration when, after her mentor goes missing in the devastation of Hurricane Katrina, the wizard's Elder council sends an Enforcer in as her new partner...a sexy-as-hell Enforcer, complete with grenades, hand guns, and a seductive aura to him that DJ has to struggle to resist.
After Katrina, the normally resistant walls between the afterlife - where you'll find anyone from vengeful pirate Jean Lafitte to Louis Armstrong - disintegrated. Normally, DJ's mentor and father figure, Gerry would be the wizard sending the dead back where they belong, but with him missing and presumed dead, the task falls to DJ, now promoted to Sentinel, a task even she isn't sure she's prepared for. She's got a lot on her plate: Alex, her Enforcer - whom she may be falling for - plus Jake, his amber-eyed, big-hearted cousin who she's definitely crushing on, not to mention Jean Lafitte, who won't stay dead, and either wants to kiss her or kill her.
I had a LOT of fun with Royal Street. I read it in two days, and would have finished it sooner, but the formatting was kind of weird - it was set by default at a small font, so I kept having to enlarge the font every time I turned a page, but that's neither here nor there. DJ is an awesome heroine - kick-ass despite her lack of physical magic. She's resourceful, she's independent and fierce, and I fell for hr instantly. I connected with her, and couldn't tear myself away from Royal Street and DJ's adventures. I loved learning about her and her relationships with her family and with Gerry. I also loved watching her interact with both Alex and Jake. (It probably didn't help that I'm pretty sure I mentally dream cast Jeffrey Dean Morgan as Alex - he's too old for the role, but mmmmm, that didn't stop me.)
Suzanne Johnson has written a superb first in a series, and it's the most excited I've been about a new series in awhile. With some books, I feel that a sequel isn't necessary; with Royal Street, I was emphatic that there HAD to be a sequel - and there will be, later this year! I was impressed with the pacing of Royal Street, as well as how carefully Suzanne crafted her characters, from DJ to Alex, to Jake (*swoons a lot*) to Gerry, and so on. Drusilla is a fabulous narrator, and I really loved her voice, mixed with Suzanne's snappy writing style. But she also knows how - and more importantly - when to slow things down for a romantic interlude or a sobering family moment. There's a wealth of potential here for more stories, and more adventures, especially with the knowledge that we aren't just talking the not-so-resting dead - we're also talking potential for vampires, werwolves, and other such creatures of the night to come into play. (And somehow, I don't think these vampires will sparkle...)
I was only mildly disappointed with a few aspects of Royal Street - one of them was what was, I assume, supposed to be a big reveal, but I figured it out a LONG time before DJ did. That's okay, because I still enjoyed Royal Street, but some of the events that happened after the reveal upset me a bit...I felt like all the lead-up had been for nothing, but really, that was my only complaint. Everything else was great, including the smoking hot Alex and the still water, Jake.
I'm absolutely torn between the two of them - my heart says Alex is more DJ's type, but you see, Jake is THAT character that I always fall for - the shoulder when you need to cry, the kiss that instantly sweeps you off your feet, the tormented edge that draws you in, the chivalry that makes you fall even harder. Jake is quiet and stalwart with an edge he doesn't show often, and when the way Royal Street left off with him, I'm both happy and nervous for the next books. I will definitely be reading anything else in this series that Suzanne Johnson publishes!
What's your favorite urban fantasy novel? Have you read Royal Street - if not, will you? (I promise you'll like it.) Do you read a lot of urban fantasy, whether it's YA or adult? What type of male character do you fall for, the alpha male hotness or the quiet, tormented-but-amazing guy?