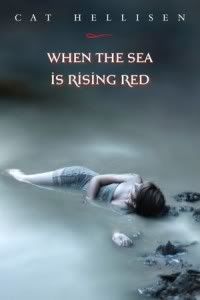 When the Sea is Rising Red
by Cat Hellisen
Pages
: 296
Published
: February 28, 2012 (Farrar, Straus, and Giraux)
Source
: ARC from the publisher via DAC Tours
Rating
: Squee-worthy
Series or stand-alone:
Stand-alone
Further info/purchase
:
Goodreads
| Amazon |
Barnes & Noble
Find the author online
:
Twitter
|
Website
After seventeen-year-old Felicita's dearest friend, Ilven, kills herself to escape an arranged marriage, Felicita chooses freedom over privilege. She fakes her own death and leaves her sheltered life as one of Pelimburg's magical elite behind.
Living in the slums, scrubbing dishes for a living, she falls for charismatic Dash while also becoming fascinated with vampire Jannik. Then something shocking washes up on the beach: Ilven's death has called out of the sea a dangerous, wild magic. Felicita must decide whether her loyalties lie with the family she abandoned . . . or with those who would twist this dark power to destroy Pelimburg's caste system, and the whole city along with it.
Debut author Cat Hellisen spins a magical, seductive web around readers with her offering, When the Sea is Rising Red. The story of strong, unsatisfied Felicita, who leaves behind everything she knows in order to escape the life her family - including her controlling, cold brother - has planned in advance for her, When the Sea is Rising Red grips you from the opening pages, and refuses to let go. I devoured this book in one sitting, because I was so fascinated both by Felicita, and by the unusual, astounding caste system and hierarchy Cat Hellisen introduces to the reader. I was fascinated with the notion of the various families specializing in one type of magic or another, as well as the differences between the families that ruled Pelimburg through their magic, and the poor that served them.
As well-developed as the world-building was in Cat Hellisen's novel, the characters were just as richly fleshed out, from Felicita, and her yearning for more, to the pleasant, stifled Jannik, to Felicita's cool, cowed mother, to the charming, vivacious Dash, who I fell for immediately upon meeting him. Dash is manic and friendly, full of life and energy and a bit crazed, and I wanted to hug him forever, although by the end of When the Sea is Rising Red, I also wanted to shake him. Dash is infuriating, but such a vividly painted character that he just brings an added depth to this book. I've rarely taken to another character so quickly, flailed happily over one more, and been angrier at his storyline. I was with him up until the end, on board with his daring plans to tear apart the city's caste system, and then Cat Hellisen lost me somewhere in the last thirty or forty pages. That didn't take away from my enjoyment of the book, but it did sour me a little bit.
When the Sea is Rising Red stands out amongst all the other debut books I've read this year because it's...unique. Different. Felicita is a strong heroine, who, while she may not know what she wants, knows what she - doesn't - want and isn't afraid to take a chance, a risk, to avoid unhappiness. I deeply admired Felicita for that. She walked out into the unknown, not knowing what to expect, but determined that what she was chasing after would be better than what she left behind. And in the end, I think she found something like what she was looking for. It was a different ending than I expected, but not a bad or unhappy ending; it left Felicita in what, I think, would become a good place, and definitely out of the clutches of her ass of a brother. I have to applaud Cat Hellisen for taking chances.
I also have to touch on the magic aspect of When the Sea is Rising Red. I REALLY enjoyed how it was all explained, and how just when you thought you knew what was happening, and what was possible, Hellisen snuck in a twist to the story that had me going, "whoa!" This was a different sort of magic than I've read about before, a little darker and wilder, and I loved that about it: it wasn't safe, it wasn't all for-the-good-of-others, and nothing about this story was your run-of-the-mill fantasy. So bravo, Cat Hellisen, for a tremendously satisfying debut novel!