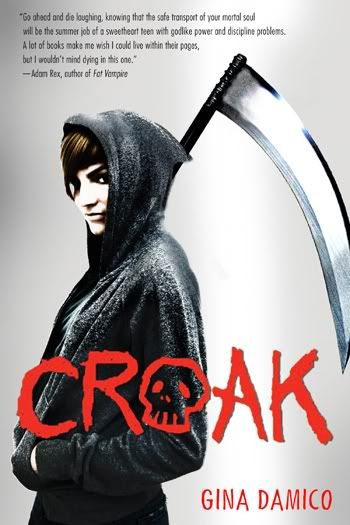 Croak
by Gina Damico
Expected publication
: March 20, 2012 (Houghton Mifflin Harcourt)
Pages
: 311
Rating
: Squee-worthy
Series or stand-alone
: Croak (1)
Source:
E-ARC from the publisher
Further info/purchase
:
Goodreads
|
Amazon
|
Barnes & Noble
Find the author online
:
Twitter
|
Website
Sixteen-year-old Lex Bartleby has sucker-punched her last classmate. Fed up with her punkish, wild behavior, her parents ship her off to upstate New York to live with her Uncle Mort for the summer, hoping that a few months of dirty farm work will whip her back into shape. But Uncle Mort's true occupation is much dirtier than that of shoveling manure.

He's a Grim Reaper. And he's going to teach her the family business.

Lex quickly assimilates into the peculiar world of Croak, a town populated entirely by reapers who deliver souls from this life to the next. Along with her infuriating yet intriguing partner Driggs and a rock star crew of fellow Grim apprentices, Lex is soon zapping her Targets like a natural born Killer.

Yet her innate ability morphs into an unchecked desire for justice—or is it vengeance?—whenever she's forced to Kill a murder victim, craving to stop the attackers before they can strike again. So when people start to die—that is, people who aren't supposed to be dying, people who have committed grievous crimes against the innocent—Lex's curiosity is piqued. Her obsession grows as the bodies pile up, and a troubling question begins to swirl through her mind: if she succeeds in tracking down the murderer, will she stop the carnage—or will she ditch Croak and join in?
Lex Bartleby is a self-professed "equal opportunity bully," a girl who goes in two short years from being a model daughter to the terror of her high school. When her parents inform her - after restraining her at the dinner table - that she's being sent to live with her Uncle Mort for the summer, all hell breaks loose. Lex goes, albeit unwillingly, and the real fun begins when she meets Uncle Mort and they travel to the hamlet of Croak, possibly the best kept secret and most unorthodox little town you've never heard of. Hilarity, misadventures, and even a bit of romance ensue in debut author Gina Damico's Croak.
I was excited to read this book, but when I started it, I was unsure. It hit me what was wrong after about two chapters: this book is in 3rd person, and I've read mainly 1st person point of view books recently, so that in and of itself is NO fault of Croak. And, the further I dug into the story, the cooler the setting is (more on that in a minute). But by far, the point where I fell, heart and soul, for Croak...was when I met Uncle Mort. Mort is too cool for words, and I may have squee'ed over him for an inappropriate amount of time. He's not the only well-fleshed out character in the book - he just happens to be the most awesome one.
Croak is a fun story, considering it revolves around the topic of death. Gina Damico keeps the action flowing as well as the jokes. There were a few moments where I literally laughed out loud - something completely unexpected amidst this story of a town full of Grim Reapers, but you see, Croak is irresistibly good. Gina does a great job at writing not one but several teen characters - under her pen, they seem real, people you'd want to get to know, despite the scythes they carry. Croak also brings to life the sleepy town through a vast array of hilarious secondary characters, and Gina even managed to surprise me with the identity of the book's villain.
My only downsides are really quibbles: I wish several of the characters, mostly the other Grims, had been a bit more fleshed out. As awesome as they were to Lex, befriending her, I'm hoping we get more back story (and possibly a bit less kissing in the case of Kloo and Ayjay) in the sequel. Gina is talented enough that I'd hate to see her waste that by not living up to her full potential. Croak proves that Gina is enough of a risk-taker to keep the reader guessing, so I am highly anticipating Scorch, the sequel.
Overall Croak was an adorable, fluffier fantasy. I would compare it to The Hitchhiker's Guide to the Galaxy - it kept reminding me of that series (which I LOVE) because at times, Gina would break from Lex's point of view and make a seemingly random statement that nonetheless was funny and fit right in with the tone of Croak. There were also some very "punny" moments and names, which I loved. I spent a lot of time giggling, which I think I mentioned, and there was definitely action and danger, and I loved the softer side of Lex we got to see as Croak goes on. There is even a tinge of romance, but I won't spoil. Instead I'll say...read this one yourself!
Have you read Croak? What did you think? Are you as psyched for the sequel, Scorch, as I am?
Or have you read a similar book you'd like to recommend me? Are you a fan of YA paranormal books?
I shelved this one as 'YA urban fantasy,' but it was also a bit of a paranormal romance, too - which is cool because I enjoy both genres. What about you?