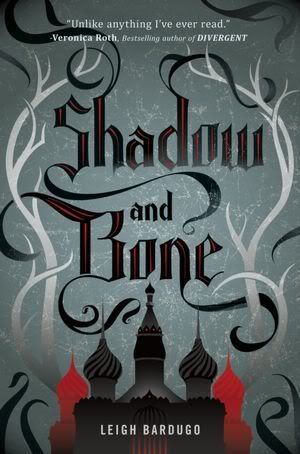 Shadow and Bone
by Leigh Bardugo
Expected publication:
June 5, 2012 (Henry Holt and Co)
Pages:
368
Series or stand-alone
: The Grisha (1)
Source:
ARC from the publisher
Rating:
Swoon-worthy
Further info/purchase:
Goodreads
|
Amazon
|
Barnes & Noble
Find the author online:
Twitter
|
Website
Surrounded by enemies, the once-great nation of Ravka has been torn in two by the Shadow Fold, a swath of near impenetrable darkness crawling with monsters who feast on human flesh. Now its fate may rest on the shoulders of one lonely refugee.

Alina Starkov has never been good at anything. But when her regiment is attacked on the Fold and her best friend is brutally injured, Alina reveals a dormant power that saves his life—a power that could be the key to setting her war-ravaged country free. Wrenched from everything she knows, Alina is whisked away to the royal court to be trained as a member of the Grisha, the magical elite led by the mysterious Darkling.

Yet nothing in this lavish world is what it seems. With darkness looming and an entire kingdom depending on her untamed power, Alina will have to confront the secrets of the Grisha…and the secrets of her heart.
Shadow and Bone is one of those incredibly special, very rare books: the kind that, from the moment you read the first sentences, just grips you so tightly that you don't even want to be let go of - you just want to keep reading. I was so torn with this book... I wanted to finish it in one sitting, but I also could not bear the thought of being done SO soon, because Leigh Bardugo's debut novel - a tale of magic, loyalty, deception, and power - had already become so meaningful to me. I read it over the course of a few days and even that was too quickly. Some books deserve to be savored, and Shadow and Bone is one of those books. I've been reading sci-fi and fantasy books for going on about 12 years now and yet recently, I hadn't read an amazing YA fantasy. Within the first few chapters of Shadow and Bone, I literally let out a contented sigh, because I had come home to my favorite genre, in a big way. And as I ventured further into the story, that feeling persisted, coupled with an intense admiration for Alina Starkov, the main character.
In the opening pages of Shadow and Bone, we get a short glimpse at Alina and Malyen "Mal" Otsev, orphans who have been taken in by the Duke of Keramsiv. Mal and Alina grow up together and eventually both become soldiers, after being tested and found lacking in any magic that would mean them receiving Grisha training. The Grisha are a society within Ravka, with various factions and hierarchies, yet Alina and Mal forge a different life as adult soldiers - until the day Mal is injured and witnesses claim to have seen Alina emitting a light bright enough to drive away the vulcra - flesh-eating monsters that live in the Fold. At that point, Bardugo's story takes on a whole other level, as Alina begins training and trying to adapt to a life as a Grisha...which means leaving behind everything she's ever known...including Mal.
Alina's new life is made up of magic, glamor, riches - and loneliness. Alina is a strong, loyal and independent girl, but she's never fit in anywhere, except with Mal. Alone with few allies in the Little Palace (the home of the Grisha, on the King's grounds), my heart went out to brave, sympathetic Alina. Leigh Barduguo does an amazing job of creating a character that readers will immediately connect with, in Alina. I cheered for Alina when she stood up to someone, and I cried with her when she missed Mal, her best friend, her confidante...and so much more. I laughed with she got the best of someone and I feared for her safety when she did. I was right there in the story with Alina, taking every step of her journey with her. The world of the Grisha - their factions and levels, and politics - was so well fleshed out that it was impossible for it all not to come alive, lifting off the pages of Shadow and Bone.
I absolutely adored the explanations behind who the Grisha were, and what they did. I even found myself wondering: if I was in this world, where would I fit in? (Of course, I couldn't decide.) It took me a bit of time to get used to the terms and characters, but I did, and even found a few favorites, like Genya, David, Botkin and Baghra. Leigh Bardugo really took the time to develop her characters, especially beautiful, wounded Genya. One or two characters fell a bit flat, but that's probably because we just didn't get to see much of them. I enjoyed what we did see of the large cast of supporting characters, and Alina's various interactions with them were just stunning.
The plot of Shadow and Bone moves along really nicely; in fact, I'd call the pacing just about perfect. The story covers several months in actuality, yet the story never felt rushed, or as if it were dragging along. It all fell into place, just as so much else did. I loved reading about Alina's transition from orphan to fledgling Grisha, seeing her embrace her power and find her place in her new life. She grew as a character, yet retained the core values that made her so awesome and admirable.
Of course my review wouldn't be complete without a mention of two of the most important characters other than Alina - the Darkling, and Mal. The Darkling is high in the ranking of the King's court. "Darkling" is actually the title given to his position and to say he is an enigma wrapped in a riddle is an understatement. The Darkling was a lusciously developed villain, with a sensual tinge, who drew me in right along with Alina. Leigh Bardugo did an amazing job bringing the Darkling to life, and making me wonder about his motivations: was he good, or bad, or somewhere in between? He's my FAVORITE type of villain - the one you don't "get," the one who makes you wonder what makes him tick. I loved his moments with Alina.
And finally...Mal and Alina. The reason I spent so many parts of this book crying my eyes out, and in my opinion, where the real heart of Shadow and Bone lies - wrapped up with these two. The pain of unrequited love is an especially brutal one, and I cried with Alina more than once over Mal. It was clear to me she had long since fallen in love with her best friend, just as it was painfully clear that he didn't see that she had. I wanted to hug her and shake him at times, then at other times, I just wanted to hug them both and sob with them. My happiness depended on theirs, and they certainly frustrated and scared me, but it was also well worth it, to get to experience their story. There's a great deal of pain, gratitude, happiness, nostalgia, and friendship in between Alina and Mal, and it all comes into play during Leigh Bardugo's magnificent book.
Truly, they were beautiful, and probably the biggest draw for me, and the part that kept luring me back in to read a few more pages, even though as I said above, I didn't want to finish too soon.
Overall if you're looking for a debut that will keep you up late, and keep you guessing as to who is a villain and who isn't, not to mention a breath-taking love story and a finely developed, lavish world, Shadow and Bone is for you. I loved it so much I'm offering my ARC for a giveaway!