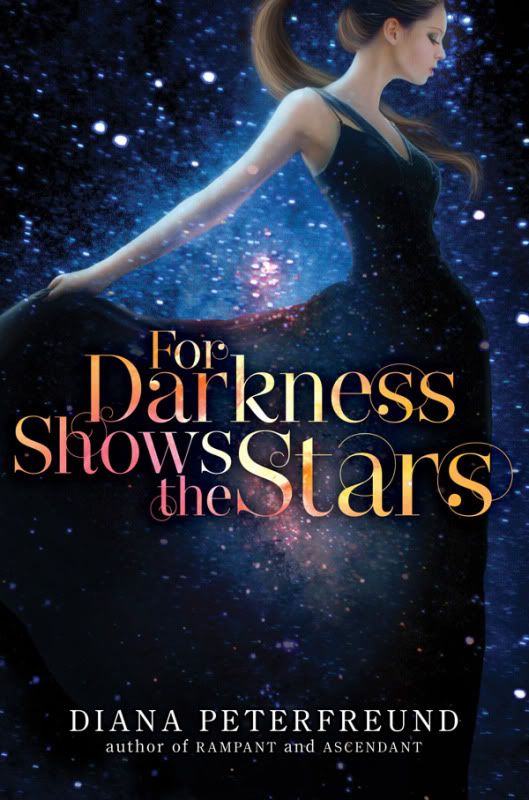 For Darkness Shows the Stars
by Diana Peterfreund
Pages:
398
Published:
June 12, 2012 (Balzer + Bray)
Rating:
Squee-worthy
Source:
ATW ARC Tours
Add it/Purchase
:
Goodreads
|
Amazon
|
Barnes & Noble
Connect with the author:
Website
|
Blog
___
It's been several generations since a genetic experiment gone wrong caused the Reduction, decimating humanity and giving rise to a Luddite nobility who outlawed most technology.

Elliot North has always known her place in this world. Four years ago Elliot refused to run away with her childhood sweetheart, the servant Kai, choosing duty to her family's estate over love. Since then the world has changed: a new class of Post-Reductionists is jump-starting the wheel of progress, and Elliot's estate is foundering, forcing her to rent land to the mysterious Cloud Fleet, a group of shipbuilders that includes renowned explorer Captain Malakai Wentforth--an almost unrecognizable Kai. And while Elliot wonders if this could be their second chance, Kai seems determined to show Elliot exactly what she gave up when she let him go.

But Elliot soon discovers her old friend carries a secret--one that could change their society . . . or bring it to its knees. And again, she's faced with a choice: cling to what she's been raised to believe, or cast her lot with the only boy she's ever loved, even if she's lost him forever.
I wanted to read For Darkness Shows the Stars from the moment I read the title and glimpsed that ethereal, gorgeous cover. Immediately after starting Diana Peterfreund's novel of lost love, missed chances, and sinister technology, I found myself falling in love with the stately setting, a brilliant combination of old and new spinning on the same axis.
Our protagonist, Elliot North is the overseer of her family's plantation, although it remains in her father's name, and in his clutches. Elliot, who I loved a great deal for her fierce loyalty to those she cares about, chose duty over love when she turned down the chance to leave with her childhood sweetheart, Kai. Since then, Elliot has worked the farm, clinging to the stalwart Luddite ways, her life-long beliefs...until the day she rents out adjoining land to the Cloud Fleet. Everything changes for Elliot then - Kai, who she still has unresolved feelings for is back, which brings to the surface a convoluted dance of cool civility and mingled pride for the two of them, a courtly waltz that was as frustrating as it was heart-breaking. Elliot and Kai are the type of love interests I so adore reading about - they share a tortured past, and a strained friendship. For me, their relationship made For Darkness Shows the Stars a breathlessly beautiful read.
It hurt my heart, watching Elliot hope to regain something with Kai, only to see him turn her away, obviously still dealing with his own heart-ache. The emotions swirling between the two were wonderfully explored, both in the present, and in letters in between the chapters, that unraveled their shared history, their friendship, and the events that led to Elliot refusing Kai. I've read a few reviews that claimed Kai was cold and treated Elliot unfairly, and while I can understand how some would have that opinion, in Kai, I could see a tormented young man trying desperately to come to terms with the changes in his life, and with being confronted with coming home to his former sweetheart. Diana Peterfreund has created a stellar, stand-out pairing with Kai and Elliot. There are also several other minor characters not to be missed, like Olivia, Felicia, and Ro among them, which made ME happy, because I love it when authors take the time to flesh out secondary characters.
While I loved the writing, which was at times bittersweet, at times emotional, and always sound, what I really drank in excitedly was the atmosphere. Somewhere between the wistful ambiance of a Jane Austen novel (For Darkness Shows the Stars is inspired by Persuasion, which I haven't read, sadly), and a heart-pounding futuristic thriller, the mix of modern and anachronism was a startling and amazing contrast. I loved learning about both the Luddite and Reductionist cultures, and I could see the tragedy in both society's values and rules. Both sets of rules and histories were steeped in fascinating mythos and customs, and I applaud Diana Peterfreund for her use of technology and fear together to drive For Darkness Shows the Stars onward.
Overall I quite enjoyed For Darkness Showed the Stars. It had a dreamy, ethereal feel to it, which did slow down the pacing, but I didn't mind that, because I was too enthralled with Kai and Elliot, watching them grow, mature, and change, and try to overcome their past decisions and misconceptions of one another. The only reason that Peterfreund's book doesn't get a higher rating with me is that I felt like the motivations of several of the characters, mostly Elliot's family, were never properly explained, and that that angle was left dangling. I never really bought the tension and animosity between Elliot and her sister, and Elliot and her father, because it was brushed over. Other than that, I would definitely recommend For Darkness Shows the Stars!