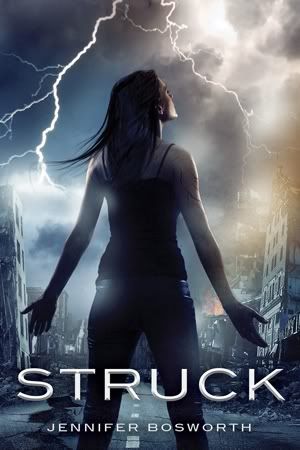 Struck
by Jennifer Bosworth
Pages
: 373
Published:
May 8th 2012 by Farrar, Straus and Giroux BYR
Source:
E-ARC from the publisher
Rating:
Beam-worthy
Series or Stand-alone:
Stand-alone (for now?)
Further info/Purchase
:
Goodreads
|
Amazon
|
Barnes & Noble
Find the author online
:
Website
|
Twitter
|
Facebook
Mia Price is a lightning addict. She's survived countless strikes, but her craving to connect to the energy in storms endangers her life and the lives of those around her.

Los Angeles, where lightning rarely strikes, is one of the few places Mia feels safe from her addiction. But when an earthquake devastates the city, her haven is transformed into a minefield of chaos and danger. The beaches become massive tent cities. Downtown is a crumbling wasteland, where a traveling party moves to a different empty building each night, the revelers drawn to the destruction by a force they cannot deny. Two warring cults rise to power, and both see Mia as the key to their opposing doomsday prophecies. They believe she has a connection to the freak electrical storm that caused the quake, and to the far more devastating storm that is yet to come.

Mia wants to trust the enigmatic and alluring Jeremy when he promises to protect her, but she fears he isn't who he claims to be. In the end, the passion and power that brought them together could be their downfall. When the final disaster strikes, Mia must risk unleashing the full horror of her strength to save the people she loves, or lose everything.
I was really excited to read Struck by Jennifer Bosworth, because well, from the premise it sounds totally unique and one-of-a-kind.
When I received the book via NetGalley I downloaded it eagerly and read it in one evening. It's been a few weeks since I finished Struck, but now writing this review, the story is coming back to me, and I can say that although I didn't love this one, I did enjoy the story being told. As the premise states, the main character, Mia Price is a lightening addict - to the point that her entire body is covered in marks from the many strikes she's endured. Mia craves lightening, which she knows isn't average, but since the earthquake that devastated LA...nothing about her life is normal. I felt so bad for Mia, and although I never quite clicked or connected with her, I thought she was a really capable person who had a lot of responsibility on her shoulders, like caring for her invalid mother, and bore all her burdens with surprising strength. LA is a changed city, and food is now rationed out; Mia and her brother go back to school attempting normalcy, only to find that everything is turned upside down and inside out.
Struck boasts several different, unique antagonists that wreak havoc, each in their own way, in Mia's life. The Seekers are looking for people like Mia, while a self-proclaimed Prophet has risen from the ashes of the recent quake and ensuing tragedies. Throughout Bosworth's novel, I tried to figure out just who the good guys were and who the bad guys were, and I like that - not so much that I was kept guessing, but that no one really stood out as pure. Everyone had their own agenda, and their own reason for wanting Mia amongst their ranks, and I think that really speaks to the dual nature of both good AND evil. On both sides there was almost a religious fanaticism angle, which did make me somewhat uncomfortable. It isn't that Jennifer Bosworth overdid that or anything, I just hate to read about religion being used as a platform for people to profit from tragedy.
Something that I DID like was Mia's relationship with the love interest, Jeremy. It has to difficult for authors to create a swoon-worthy male character who stands out from all the wonderful book boyfriends out there, but I thought Jeremy was pretty awesome. He definitely had some mysteries and some issues of his own, which are revealed over the course of Struck, but even so, I really sort of fell for him, and was cheering for him and Mia despite all the odds against them. They were obviously mutually drawn to one another, but neither of them proclaimed themselves to be in love after a day or anything, and it was really awesome, actually getting to watch them at times NOT have it easy or instantaneously fall for one another. Mia and Jeremy had to fight for their happiness, and I liked that.
I truly would love to read more about them.
Overall I would recommend Jennifer Bosworth's novel for YA enthusiast looking for something out of the normal. Struck is full of action and breath-taking danger, and while I really did like a lot of things about it, the novel as a whole just didn't rock my world like I wanted it to. But that doesn't mean that you won't love it! Check out these other reviews from a few of my blogging friends who really loved Struck, then decide for yourself if it's up your alley or not.
Book Trailer (which looks like a movie trailer!)