Treasure Me
Pages: 415
Published: Christine Nolfi - sold by Amazon digital services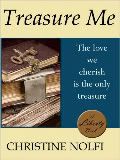 Petty thief Birdie Kaminsky has arrived in Liberty, Ohio to steal a treasure hidden since the Civil War. She's in possession of a charming clue passed down in her family for generations: Liberty safeguards the cherished heart.

The beautiful thief wants to go straight. She secretly admires the clue's author, freedwoman Justice Postell, who rose above the horrors of slavery to build a new life in Ohio. According to family lore, Justice left South Carolina at the dawn of the Civil War. Heavy with child, she carried untold riches on her journey north. As Birdie searches for the treasure, she begins to believe a questionable part of the story: a tale of love between Justice and Lucas Postell, the French plantation owner who was Birdie's ancestor.

If the stories are true, Justice bore a child with Lucas. Some of those black relatives might still live in town. Birdie can't help but wonder if she's found one—Liberty's feisty matriarch, Theodora Hendricks, who packs a pistol and heartwarming stories about Justice. Birdie doesn't know that an investigative reporter who has arrived in town will trip her up—as will her conscience when she begins to wonder if it's possible to start a new life with stolen riches. Yet with each new clue she unearths, Birdie begins to discover a family history more precious than gems, a tradition of love richer than she could imagine. (summary from Amazon.com - book page)

The long story short
:
Birdie Kaminsky is a petty thief who wistfully dreams of going straight. A treasure hunt - hopefully her last heist - sends her to Liberty, Ohio, where while sifting through the clues to this treasure, Birdie meets a colorful and vivacious cast of characters - the townspeople of Liberty. She also meets Hugh, a reporter who may be onto her - and onto her shady past.
Overall I found this book to be engaging and lively, a fast-paced thriller and a leisurely stroll through the sleepy town of Liberty all in one.
Final rating:
4 of 5 stars
______________
When author Christine Nolfi approached me requesting that I consider reading and reviewing her debut novel Treasure Me, I jumped on the chance after reading the summary. I had a feeling the book (provided to me in exchange for an honest review) was right up my alley; however, it took a few chapters to meet the characters and settle in to the canvas Nolfi was painting. At first I was a little unsure if I had made the right choice - but around page 50 or so I fell heart and soul for the story.
Birdie's struggles between the aching wish to strike it big so that she can start - not just over, but a new life - felt poignant and real. As she reluctantly waits tables while she waits out her time in Liberty, stealing money when she can from the patrons of the Second Chance Grill, they begin to weave themselves into her life so seamlessly that it was easy for me to tell Birdie had found where she belonged...even if she didn't. Reporter Hugh Schaeffer (down on his luck and potentially unemployed) who comes to Liberty to write an expose on the family he profiled only a short time ago, throws her even further off her game.
Hugh and Birdie's interaction crackled with unleashed sexual tension, which was humorous and a little tense! What I liked best was what we saw in unexpected moments from both of them - the desire to comfort and care for one another. Despite repeated jabs about their possible liaison being only a fling, it was clear early on that both Birdie and Hugh were starting to care deeply for one another, despite, or maybe because of, their own individual issues.
As the hunt for the treasure intensifies, so does Birdie's relationship with Hugh. She wavers between opening her heart to him, and to the townspeople of Liberty (vivacious Delia, who waits tables at the Grill, bossy but lovable cook Finney, and crabby but utterly endearing Theodora, among others) and leaving as soon as she finds what she came for. The end results were unexpected and pleasantly surprising and heart-warming on several levels, and by the time I finished the book, I can honestly say that I felt like - I - had just spent awhile in Liberty, meeting everyone, learning the local history and lore, and like they would all invite me - and Birdie - back any time.