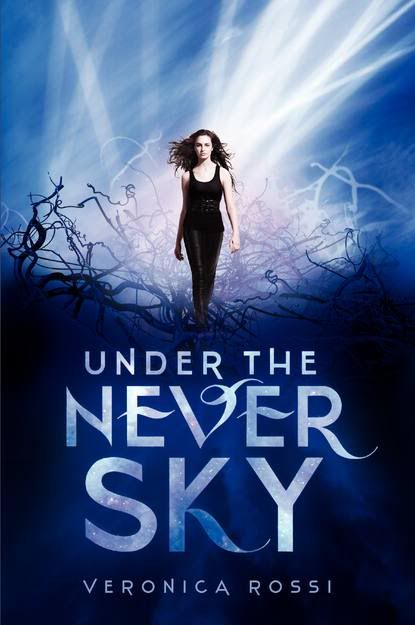 Under the Never Sky
by Veronica Rossi
Pages
: 384
Published
: January 3, 2012 (HarperCollins)
Sourc
e: ARC from the publisher
Series or stand-alone
: Under the Never Sky (1)
Further info/purchase
:
Goodreads
|
Barnes & Noble
|
Amazon
Rating
:
Swoon-worthy
Find the author online
:
Twitter
|
Website
Aria is a teenager in the enclosed city of Reverie. Like all Dwellers, she spends her time with friends in virtual environments, called Realms, accessed through an eyepiece called a Smarteye. Aria enjoys the Realms and the easy life in Reverie. When she is forced out of the pod for a crime she did not commit, she believes her death is imminent. The outside world is known as The Death Shop, with danger in every direction.

As an Outsider, Perry has always known hunger, vicious predators, and violent energy storms from the swirling electrified atmosphere called the Aether. A bit of an outcast even among his hunting tribe, Perry withstands these daily tests with his exceptional abilities, as he is gifted with powerful senses that enable him to scent danger, food and even human emotions.

They come together reluctantly, for Aria must depend on Perry, whom she considers a barbarian, to help her get back to Reverie, while Perry needs Aria to help unravel the mystery of his beloved nephew's abduction by the Dwellers. Together they embark on a journey challenged as much by their prejudices as by encounters with cannibals and wolves. But to their surprise, Aria and Perry forge an unlikely love - one that will forever change the fate of all who live UNDER THE NEVER SKY.


I wanted Under the Never Sky from the moment I saw the cover and read the synopsis. I coveted it almost more than any other book I've read recently. The synopsis was electrifying and until it arrived in the mail, this book had an unshakeable hold on my heart. I waited to read it so that it would count for the 2012 debut author challenge, and in the time between receiving it and beginning to read Under the Never Sky, I'd forgotten just how much it appealed to me - yet I quickly remembered once I was about three chapters into it. Although I was confused at first, since Veronica Ross propells the reader right into the action, not really giving anyone a chance to catch their breath, I quickly acclimated to both Aria and Perry's worlds, and leaving those worlds for any amount of time was frustrating, almost painful - because I was so involved with both of them, and their journies - together and as individuals.
Over the course of Under the Never Sky, we become well acquainted with both Aria and Perry, two people who couldn't be more different - or so they think. I adored both of them, in different ways. Veronica Rossi shares both of their narratives with us in alternating chapters, which usually is very off-putting for me, but here, it worked. In fact, I truly cannot imagine the story being told any other way now, having read it. The dual points of view work perfectly, by showing us the foils that Aria and Perry are to one another both through their different ways of life and their ideals on - and prejudices about - one another, so that it means so much more when they do finally start working together to achieve not just their individual goals, but at times, the same goals. Their antagonism toward one another is peeled back slowly, gradually, so that the friendship and, in time, affection that builds between them is done in beautiful layers. It's never too much, never overpowering, but always gorgeously developed.
Aria and Perry are so believable together because they are both such heart-felt characters, who experience poignant growth during Under the Never Sky. When we first meet Aria, she is sheltered and untested, and largely unprepared for the reality of being alone in "the Death Shop." Peregrine or Perry (I'm not sure which I prefer) considers all Reverie Dwellers "Moles" and is filled with rage at his brother's leadership of their tribe, as well as awash in the abilities he possesses. While Perry softens in some ways, yet never loses his edge, Aria becomes tougher, maturing into a survivor, but never hardens. The two grow to perfectly compliment one another; through various encounters and experiences that they share, Veronica Rossi masterfully brings them together.
Both the plot of Under the Never Sky and the secondary characters are equally riveting. The story itself spins out differently than I would have expected from the synopsis, and while I am still unclear on some things such as the Unity, what happened to the world as we know it, and how much time passed between then and the time that the book is set in, and although that was distracting at times, having so many questions, I have faith that Veronica Rossi will answer them in the books to come. Between the lush world-building of both Reverie and the Outsider lands, the secrets that are revealed throughout Under the Never Sky, and the way the first book leaves off, I have no doubt that the sequels will be just as thrilling and heart-stopping.
I've tried and tried to describe the plot of Under the Never Sky to various friends, but it's such an amazing blend of dystopia and sci-fi that I never really know where to begin. I never knew what to expect, starting a new chapter, but for me, the underlying, thrumming emotion of Under the Never Sky is truly what kept me reading. Whether it was Aria and Perry discovering one another, Aria's love for her mother, Lumina, or Perry's for his nephew, Talon, the emotion was there, real, and strong. There were scenes between Perry and Talon, or Aria and Perry that felt so private and precious, it was like Veronia Rossi was lifting the veil on a moment that was really happening, allowing the reader a peek. I adored Perry's bonds with the ones he loved, and his intentions to be a better, stronger leader than his brother - for his faults, Peregrine is a true hero, and with him, Aria becomes a true heroine.
Under the Never Sky has it all - mystery, drama, intrigue, romance, a bit of fantasy, but underneath it all, the lynchpin that holds the story together and makes it so unforgettable is the heartbeat that Veronica Ross has infused her novel with, ensuring anyone who reads Under the Never Sky will be thinking about it long after reading the last page.
In accordance with FTC guidelines, I received this book from the publisher in exchange for an honest review. No money or compensation of any sort exchanged hands. I review books with no intention of monetary gain; rather, I review books out of my love of reading.