A Need So Beautiful by Suzanne Young
Published: 06.21.2011
Pages: 272
Series: A Need So Beautiful (1)
Rating: 4 of 5 books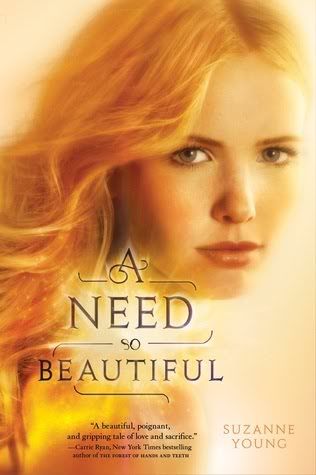 We all want to be remembered. Charlotte's destiny is to be Forgotten...

Charlotte's best friend thinks Charlotte might be psychic. Her boyfriend thinks she's cheating on him. But Charlotte knows what's really wrong: She is one of the Forgotten, a kind of angel on earth, who feels the Need—a powerful, uncontrollable draw to help someone, usually a stranger.

But Charlotte never wanted this responsibility. What she wants is to help her best friend, whose life is spiraling out of control. She wants to lie in her boyfriend's arms forever. But as the Need grows stronger, it begins to take a dangerous toll on Charlotte. And who she was, is, and will become--her mark on this earth, her very existence--is in jeopardy of disappearing completely.

Charlotte will be forced to choose: should she embrace her fate as a Forgotten, a fate that promises to rip her from the lives of those she loves forever? Or is she willing to fight against her destiny--no matter how dark the consequences.
My Review
When I first picked up this book and started reading, I was a little unsure. I had seen a few reviews around Goodreads and Lisa @
Read Me Bookmark Me Love Me
had told me how wonderful it was; even so, I went into this book with a little trepidation - and Suzanne Young proved my fears unfounded with the first few chapters! I was immediately swept into the story, and into the life of the main character, Charlotte.
Charlotte is, on the surface, a normal teenage: she goes to school. She hangs out with her best friend. She loves her boyfriend. But she also has the Need, a term she uses to describe the compulsions to help others, compulsions that wash over her randomly, leading her to complete strangers. If she ignores the Need, the symptoms - and the results - are not good. So Charlotte juggles her everyday life with her confusion over the Need, and the complications it creates. Charlotte is torn in two, and I really felt for her, and her struggle. She wants more time with Harlin, her boyfriend, but she has this other task to perform, and as the book continues, and she begins to understand more about the Need, and her destiny, my sympathy for Charlotte increased twofold.
I really came to love the premise of this book. It's definitely unique, and Suzanne Young did a really admirable job with the pacing of the book. I definitely did not get bored with the story that was unfolding. However, my heart absolutely broke for Charlotte, as she started to comprehend what being a Forgotten means: she will, in time, only exist to her Seer. Everyone she loves will eventually forget her, even those she has helped, whose lives she has changed. And her choice: embrace or deny that destiny,
really
gutted me.
I'm also anxious to see the sequel, because well, I loved several of the characters, including Monroe, Charlotte's doctor and friend, Alex, her adopted brother, Sarah, her best friend, and Harlin. Oh, Harlin. What can I say except WOW. I loved loved loved his devotion to Charlotte, and their relationship, to me, was really unique and heartfelt. I loved the extra special connection given to them in the latter part of the book. And I enjoyed the fact that these characters were well-developed, and not stereotypical.
I definitely need
A Want So Wicked
! This book was heart-pounding - literally - and so emotional at the end, that it brought me to tears. I finished it late one night and woke up thinking about it, and it has lingered with me. I think I wanted it to be a little longer, and to be a little more in depth on some of the history of the Forgotten and the Seers, etc, but overall, definitely a read to move up on your TBR list!
Memorable Quote
His mouth twitched with a smile, and his dimples deepened. "Where were you running to, Miss Cassidy?"




My stomach fluttered as I stood there, forgetting where I was going. Where I was supposed to be. Instead, like it wasn't even my choice, I moved forward to stand incredibly close to him.




"I was running here," I said, sounding confident. - Charlotte and Harlin's first meeting