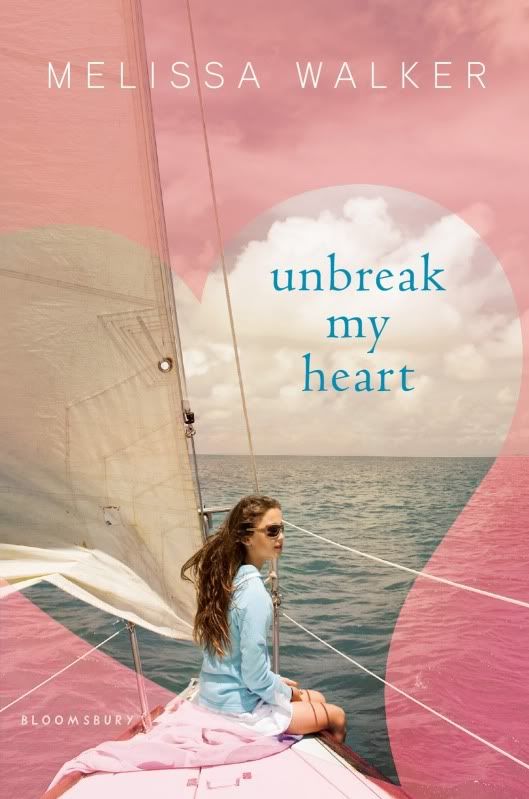 Unbreak My Heart
by Melissa C. Walker
Published:
May 22, 2012 (Bloomsbury USA)
Pages
: 240
Series or stand-alone
: Stand-alone
Source
: E-ARC from the publisher
Rating
: Squee-worthy
Further Info/Purchase
:
Goodreads
|
Amazon
|
Barnes & Noble
Find the author online
:
Twitter
|
Website
Sophomore year broke Clementine Williams' heart. She fell for her best friend's boyfriend and long story short: he's excused, but Clem is vilified and she heads into summer with zero social life.

Enter her parents' plan to spend the summer on their sailboat. Normally the idea of being stuck on a tiny boat with her parents and little sister would make Clem break out in hives, but floating away sounds pretty good right now.

Then she meets James at one of their first stops along the river. He and his dad are sailing for the summer and he's just the distraction Clem needs. Can he break down Clem's walls and heal her broken heart?

Told in alternating chapters that chronicle the year that broke Clem's heart and the summer that healed it, Unbreak My Heart is a wonderful dual love story that fans of Sarah Dessen, Deb Caletti, and Susane Colasanti will flock to.
Have you ever read a book that stuns you in such a fantastic way that, as you struggle to start the review, you begin to wonder if you will ever find the words to sum up in any kind of a non-fangirlish, succinct way, just how much and why you adored it so? That's the case with Unbreak My Heart. I dove headfirst into Melissa C. Walker's heartfelt coming-of-age story and floated happily among her words, letting them wash over me like the cool waves of the ocean in which Clementine and her family traveled throughout the summer.
For me, the characters were the "wow" factor, and what really made Unbreak My Heart stand out so beautifully in my mind. The story - a girl falling for the boy she can't have - isn't a new one, and Walker had to stride a thin line between keeping Clem sympathetic and her becoming a villainous character. I thought that the story of what actually happened between Clem and Ethan was told in such a way that you grew and cried and FELT along with Clem, in an undeniably gorgeous and poignant manner. Ethan, though not around in the present was a strong character, albeit one I came to dislike (which sucked because he had a LOT of potential) as were Amanda, and Clem's other friends. I was disappointed in the way Amanda abandoned Clem - yes, Clem made a mistake, but so did Ethan, and it felt like there was a HUGE double standard that I wish had been dealt with rather than brushed aside. The end of Unbreak My Heart left several loose ends, and that was really my only big complaint.
Walker did a thorough and believable job of fleshing out these fascinating, flawed teenagers, and she really nailed the "voice" of the characters. Even when I wanted to shake Clementine, I still liked her, and felt for her, and that really endeared her to me. I also adored Clem's family - the depth to which they all cared for each other and for Clem absolutely made me tear up a few times, not to mention the times I laughed at their antics. Clem's parents and little sister, Olive, were a fabulous supporting cast. I loved the notion of the family boating together, and how they brought Clem out of her shell slowly, and helped bring her back to life.
And of course there was James. Oh, James - or "Red," as Clem refers to him for part of Unbreak My Heart. Sunny, friendly, balanced and amazing James. He made me swoon, laugh, and even sniffle so many times throughout the story. He was AMAZING to AND for Clementine - so patient with her, understanding, yet truly encouraging and supportive. He kept her going when she wanted to wither away, and I admire him so much. Before he was ever a love interest for Clem, he was her friend, and I really fell, hard for him.
Unbreak My Heart is a story with layers, and I enjoyed delving deeper than the rippling surface. It's a story about first crushes, and first love, heart-break, and new beginnings. It's a story about family and loyalty. It's a story about being broken, and healing. It's a story about how one summer can change your life.