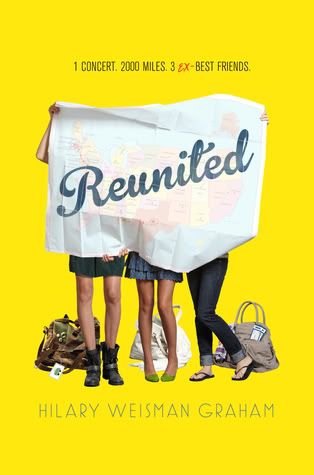 Reunited
by Hilary Weisman Graham
Pages:
336
Published
: June 12, 2012 (Simon & Schuster)
Source:
ATW ARC Tours
Rating:
Squee-worthy
Add it/Purchase
:
Goodreads
|
Amazon
|
Barnes & Noble
Connect with the author
:
Twitter
|
Website
___
1 Concert. 2000 Miles. 3 Ex-Best Friends.

Alice, Summer, and Tiernan are ex-best friends. Back in middle school, the three girls were inseparable. They were also the number one fans of the rock band Level3.

But when the band broke up, so did their friendship. Summer ran with the popular crowd, Tiernan was a rebellious wild-child, and Alice spent high school with her nose buried in books. Now, just as the girls are about to graduate, Level3 announces a one-time-only reunion show.

Even though the concert's 2000 miles away, Alice buys three tickets on impulse. And as it turns out, Summer and Tiernan have their own reasons for wanting to get out of town. Good thing Alice's graduation gift (a pea-green 1976 VW camper van known as the Pea Pod) is just the vehicle to get them there.

But on the long drive cross-country, the girls hit more than a few bumps in the road. Will their friendship get an encore or is the show really over?
I generally tend to adore road trip books, so I expected to like Reunited, from debut author Hilary Weisman Graham. What I didn't expect: to devour it in three hours, or to absolutely adore it! This quirky coming-of-age story seems like a fluffy, feel-good book from the synopsis...and while it IS that, it's also more. It's the story of three girls who are finding themselves while losing other things. It's the story of how sometimes, just because something is lost doesn't mean it's gone forever. Sometimes, as Reunited taught me, wrapped up in the knowledge that something is lost is the hope that it can also be found.
I was caught utterly off guard by how much I loved Graham's story of three girls who couldn't be more different: book-ish, responsible Alice, wild Tiernan, and flirty Summer. On the surface, these ex-best friends had very little in common, but over the course of Reunited, we learned more about each of them - who they are, their fears, what they still have in common, and the incident that tore apart their friendship. None of the three main characters are who they seem at first glance, just like Reunited is not the simple, road-trip story I expected it to be.
I loved learning more about Alice, Summer, and Tiernan, and I adored the way that Hilary Weisman Graham slowly revealed glimpses of their shared past, and their bond. I think we've all drifted from a friend before, and who hasn't wondered what it would take to repair a distant friendship? While each of the three girls had their own reasons for going on the road-trip to see Level3 play (a band that reminded me of my teenage fetishes with the Backstreet Boys!), it was really touching to see them haltingly get on the same page, through a lot of missteps and false starts. The hesistant awkwardness between the girls felt very genuine, and understandable. They frustrated me at times, but when they each let their guard down, it was amazing to see their old bond trying to resurface.
Reunited is a story with a great deal of heart, a few tears, and a LOT of laughter. Everything that could go wrong seemed to go wrong for Summer, Alice, and Tiernan but it was awesome, seeing what they made of it. The end was nothing like what I expected, but if anything, it was just as quirky as the rest of the story, and it made a perfect sort of sense. I was sorry to read the final pages of Hilary Weisman Graham's debut novel, because I felt like she did an amazing job of fleshing out the three main characters, as well as the more prominent secondary characters, each who added something to the story.
While I might have wished for Reunited to be a bit longer - if only to see more of the girl's antics - it was overall a highly satisfying story. I laughed a lot, and closed Graham's novel rather wistfully, suddenly wanting to grab two of my friends for a road trip! This is a book not to be missed - I think you'll enjoy it as much as I did!