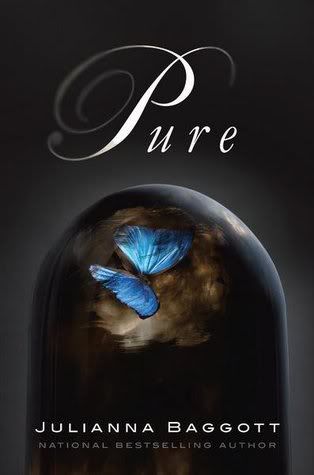 Pure
by Julianna Baggott
Pages
:448
Expected publication
: February 8th, 2012 (Grand Central)
Series or standalone
: Pure (1)
Rating
: Shrug-worthy
Further info
:
Goodreads
|
Amazon
|
Barnes & Noble
Find the author online
:
Website
|
Twitter
We know you are here, our brothers and sisters . . .

Pressia barely remembers the Detonations or much about life during the Before. In her sleeping cabinet behind the rubble of an old barbershop where she lives with her grandfather, she thinks about what is lost-how the world went from amusement parks, movie theaters, birthday parties, fathers and mothers ... to ash and dust, scars, permanent burns, and fused, damaged bodies. And now, at an age when everyone is required to turn themselves over to the militia to either be trained as a soldier or, if they are too damaged and weak, to be used as live targets, Pressia can no longer pretend to be small. Pressia is on the run.
Burn a Pure and Breathe the Ash ...

There are those who escaped the apocalypse unmarked. Pures. They are tucked safely inside the Dome that protects their healthy, superior bodies. Yet Partridge, whose father is one of the most influential men in the Dome, feels isolated and lonely. Different. He thinks about loss-maybe just because his family is broken; his father is emotionally distant; his brother killed himself; and his mother never made it inside their shelter. Or maybe it's his claustrophobia: his feeling that this Dome has become a swaddling of intensely rigid order. So when a slipped phrase suggests his mother might still be alive, Partridge risks his life to leave the Dome to find her.
When Pressia meets Partridge, their worlds shatter all over again.
My Review
In
Pure
, author
Julianna Baggott
lures the reader in to the sinister world she has created. Set post "Detonation," all that remains of the Before (the time when the world was normal) are scattered memories of those old enough to remember. Pressia and her peers play a game called "I Remember" to both celebrate and mourn the passing of the Before; for Pressia, who doesn't truly remember her parents, it is an especial tragedy. Pressia is a very sympathetic heroine, who I at once found myself wanting to reach out to. Who hasn't experienced loss like hers, be it a loved one, family member, and so forth? In that, she was incredibly wistful and genuine.
Julianna Baggott
obviously took a lot of time and put a great deal of planning into her world-building. Seeing what used to be our world so vastly changed was thought-provoking and yes, frightening. Just knowing that what happened to them wasn't out of the real of possibility gave
Pure
a gritty, realistic feel that held my attention.
However, what threw me was the various points of view. The first chapter or so is from Pressia's point of view, then we switch to Partridges'; later on in
Pure
we suddenly see two other secondary character's points of view. Two points of view was enough for me; more was startling and jarring - totally unnecessary. That's not to say the characters weren't fascinating in their own way; however for me, the multiple points of view didn't work. Something else that really grated on me was the point of view. Usually I'm a big fan of first and/or third person present tense, but to me, it just didn't work for this novel. I think
Pure
should have been written in third person past point of view and it would have flowed far better that way.
As far as the actual plot, again,
Pure
definitely asks some tough questions. At the end of the book, some have been answered, while others are only rhetorical for the reader the contemplate. There were a few interesting mysteries, though one was actually fairly easy to decipher, which was disappointing. I enjoyed seeing the various characters take a stand in their own way - Partridge against life in the Dome, Pressia against being forced to become a solider against her will, etc. And I thought seeing the interactions between the characters was quite fascinating; sadly, the one point of view I would loved to have seen was Bradwell's, and
Julianna Baggot
never chose to share that with us. There was a smattering of romance in the book, and although it felt tacked on at the end, it was still rather heart-warming. I don't want to say too much about the plot, since I can't really say a lot without spoiling, but it was fairly well-paced, and kept me interested.
Overall,
Pure
is a very interesting novel, definitely a different look at dystopian with a unique flair all its own, thanks to the author's style and ideas. I was not overly impressed with it for the reasons stated, but I might read the next book in the series - Fuse, tentatively due out this year - simply to see where
Baggott
takes her characters next.]
Note:
To see another reviewer's pov on
Pure
(she loved it!) check out Jessi's review
here
.