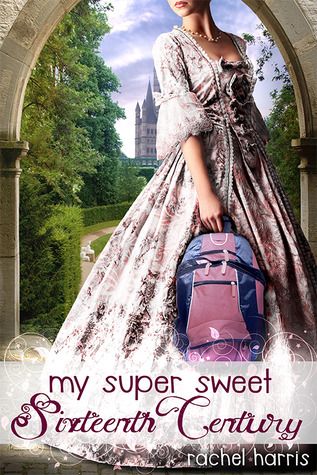 My Super Sweet Sixteenth Century
by Rachel Harris
Published:
September 11, 2012 (Entangled Teen)
Rating:
Squee-worthy
Source
: E-ARC from the publisher
Add it/Purchase:
Goodreads
|
B&N
|
Amazon
Connect with the author:
Twitter
|
Website
___
On the precipice of her sixteenth birthday, the last thing lone wolf Cat Crawford wants is an extravagant gala thrown by her bubbly stepmother-to-be and well-meaning father. So even though Cat knows the family's trip to Florence, Italy, is a peace offering, she embraces the magical city and all it offers. But when her curiosity leads her to an unusual gypsy tent, she exits . . . right into Renaissance Firenze.

Thrust into the sixteenth century armed with only a backpack full of contraband future items, Cat joins up with her ancestors, the sweet Alessandra and protective Cipriano, and soon falls for the gorgeous aspiring artist Lorenzo. But when the much-older Niccolo starts sniffing around, Cat realizes that an unwanted birthday party is nothing compared to an unwanted suitor full of creeptastic amore.

Can she find her way back to modern times before her Italian adventure turns into an Italian forever?
I was excited to read
My Super Sweet Sixteenth Century
for several months before its release, so when I received an E-ARC, I dove excitedly into the pages and discovered a thoroughly enjoyable, light-hearted story. Combining familiar elements of using time travel to teach the main character - a delightfully realistic girl - life lessons, even though some parts of
Rachel Harris's
debut novel are familiar to me, that doesn't mean that I loved the story being told any less. Between the setting, which teemed with atmospheric details, and the larger-than-life characters,
Super Sweet
is a sweet, coming-of-age story.
There was just something undeniably charismatic about Cat Crawford,and I liked her immediately. She has a strong voice as a narrator, so consequently, was right there with her as she stepped out of a gypsy's tent and into Renaissance Italy and into an adventure she'd never expected. Cat carries the story well, because
Rachel Harris
imbues her with both a sense of wonder at what's happening around her, as well as a sense of independence that marks her as unique in her surroundings. I felt for Cat and also cheered her on, whether it was her exploring the city, meeting historical figures, or fighting and finally giving in to her attraction for handsome Lorenzo. He was a fantastic love interest - there was so much more to him than met the eye, and even though Cat didn't get to spend a great deal of time with him, the attraction between them definitely felt very genuine.
My Super Sweet Sixteenth Century
is a lovely story, filled with moments of tenderness and humor as Cat navigates her way through her ancestor's Italy. What easily could have been a run-of-the-mill time travel tale instead took on a life of its own, largely thanks to
Harris's
flowing writing style, as well as the other secondary characters, like Alessandra, and Cat's "aunt" and "uncle." I also really loved that Cat grew and transformed as a character - I'm a BIG fan of character growth in novels. I read this book eagerly and am definitely very much looking forward to the sequel, A Tale of Two Centuries!
Other books by this author:
A Tale of Two Centuries
(My Super Sweet Sixteenth Century #2 - Entangled Teen, 2013)
Rearview Mirror
(Entangled Teen, 2013)
You're sure to fall for:
Venom
by Fiona Paul