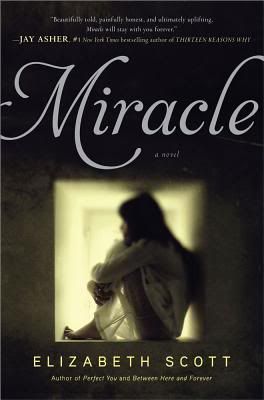 Miracle
by Elizabeth Scott
Pages
: 224
Expected publicatio
n: June 5, 2012 (Simon Pulse)
Rating:
Beam-worthy
Source:
ATW ARC Tours
Further info/purchase
:
Goodreads
|
Amazon
|
Barnes & Noble
Find the author online
:
Website
|
Twitter
Megan survived the plane crash—but can she survive the aftermath? An intense, emotional novel from the author of The Unwritten Rule and Between Here and Forever.

Megan is a miracle. At least, that's what everyone says. Having survived a plane crash that killed everyone else on board, Megan knows she should be grateful just to be alive. But the truth is, she doesn't feel like a miracle. In fact, she doesn't feel anything at all. Then memories from the crash start coming back.

Scared and alone, Megan doesn't know whom to turn to. Her entire community seems unable—or maybe unwilling—to see her as anything but Miracle Megan. Everyone except for Joe, the beautiful boy next door with a tragic past and secrets of his own. All Megan wants is for her life to get back to normal, but the harder she tries to live up to everyone's expectations, the worse she feels. And this time, she may be falling too fast to be saved....
When I first started Miracle by Elizabeth Scott, I won't lie - I was REALLY excited. After hearing great things about her other works, I had high hopes for this book. Miracle, which is from the point of view of Megan, a normal girl before she becomes the sole survivor of a plan crash, had an extremely promising start, but unfortunately for me, never delivered on the heart-wrenching, poignant story I was expecting from the synopsis.
I think the largest problem I had with Miracle is the main character, and her family and how they were portrayed. I expected to totally sympathize with Megan, and spend most of her story wanting to hug her. Instead, I wanted to shake her. Yes, she went through something traumatic and absolutely life-changing. But although I kept waiting for Megan to slowly snap out of it, to realize that she had friends who wanted to help her get back to living her life...it never happened. Megan spent the entirety of Miracle dealing - unsuccessfully - with repressed memories and basically wallowing in self pity. That may sound harsh, especially considering she did survive a plane crash, but it just got OLD after awhile. It hurt me to watch Megan snub her best friends time after time, to pull away entirely from her family, and to basically detach herself from her entire life - school, church, friends, everything. As a character, she fell VERY flat and unlikeable for me.
I also spent a large portion of Miracle angry at her parents. Whether they perceived her as the "Miracle Megan" she thinks they do, or whether they were just afraid to push her...they saw her detaching and didn't DO ANYTHING. They just let their daughter fall apart and that REALLY made me SO mad. I will never understand the trend in literature that says a character's home life has to be really bad...but this was so much worse because her parents did so many things wrong: they coddled Megan long past the point of it being understandable, they ignored her little brother who only wanted a bit of their attention, they let Megan start down the path of ruining her life.
The love story really disappointed me, too. I expected more out of Megan and the "beautiful boy" next door, Joe. I can't say it was insta-love, considering they weren't meeting for the first time, and they didn't fall head over heels for each other. I liked that they were more of a beginning than anything, but I couldn't wrap my head around the fact that it felt like it took the plane crash for them to make the first move, or for him to really notice her, or vice versa.
The two characters I really liked best - the only two I really liked, actually - were Margaret, a family friend from church, and Megan's little brother. Both of them honestly struck much, much more of a chord with me than even Megan did. I kept waiting for her to do something redeemable and finally in the very end of the book, when she dug deep and found some inner strength, I finally saw a glimpse of possibility within her....but it was too late for me to really love Miracle.
I would still recommend that you give Miracle a try for yourself. Even though I didn't love it, there was a lot of potential to it, and I DID really quite enjoy the writing style. It's definitely a story that has potential to strike an emotional chord with readers, just sadly, not with me. But definitely decide for yourself!