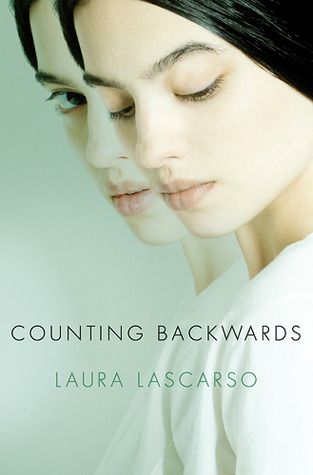 Counting Backwards by Laura Lascarso
Pages: 279
Expected publication: August 14, 2012 (Atheneum)
Source:
ATW ARC Tours
Rating: Beam-worthy
Add it/Purchase:
Goodreads
|
Amazon
|
Barnes & Noble
Connect with the author:
Website
|
____
Three weeks ago I tried to run away from home. Now all I want is to go back.
When troubled Taylor Truwell is caught with a stolen car and lands in court for resisting arrest, her father convinces the judge of an alternative to punishment: treatment in a juvenile psychiatric correctional facility. Sunny Meadows is anything but the easy way out, and Taylor has to fight hard just to hold on to her sanity as she battles her parents, her therapist, and vicious fellow patients.
But even as Taylor struggles to hold on to her stubborn former self, she finds herself relenting as she lets in two unlikely friends-Margo, a former child star and arsonist, and AJ, a mysterious boy who doesn't speak. In this striking debut, Laura Lascarso weaves together a powerful story of anger and self-destruction, hope and love.
In Counting Backwards, we meet Taylor Truwell just as her father has committed her to Sunny Meadows, a correctional facility where Taylor feels she doesn't belong. Taylor is in a downward spiral brought on by dealing with her alcoholic mother; caught between a rock and a hard place, Taylor has acted out, and must pay the consequences. I felt for her at once with a rush of sympathy, but more than that, I believed in her. Lascarso created a character with layers, and I could see beneath Taylor's surface to see the amazing character trying to fight her way out; over the course of Counting Backwards, I cheered as slowly, the real Taylor emerged.
Characterization was a huge draw for me in Counting Backwards. Everyone - from mean girl Brandi, to vivaciously alive Margo were believable in their roles. Through Taylor's eyes, we got to know troubled Charlotte, lost in her own world, therapist Dr Deb, who tries so diligently to reach Taylor...and A.J. I loved Taylor and A.J.'s relationship. Both of them had so, so much to teach the other, and they both resisted at times, made mistakes, and had false starts and stumbling blocks. But there was also something deeper and sweeter than what met they eye about their interactions, and I found myself cheering for them, too.
Laura Lascarso's debut novel has many underlying themes running through it, which at times almost needed a bit more treatment, but ultimately, I enjoyed Counting Backwards and all that it brought to the table. Taylor struggles to accept herself, her mother, her father, and friendships with Margo and A.J. At the heart of Counting Backwards are Taylor's fears: that her father doesn't love her, that her mother will never be sober, that she doesn't deserve A.J., that she won't be able to breathe if she admits how she struggles. Taylor has so much potential that she doesn't see at first, and so the moments when she DOES begin to believe in herself and in those around her were awesome! Taylor's fears and panic felt SO real, real enough that I spent a great deal of this book wanting to hug her.
Although Counting Backwards is a bit short, and I wish we had gotten to know a few of the characters, like Taylor's dad and Brandi better, there's still a LOT that makes this book a worthwhile read. It's worth it, to watch Taylor and A.J. grow as people, and grow together, as friends, and as more. Their beginnings, when it finally DOES happen, were amazing to watch unfold! Ultimately, Counting Backwards ends on a hopeful note, which I liked!