Published: 05.12.2011 (Harper)
Pages:359
Series: Darkness Rising (1)
Rating: 4 of 5 stars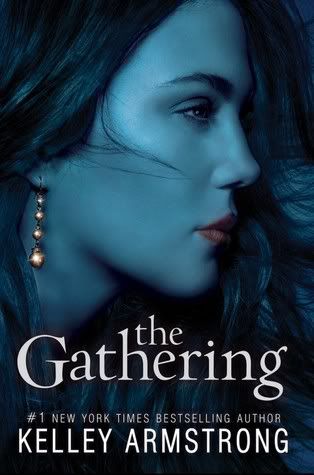 Sixteen-year-old Maya is just an ordinary teen in an ordinary town. Sure, she doesn't know much about her background - the only thing she really has to cling to is an odd paw-print birthmark on her hip - but she never really put much thought into who her parents were or how she ended up with her adopted parents in this tiny medical-research community on Vancouver Island.

Until now.


Strange things have been happening in this claustrophobic town - from the mountain lions that have been approaching Maya to her best friend's hidden talent for "feeling" out people and situations, to the sexy new bad boy who makes Maya feel . . . . different. Combine that with a few unexplained deaths and a mystery involving Maya's biological parents and it's easy to suspect that this town might have more than its share of skeletons in its closet.
My Review
I have to say it: I love Maya. (But then again, I love most of Kelley Armstrong's lead females!) Maya comes across right away as strong and smart, independent and a little sarcastic, with a good nature. Armstrong shows us this, in Maya's fun and caring interaction with her adoptive parents, and with her friends. Maya has a few flaws but generally speaking she is the kind of narrator that I gravitate toward, and many times throughout the book, I wanted to hug Kelley Armstrong for giving us Maya. I loved her progression form the start of the book to the end, watching her grow more and more in tune with herself, and seeing her reaching for new understanding about her past and her present.
The whole premise of this book really appealed to me. I loved Maya's natural interest in animals, and how she appeared to almost have a healing touch with them. I have to know more about her abilities and how she is going to deal with all she has found out about herself. I really enjoyed Daniel as a character, and his...I guess the word is how intuitive he is. I am really really looking forward to seeing where all that goes in the second book. A few of the other characters almost came across as a little too stereotypical, but I think that is more because of it being a first book, and we, as the readers, are still getting to know the characters, I hope. I know there are several I'm interested in learning more about.
The actual plot itself moved along very nicely. Having read Armstrong's Darkest Powers trilogy, I was a little more familiar with where the story was going and with a few minor characters who were mentioned than other readers might have been, but all that did was draw me in more. This book is set up similarly to the first book in the previous trilogy (this trilogy is a loose spin-off) so I was pretty comfortable with the book as a whole, and with all the supernatural elements. (I want to say so much more but I don't want to be spoilery.)
I have two gripes about the book, one being how quickly some of the revelations happened closer to the end of the book. The lead-up, I thought, was done SO well, that I wish Armstrong had taken a little bit more time to slowly draw out all the information and confessions, especially considering how many of them were about Maya and her past/etc.
My other gripe is with Maya and Rafe. Don't get me wrong - I like them as a couple, but they moved so fast, way too fast for me. And there was a really weird vibe to them. She's awesome, and he has some hidden nooks and secrets, and I can partially understand it, their connection. But on the other hand, I am a little uneasy when it comes to them. So I'm torn. I want to love them, and I do like them. But I need more time with them in the second book to decide if I am invested in them or not.
Either way, I am excitedly anticipating The Calling. Way to go, Kelley Armstrong, on another fabulous book!
Memorable Quote
It was completely fifth grade and completely silly and I loved it, because he wasn't afraid to be silly. It was like kissing him first - I could do whatever I wanted and not have to worry what he'd think of me.
- Maya