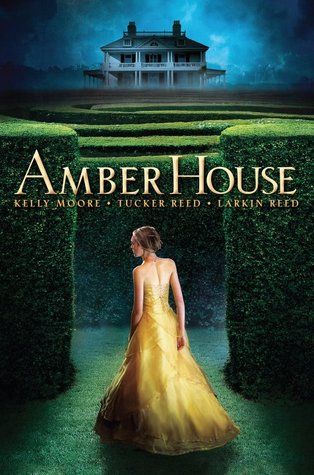 Amber House by Kelly Moore, Tucker Reed and Larkin Reed
Pages: 368
Expected publication: October 1, 2012 (Arthur A. Levine)
Source: ATW ARC Tours
Rating: Squee-worthy
Add it/Purchase:
Goodreads
|
B&N
|
Amazon
___
"I was sixteen the first time my grandmother died . . ."

Sarah Parsons has never seen Amber House, the grand Maryland estate that's been in her family for three centuries. She's never walked its hedge maze nor found its secret chambers; she's never glimpsed the shades that haunt it, nor hunted for lost diamonds in its walls.

But all of that is about to change. After her grandmother passes away, Sarah and her friend Jackson decide to search for the diamonds--and the house comes alive. She discovers that she can see visions of the house's past, like the eighteenth-century sea captain who hid the jewels, or the glamorous great-grandmother driven mad by grief. She grows closer to both Jackson and a young man named Richard Hathaway, whose family histories are each deeply entwined with her own. But when the visions start to threaten the person she holds most dear, Sarah must do everything she can to get to the bottom of the house's secrets, and stop the course of history before it is cemented forever.
The mark of a good book, to me, is when after you've finished, you're still wondering about the characters, and dying to know how everything plays out. That happened to me when I read Amber House. Although at times I felt that the writing could have used some polishing, authors Kelly Moore, Tucker Reed, and Larkin Reed have crafted a spine-tingling story about family history, loss, scandal, secrets, and the hope that history does not have to repeat itself. Combining the paranormal with a dash of sci-fi, Amber House is many things: romantic, genteel, and above all, scary. I LOVE to be scared, yet it very rarely happens...but Amber House actually left me afraid the night I finished it.
The Parsons family has a troubled past that Sarah, the main character, sees and experiences in glimpses, called "echoes." I enjoyed this aspect of Moore's story, because the house, recently vacated by Sarah's deceased grandmother, is full of family heirlooms, each one with a different, sad and sometimes, horrifying story to tell. I couldn't help but feel for Sarah and for her adorable younger brother, Sammy. They were both amazing characters, and Jackson and Richard were wonderful additions to the plot; each boy served a purpose other than being a love interest - they actually each furthered the story being told.
Amber House has a great deal to offer fans of mysteries. There's a decidedly Gothic, spooky feel to Moore's book, including two twists I didn't see coming, but enjoyed. I've heard this is part of a trilogy, so I'm excited to see what the next book holds. There is a LOT of potential in the characters and in the storyline, which really took off for me about halfway through Amber House. If authors Moore and the Reeds want to write more about these characters and the imposing, mysterious Amber House, I will definitely continue reading! I enjoyed the writing style, the elegance, and the period feel to this book, and will be anxiously awaiting news of a sequel.
You're sure to fall for:
The Diary of Ellen Rimbauer: My Life at Rose Red (I kept thinking of this movie while reading Amber House!)