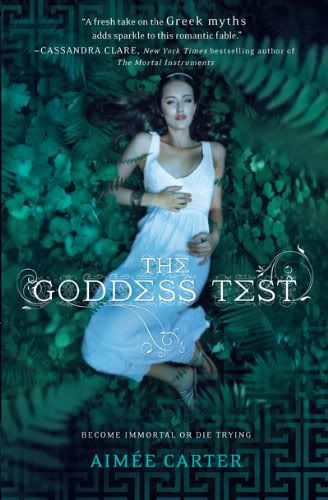 The Goddess Test
by Aimee Carter
Pages
: 293
Published
: April 19, 2011 (Harlequin Teen)
Series or stand-alone
: Goddess Test (1)
Rating
: Squee-worthy
Source
: Nook purchase
Further info/purchase
:
Goodreads
|
Amazon
|
Barnes & Noble
Find the author online
:
Website
|
Twitter
It's always been just Kate and her mom—and her mother is dying. Her last wish? To move back to her childhood home. So Kate's going to start at a new school with no friends, no other family and the fear her mother won't live past the fall.
Then she meets Henry. Dark. Tortured. And mesmerizing. He claims to be Hades, god of the Underworld—and if she accepts his bargain, he'll keep her mother alive while Kate tries to pass seven tests.
Kate is sure he's crazy—until she sees him bring a girl back from the dead. Now saving her mother seems crazily possible. If she succeeds, she'll become Henry's future bride, and a goddess.
My Review
Looking back, I can't recall why I hesitated so long to read The Goddess Test. I was interested in it when it was first published - I just wasn't reading much mythology based fiction, and definitely not YA mythology/fantasy. But as I started branching out more, I finally took a chance on The Goddess Test, and I read it almost in one sitting, over the course of a couple of hours. I'm used to reading mythology in my paranormal romances, but I was really quite pleasantly surprised by Aimee Carter's debut YA novel. Protagonist Kate Winters is grounded, realistic, and skeptical of the situation she walks into, until tormented Henry - Hades, if she believes him - offers to keep her dying mother alive while she faces the seven tests that will determine if she is granted immortality or not.

Kate enters into the bargain with him unsure of what to believe, and I liked her for that. She isn't all doe-eyed innocence, nor is she hardened to the point that she - doesn't - believe. She knows she caught up in something bigger than herself, but watching The Goddess Test unfold - and watching Kate grow and change - was emotional and heart-warming. All she's known for so long is taking care of her mother, and as her relationship with Henry deepens and matures, from stranger to friends, to the poignant potential for more, Kate learns that she's put her life on hold, and that both Henry and her mother want the same thing for her: for her to live to her full potential. Over the course of The Goddess Test, Kate learns a great deal about herself, as well as those around her. I whole-heatedly applaud Aimee Carter for all the character growth infused throughout The Goddess Test - in Kate, in Henry, and in the secondary characters.

There were a few weak moments in the plot that took a bit away from my enjoyment. There were several twists that I definitely saw coming, including one that I assume was meant to be obvious, because it very much was. In some cases, that would have gotten the book in question a lower rating, but what saved The Goddess Test for me (although it very much was a quick, and overall satisfying read), was the emotion. I connected with Kate immediately, because of the fact that I've lost several relatives to cancer, and I could identify with her deep longing for "one more day," and to not have to say goodbye yet. Henry was more detached in some ways, yet he appealed to me just as much as Kate did, though there were a few times when I wanted to give him a good shake. The bond that developed between him and Kate intrigued me, and I found myself looking forward to their scenes together. Their attraction and relationship was somewhat quick for my taste - not quite insta-love, which is a positive thing - and I hope that Aimee Carter develops them even more in the books to come.

There were so many strong, powerful emotions in The Goddess Test: Henry's unrequited love for his lost wife, Kate's intense love for her mother and bond with her, Kate and Henry's connection, Kate's grief over her mother, Kate and Ava's friendship, and all of that, to me, was one of the best features of The Goddess Test. There are also several secondary characters that I would absolutely love to know more about and hope we will see more of in the sequels.

Even with a few flaws, The Goddess Test is still a novel I really enjoyed, and having received the sequel, Goddess Interrupted through NetGalley, I'm excited to read it soon. Aimee Carter definitely left off on an interesting note, full of promise in more ways than one, and I look forward to seeing what else she has in store for her characters!