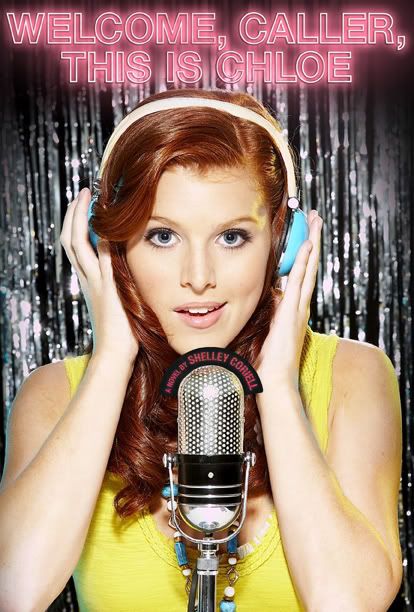 Welcome Caller, This Is Chloe
by Shelley Coriell
Pages
: 299
Expected publication
: May 1st 2012 by Amulet Books
Rating
: Squee-worthy
Source:
E-ARC from NetGalley
Series or stand-alone
: Stand-alone
Further info/purchase
:
Goodreads
|
Barnes & Noble
|
Amazon
Find the author online
:
Website
|
Blog
Big-hearted Chloe Camden is the queen of her universe until her best friend shreds her reputation and her school counselor axes her junior independent study project. Chloe is forced to take on a meaningful project in order to pass, and so she joins her school's struggling radio station, where the other students don't find her too queenly.
Ostracized by her former BFs and struggling with her beloved Grams's mental deterioration, lonely Chloe ends up hosting a call-in show that gets the station much-needed publicity and, in the end, trouble. She also befriends radio techie and loner Duncan Moore, a quiet soul with a romantic heart.
On and off the air, Chloe faces her loneliness and helps others find the fun and joy in everyday life. Readers will fall in love with Chloe as she falls in love with the radio station and the misfits who call it home.
My Review
True story: I
almost
passed on this book, and I am SO glad that I didn't. When I requested
Welcome Caller, This Is Chloe
on NetGalley, I still wasn't for sure if I was going to like it, but within the first two or three chapters, I knew that author
Shelley Coriell
had delivered a quirky, emotional, and fabulous debut novel.
Chloe is a joy to read about! As the synopsis says, Chloe falls on hard times coming back to school after winter break. Her two BF's (best friends) Brie and Mercedes have abandoned her, and I have to say, it was difficult watching that storyline play out. Chloe is a bit clueless at times, and so it took her awhile to see how deeply she had hurt Brie, but at the same time, their strained friendships lead Chloe to KDRS The Edge (the job experience project her counselor forces her into), new friends, and some self-growth. Chloe is endearing but rather used to her persona - Queen Chloe - and having things fall into place for her. Over the rocky and fascinating course of
Welcome Caller, This is Chloe
, Chloe has to grow as a person. While staying innately the same, Chloe learns to broaden her horizons, her ideals about friendship, and most importantly, she learns how to
really
listen to what others have to say.
Shelley Coriell
does an amazing job of creating romantic tension between Chloe and Duncan Moore, the troubled loner who works at the station as handy-man and boards operator. I was cheering for Duncan and Chloe right from the beginning, though they certainly ran into their fair share of obstacles. Duncan's home life is the worst imaginable, yet he's still kind, but has his flaws - he isn't perfect, and he's eventually forced to acknowledge his faults. The conflict between Duncan and Chloe, who's dealing with her own issues within her family, is brilliantly done.
In
Welcome Caller, This Is Chloe
, we also meet several entertaining and unforgettable secondary characters, ranging from Clem, the radio station manager to Haley, the pregnant teen with her own story, to Chloe's Grams, in her eighties and still crushing on Brad Pitt. Grams has taught Chloe a lot and still has more wisdom to dole out over the course of
Welcome Caller
, including when and how to listen, instead of filling the silence with words. Grams and Chloe's interaction had me giggling at some points, and sobering up at others.
Overall this was an entirely adorable novel, with pockets of character growth that really made this an enjoyable read. I would have liked to see a bit more self-realization on Chloe's part, since it did sometimes feel like no matter what, she landed on her feet, and of course, I wanted more Duncan and Chloe. I wish Chloe's family (mainly her dad and her brothers) could have been involved more; instead, they were only mentioned a few times and never actually appeared in the book. I did really, greatly enjoy seeing Chloe on the air, and watching her go from invader to friend with the KDRS staff, and
Welcome Caller, This Is Chloe
is cute and funny, and certainly not to be missed!
Disclaimer
In accordance with FTC guidelines,

I received this book from the publisher via NetGalley in exchange for an honest review. No money or compensation of any sort exchanged hands. I review books with no intention of monetary gain; rather, I review books out of my love of reading.