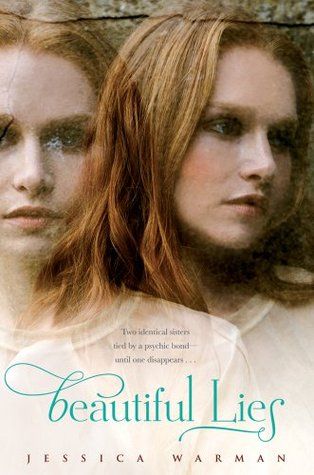 Beautiful Lies
by Jessica Warman
Pages
: 422
Expected publication:
August 21, 2012 (Walker Children's)
Source
: ATW ARC Tours
Rating:
Squee-worthy
Add it/Purchase:
Goodreads
|
Barnes & Noble
|
Amazon
Connect with the author
:
Website
|
___
Rachel and Alice are an extremely rare kind of identical twins—so identical that even their aunt and uncle, whom they've lived with since their parents passed away, can't tell them apart. But the sisters are connected in a way that goes well beyond their surfaces: when one experiences pain, the other exhibits the exact same signs of distress.
So when one twin mysteriously disappears, the other immediately knows something is wrong—especially when she starts experiencing serious physical traumas, despite the fact that nobody has touched her. As the search commences to find her sister, the twin left behind must rely on their intense bond to uncover the truth. But is there anyone around her she can trust, when everyone could be a suspect? And ultimately, can she even trust herself?
Master storyteller Jessica Warman will keep readers guessing when everything they see—and everything they are told—suddenly becomes unreliable in this page-turning literary thriller.
I have always been drawn to stories about twins, and as I began to read Beautiful Lies, I knew this was no exception. The story of truly identical twins started off with an edgy, dark feel that I drank up eagerly, as author Jessica Warman spun an amazingly complex, and chillingly haunting web around me. I couldn't stop reading Beautiful Lies - it had me firmly in its grasp until I turned the final page, and sat there, blown away by what I'd read.
Warman's characters are real enough that within a few pages, I felt like I knew both Rachel and Alice. They're each unique to the other; despite being identical twins, both characters are equally individual. Rachel is known as the more practical twin, while Alice is "troubled," and artistic. I liked both characters immensely, and felt sympathetic for them, for their past and what they endured. I loved how Jessica Warman explored their twin bond, even if the thought of knowing that someone you care for is in physical pain because you're feeling their same pain is terrifying! I enjoyed how Warman explained their bond, and also showed us glimpses of the twin's characters by way of flashbacks, though not so many as to become overwhelming. My heart went out to Rachel and Alice at so many points, especially during the time that one twin was missing, seeing the other so scared without her.
Beautiful Lies is one of those rare books that truly kept me guessing. I love it when, try as I might to figure out what's going on, I can't. I absolutely felt like I was watching Inception again, reading Jessica Warman's novel. There were so many layers of deceptions, questions, betrayal, and ultimately, the question of what was real and what wasn't real. I felt exhausted after I finished Beautiful Lies, but in a good way. I did see through one of the twists, but it was an especially poignant one, that I thought added a lot of depth to the story being told.
It's difficult to say a lot about Beautiful Lies, in order to keep the story close to the vest. I definitely think this is a novel that everyone should read and experience for themselves! It kept me guessing, kept me turning the pages feverishly, and overall, while it was definitely sadder than I thought it would be, Warman's novel was also satisfying in a way. There are so many fabulous elements going on - mystery, a bit of romance, a character study, and a very interesting family dynamic. Please don't pass this one by - I don't think you'll regret reading it!
You're sure to fall for:
Hushed by Kelley York
Life Is But a Dream by Brian James