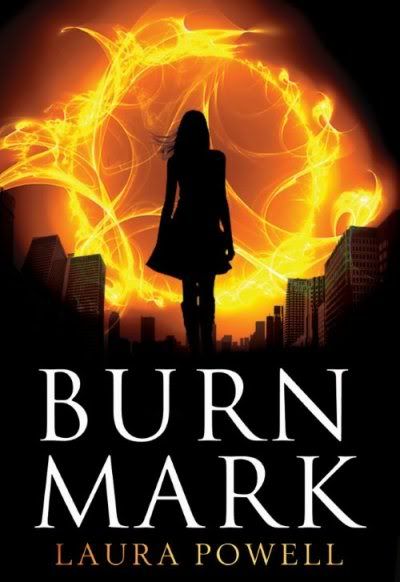 Burn Mark
by Laura Powell
Pages
: 416
Published:
June 19, 2012 (Bloomsbury)
Source:
ARC from the publisher
Rating:
Beam-worthy
Add it/Purchase
:
Goodreads
|
Amazon
|
Barnes & Noble
Connect with the author
:
Facebook
|
Website
|
Twitter
___
Glory is from a family of witches and lives beyond the law. She is desperate to develop her powers and become a witch herself. Lucas is the son of the Chief Prosecutor for the Inquisition—the witches' mortal enemy—and his privileged life is very different to the forbidden world that he lives alongside.

And then on the same day, it hits them both. Glory and Lucas develop the Fae—the mark of the witch. In one fell stroke, their lives are inextricably bound together, whether they like it or not...
Burn Mark is a gritty, tough look at two very different characters, from two very separate walks of life. I devoured Laura Powell's debut novel in a matter of hours, almost in one sitting, and although I didn't make that lasting connection with it that I hoped to, I did find myself thoroughly drawn in to the world she's built. In Burn Mark, the danger is real, and there were definitely moments when I felt a chill, reading about the society Powell created, and the situations her two main characters found themselves in.
Told in dual narrative, in Burn Mark we meet both Glory and Lucas. Glorianna Starling Wilde wants nothing more than to "turn fae," or become a witch. She's a legacy in the making. But for Lucas Stearne, "turning fae" is a nightmarish world he wants nothing to do with. When both teens turn and develop the tell-tale "Devil's Kiss," or mark of being fae, both their worlds change. I loved the juxtaposition of their two worlds. Glory is from a long line of witches, with ties to more than one powerful coven. Lucas is from a long, esteemed line of witch hunters. Seeing the two radically different reactions from these equally compelling characters was what moved along Burn Mark for me, since the pacing was slower than I expected.
If there was one flaw in Burn Mark that did take my enjoyment back a few notches, it was that I felt like I was being inundated by information - terms, people, places, mythos, legends, and such. I know sometimes the "info-dump" plot device can't be avoided, but unfortunately here, it was just too much to take in all at once. I'd barely gotten to know a character before I was being trampled by their rich family history - which was fascinating, don't get me wrong - then hit by new phrases. It was overwhelming!
However, there is a very thrilling story playing out in Powell's novel. Not only are both Glory and Lucas struggling to accept their new lives, but there's also a power struggle going on between the covens, plus a lot more at stake, as is revealed in Burn Mark. I thought the WICA agency (sort of a witch-themed FBI) was an interesting addition, and I was invested in what was going on, though worried for Glory and Lucas as they got in over their heads in everything. There was a good sense of urgency throughout Burn Mark, but again, it was almost as if Laura Powell tried to take on and accomplish too much at once. Enough happens and is revealed that I was left wondering if there would be a sequel, which is there is, I'd definitely read it.
Burn Mark is overall a dauntless paranormal tale, which features an interesting contrast between Lucas's easy life of opulence and Glory's hardscrabble life on the streets. Both characters stand on their own, though I liked Glory's tough ways and fast talking more than I did Lucas, and in a lot of ways, I feel like there's still a great deal to learn about Lucas. He came off as very reserved, and if there is a sequel, hopefully Laura Powell will let us further into his thoughts and reveal more about what makes him tick.
Please check this one out if you're looking for something edgy and different; I don't think Burn Mark will disappoint!
Chime
by Franny Billingsley