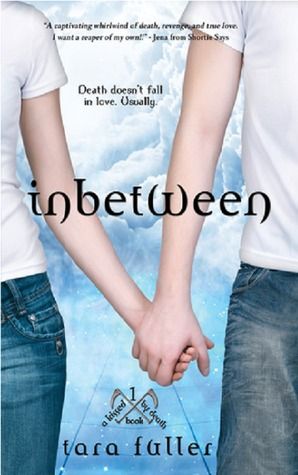 Inbetween by Tara Fuller
Published:
August 28, 2012 (Entangled Teen)
Source:
E-ARC from the publisher
Rating:
Squee-worthy
Add It/Purchase:
Goodreads
|
Amazon
|
B&N
Connect with the author:
Website
|
Twitter
___
Since the car crash that took her father's life three years ago, Emma's life has been a freaky — and unending — lesson in caution. Surviving "accidents" has taken priority over being a normal seventeen-year-old, so Emma spends her days taking pictures of life instead of living it. Falling in love with a boy was never part of the plan. Falling for a reaper who makes her chest ache and her head spin? Not an option.

It's not easy being dead, especially for a reaper in love with a girl fate has put on his list not once, but twice. Finn's fellow reapers give him hell about spending time with Emma, but Finn couldn't let her die before, and he's not about to let her die now. He will protect the girl he loves from the evil he accidentally unleashed, even if it means sacrificing the only thing he has left…his soul.
I wanted to read Inbetween for some time; I love paranormal books, and there was something special about this one, or so I hoped. Immediately upon starting author Tara Fuller's debut novel, I realized I was falling for the story and for the characters. Inbetween is one of those books that you just want to hug, because it's full of emotions, and "feel-good" moments, despite the various perils the characters are in; there's definitely something incredibly sweet and touching about this novel.
I'm not sure what to rave about first: the characters or the author's writing style.
Fuller
writes beautifully - the writing is both easy to follow, and also vividly descriptive. The characters are awesomely genuine - teenage boys and girls who would fit in anywhere, but they're all unique, too. They have their own burdens, but they bear them well. Emma doesn't let her father's death crush her; Cash doesn't let his home life get the best of him. And Finn is honorable despite his situation and surroundings. I never expected to find so many gems in a book about death. Emma, Finn, Cash, and even Easton (who I wanted more of!) all stand out in
Inbetween.
I also enjoyed the attention and thought given to the Inbetween and to the rules for reaping, as well as that there were consequences for everyone's actions, and that the characters knew it.
Inbetween
was a difficult book at times because of Finn and Emma's pasts, and Finn's line of work. But every sad moment was balanced out by a happier one, as we saw how many people Emma had around her who cared about her. I loved the progression of her relationship with Finn - TOO CUTE.
Inbetween
is fast-paced, but not TOO much so;
Fuller
strikes the right pace and delivers a breath-taking, enjoyable novel of first love, and life after death. Some powerful secrets were revealed in
Inbetween
when it came to Finn and Emma, and the ending definitely surprised me in a good way - so bring on the sequel!
Other books by this author:
Perigee Moon
You're sure to fall for:
The Catastrophic History of You and Me by Jess Rothenberg