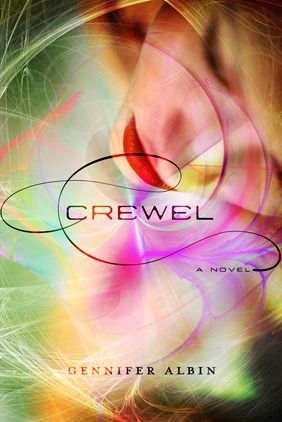 Crewel
by Gennifer Albin
Published:
October 16, 2012 (Farrar, Straus and Giroux BYR)
Source:
Won in Armchair BEA
Rating:
Squee-worthy
Add it/Purchase
:
Goodreads
|
Amazon
|
B&N
Connect with the author
:
Twitter
|
Website
___
Incapable. Awkward. Artless. That's what the other girls whisper behind her back. But sixteen year-old Adelice Lewys has a secret: she wants to fail.

Gifted with the ability to weave time with matter, she's exactly what the Guild is looking for, and in the world of Arras, being chosen as a Spinster is everything a girl could want. It means privilege, eternal beauty, and being something other than a secretary. It also means the power to embroider the very fabric of life. But if controlling what people eat, where they live and how many children they have is the price of having it all, Adelice isn't interested.

Not that her feelings matter, because she slipped and wove a moment at testing, and they're coming for her—tonight.

Now she has one hour to eat her mom's overcooked pot roast. One hour to listen to her sister's academy gossip and laugh at her Dad's stupid jokes. One hour to pretend everything's okay. And one hour to escape.

Because once you become a Spinster, there's no turning back.
Crewel was on my radar for some time before I was lucky enough to win an ARC, and even now that I've finished it, it's one of those rare books that I wish I had the time to re-read once everything has settled a bit after reading the final page. Crewel is a richly woven tapestry - a story of hope, obedience, fear, secrets, and revolution. As a reader, I clung eagerly to every bit of information I could get my hands on, and was happy to wait for my answers - instead of the classic and unfortunate info-dump, Albin reveals things over time. Between the underlying struggles between the male dominated society, and the females who want power, mixed in with the science-fiction elements, and the beautiful, if fleeting romance that develops, there is something for everyone in Gennifer Albin's debut novel.
Led by a fantastically self-aware heroine, Adelice, Crewl isn't like anything I've ever read before. Living in a segregated community, Adelice was taught to carefully hide her abilities, and it's led to her becoming sheltered. But there's also a LOT of strength in this girl, strength and grit that she shows throughout Crewel. I applauded when Adelice stood up for herself, and I for one cannot wait to see who she becomes in the sequel. In a cast of ruthless characters, like power-hungry Maela and Ambassador Cormac Patton, everyone has their own agenda, but Adelice holds her own.
Her innocence is definitely stripped away, but in the wake of that, we see a lovely romance burgeoning between Adelice and one of my other favorite characters. And no, I won't tell you who - but trust me, you will WANT to find out for yourself because although there was a small hint of a love triangle, it was SO clear to me who Adelice belongs with. Both of the guys that come to care for Adelice are perfectly swoon-worthy in different ways, but the particular one I fell for really swept me off my feet. He and Adelice moved a little too fast for my taste, but found their own unique way to spend a good deal of time together getting closer.
Crewel touched me on many levels. I found reasons to laugh and reasons to cry. The actual premise is only barely touched on in the synopsis - there's a great deal more going on that I discovered as I read. Gennifer Albin brings several layers to the story, beyond the surface description of what the Spinsters do. We learned along with Adelice, and discovered the various agendas and politics behind the scenes - and that not everyone called to serve lives a glamorous life. Albin cleverly reveals just enough to spin my head around as I feverishly turned the pages, needing MORE - more answers, more of these characters. Concepts of weaving, ripping, and cleansing had me begging for more explanations! By the time I finished Crewel, I realized the wait for the sequel is going to be an extremely long one, during which I'll probably need to buy my own copy of Crewel to re-read to pass the time! If you're going to read Crewel, I'd advise you to set aside a whole day of un-interrupted reading, and be prepared to have your mind blown!
There's nothing else like this book so dudes, just READ IT!