Obsidian by Jennifer L Armentrout
Pages: 266
Published: 12.06.2011 (Entangled)
Series: Lux (1)
Final rating
:
4 of 5 stars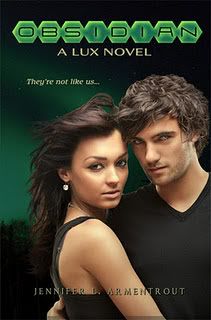 Starting over sucks.

When we moved to West Virginia right before my senior year, I'd pretty much resigned myself to thick accents, dodgy internet access, and a whole lot of boring…. until I spotted my hot neighbor, with his looming height and eerie green eyes. Things were looking up.

And then he opened his mouth.

Daemon is infuriating. Arrogant. Stab-worthy. We do not get along. At all. But when a stranger attacks me and Daemon literally freezes time with a wave of his hand, well, something…unexpected happens.

The hot alien living next door marks me.

You heard me. Alien. Turns out Daemon and his sister have a galaxy of enemies wanting to steal their abilities, and Daemon's touch has me lit up like the Vegas Strip. The only way I'm getting out of this alive is by sticking close to Daemon until my alien mojo fades.

If I don't kill him first, that is.
My Review
Obsidian, the first book in Jennifer L Armentrout's new Lux series, introduces us to Katy; the lead character was someone I immediately adored. Katy is intelligent, self-aware, and feisty, when provoked. She's also a book worm and a book blogger, so for me, reading this book and seeing terms like "Waiting on Wednesday" and "In My Mailbox" dotting the pages was a real thrill. I was drawn to Katy right off the bat, for her good nature and that level below her surface that, once scratched, reveals a character with a ton of potential and a girl after my own heart. Jennifer did a fantastic job of creating a lead female who is both identifiable and at times, unpredictable.
The plot of Obsidian moved along fairly well. There were a few moments where, for me, the pacing felt off, but for the most part I read this book always wishing I could read it a bit faster, because I had to know what happened next. I've read a great deal more fantasy than sci-fi, so discovering this book was a treat for me. I love the whole idea behind the Luxen, as well as how Katy takes the revelation that her neighbors are aliens in stride. She isn't squeamish; nor is she rushing to get involved in their business - how she ends up involved is equal parts frightening, amusing, promising, and sexy all at once.
I can't review Obsidian without mentioning Daemon. Oh, Daemon. He is THAT character, that I apparently love to fall for - the bad boy with a secret, good heart. Snarky on the surface, but sink a deeper and you'll discover the boy who will do anything to keep his family safe, and who, when he does care about others, cares so much, but struggles to admit he does. I fell pretty hard for him, although there were times when I wanted to slap him. I feel like although Jennifer Armentrout gave us an awesome character in Daemon, and although yes, the sparks were off the charts between Daemon and Katy, that at times it was a bit much. If there was one thing I'd have craved more of between them, it was more slow-burning scenes, and less snark. (Though that was highly amusing, don't get me wrong.) However for the most part, when it comes to Daemon and Katy, I am STILL fanning myself.
I really love Jennifer's writing style, too. She captures the teen voice very well, but more than that, her characters are all people you can relate to, the type of girl or guys we've all known - some we were friends with, broke up with, or loved to hate. Bravo to Jennifer for being able to reach out and not only tell a story, but draw me in and make me care about the characters I'm reading about.


My only other two complaints (and they're teeny tiny!) is that I wish the book had been longer, so I could have had more time with these characters, and that I wanted to know more about some of the secondary characters. There were one or two who I hope in the sequel, ONYX, we get to see more of, since they didn't have very many redeeming qualities. Overall, I am VERY excited for ONYX, and to give y'all a peek at the cover below! So if you don't have Obsidian yet...run, don't walk to go snag a copy, because it is steamy, heart-pounding, and unforgettable.
Memorable Quote
Our kisses slowed, becoming tender, and infinitely more. It was like we were getting to know each other on an intimate level. I was breathless and dazed, unprepared for all of this, but my body ached for more than just kissing and touching- for more of him. And I know he did, too. His powerful body shook, like mine. It was easy to get lost in him, lost in this connection between us. The world - the universe - ceased to exist.
Disclaimer
In accordance with FTC guidelines,

I received this book from the publisher via NetGalley in exchange for an honest review. No money or compensation of any sort exchanged hands. I review books with no intention of monetary gain; rather, I review books out of my love of reading.
ONYX COVER