Twilight's Child / V.C. Andrews
Published: 1992 (Pocket Books)
Pages: 410
Originally read: 2000
Re-read: June 28 2011 - July 3 2011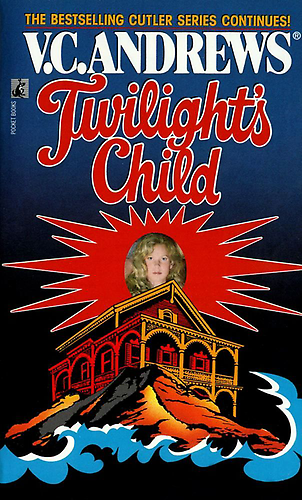 As Mrs. James Gary Longchamp, Dawn is blissfully happy. But a legacy of deceit and betrayal still haunts her...

At last Dawn can create a haven of warmth and love for her beautiful baby girl, Christie, and her darling Jimmy. Dawn is a huge success as the new owner of the Cutler's Cove hotel...and soon she and Jimmy will be blessed with a child of their own.

Yet Dawn cannot quell her forebodings of evil. She can sense Grandmother Cutler's presence everywhere...can feel her bitter hatred as if the old lady plotted her vengeance from the grave. When Dawn discovers that her brother, Philip, still clings to his mad, shameful passion for her, she is heartstricken. Her spiteful, jealous sister, Clara, is far easier to ignore...until the day Clara's childish rage explodes into violence, destroying Dawn's most cherished, precious dream.

Then Christie's father, debonair singing star Michael Sutton, returns. Now, as the heartaches and scandals of the past threaten to engulf her, Dawn must fight for her steadfast Jimmy...for only with Jimmy's love can she find the rainbow at the end of the storm.
The long story short:
Married to her sweetheart, Dawn Cutler Longchamp struggles to acclimate to life as the new owner of the Cutler's Cove hotel. Dawn's growing pains as a business owner and as a young wife and mother felt realistic and believable; unfortunately, the side arcs of the return of Christie's father and Dawn's brother, Philip's unwavering passion for her did not. At time the author seemed as if he was reaching for enough material to fill the pages of a book that could have easily been shortened by about 100 pages and still have told the same story.
Final rating:
3 of 5 stars
_______
This book started off with Dawn engaging in a brief but poignant legal battle to reclaim her infant daughter, whom Grandmother Cutler had secretly arranged for a childless couple to adopt, proving to Dawn that although she is dead, her grandmother's machinations are not yet finished. Returning to Cutler's Cove with her young child, Dawn is thrown headlong into a new world - that of owner of her family's business. The truth of her parentage has been revealed and Dawn struggles with it - she now understands much more, and also, much less about the Cutler's and their history - and herself. Her search for the truth, and for self-awareness resonated with me.

As the various skeletons in the closet plague Dawn's new life, the calm amidst the storm is her relationship with Jimmy Longchamp. One of the best things about the series, for me, was their unorthodox courtship and subsequent marriage. I was not a fan of the lack of transition in the first book, from their belief they were siblings, to, after finding out they weren't, giving in to so-called long buried romantic yearnings, but there is something undeniably heart-warming about them, for me. Jimmy puts up with a hell of a lot - clearly, he adores Dawn, but what worked for me was that he let her know what he thought. He wasn't a mindless robot like so many of the author's latter male characters became. He and Dawn communicated and made decisions together. Their love felt real - I felt like I was there with them, as they learned how to be a husband and wife.

Sadly, another love was that of Philip for Dawn. Having never let go of his romantic yearnings for his half-sister, Philip wavers between brotherly devotion and a lover's passion in this novel. At times, even though I knew what would happen, I hoped he had changed. But in the end the reader can tell he still harbors his mad hopes that he and Dawn will be lovers. What bothered me most about this is that Dawn knew, Jimmy knew even if he didn't say, even selfish Clara Sue knew, and yet...no one addressed the issue. Everyone just stuck their heads in the sand and hoped Philip marrying (his wife is a plain girl, easily molded in his eyes, into a substitute for Dawn) would make the problem go away.

My biggest complaint with the series to date is the Cutler family's "if I don't think about it, it isn't happening," attitude. Everyone, even Dawn, is guilty of this from time to time. Through the first three books this was a recurring theme, one that I never understood.

I also was not a fan of the passage of time in this novel. Maybe it's because I am used to reading books where events occur more in "real time," but when time passed in great leaps and bounds in this book, it felt awkward and as if I was missing important things. It's hard to believe that six years passes in this novel, a book that feels more like a bunch of haphazardly thrown together little arcs than a cohesive novel.

A lot happened that I didn't like, luckily, I love Dawn Cutler Longchamp enough to overlook most of that. She makes some bad choices in this book, but continues to grow up and mature. At the end of the day, she is a character with heart, a character who feels believable and sympathetic, except when Neiderman, writing as V.C. Andrews delves a little too far into his attempt at writing for a female (words like "bosom" are thrown around a little too frequently, and at times Dawn's "voice" is a little hysterical.)