The Madman's Daughter by Megan Shepherd
Publication: January 29, 2013 (Bal

zer+Bray)
Source: E-Galley from the publisher
Rating: Squee-worthy
In the darkest places, even love is deadly.

Sixteen-year-old Juliet Moreau has built a life for herself in London—working as a maid, attending church on Sundays, and trying not to think about the scandal that ruined her life. After all, no one ever proved the rumors about her father's gruesome experiments. But when she learns he is alive and continuing his work on a remote tropical island, she is determined to find out if the accusations are true.

Accompanied by her father's handsome young assistant, Montgomery, and an enigmatic castaway, Edward—both of whom she is deeply drawn to—Juliet travels to the island, only to discover the depths of her father's madness: He has experimented on animals so that they resemble, speak, and behave as humans. And worse, one of the creatures has turned violent and is killing the island's inhabitants. Torn between horror and scientific curiosity, Juliet knows she must end her father's dangerous experiments and escape her jungle prison before it's too late. Yet as the island falls into chaos, she discovers the extent of her father's genius—and madness—in her own blood.
1.) The ship jerked suddenly, and I flew backward. My head struck the wall. Montgomery tumbled out of his chair and would have fallen on top of me if he hadn't braced himself against the wall with quick instincts. I clung to his arms as if I were falling, but we weren't going anywhere. My fingers tightened. He was a finger's di

stance from me. Closer. Close enough to feel the brush of his loose hair on my face, to feel the heat from his sunburned skin. If it hadn't been for the thin fabric of my chemise, we'd have been skin against skin.
2.) It struck me he was almost a ghost, straddling the fine line between the living and the dead. I wanted him to live, to see again whatever was so important in that photograph, as if it would make up for my mo

rbid fascination.
3.) Suddenly he brushed his rough thumb against my jaw, catching me by surprise. Heat erupted across my face as I drew in a sharp breath. Was he going to kiss me? My eyelids sank closed. Our bodies were practically touching. It was wrong to be so close to a boy - every moment of Mother's upbringing had taught me that. But I didn't care. We were bound together, he and

I.
4.) The day was beautiful. A blue sky stretched as far as the ocean, which we glimpsed between breaks in the trees. I'd traded a bitter English winter for the lush tropical sun and

beautiful calls of faraway birds.
5.) I had forgotten what I loved about the piano. The precision of the notes and the

mathematical

intricacy of the notes and measures. It was like a complicated equation that you work out with your heart instead of pencil and paper. I concentrated on the keys, letting my mind clear. I played and played until the final bar, where I let the chord ring until the

last trace of sound faded.
The Madman's Daughter is an eery, Gothic story that will absolutely sweep readers off their feet. As I began reading, I was immediately transported to London - a lonely placed for orphaned Juliet. My heart went out to her, and I liked her at once. She's one of my favorite kind of heroines - brash, intelligent, witty, and curious. She makes impulsive decisions, and she does what she has to do. Juliet Moreau was

an awesome

narrator

for this spooky YA historical, and her point of view complimented Megan Shepherd's writing

perfectly.
As the reader, I saw everything so clearly through Juliet's eyes, and because Megan pulled me into the story so completely, I also felt what Juliet felt. Her emotions were so clearly stitched into The Madm

an's Daughter:
from wonder at her father's island, to trepidation throughout the perilous journey there, the blush of a renewed attraction to Montgomery, and ultimately, the terror as she became caught up

in her father's machinations.
Each time I thought I grasped the full scope of the mad doctor's plans, Megan Shepherd threw another curve

ball into the story.
The plot of
The Madm
an's Daughter is full
of mystery and danger, literally around every corner of the teeming jungle. There was so much life in the pages, but also many questions of morality, and what life means to different people and species. I was fascinated to see how the doctor's actions effected everyone on the island in different ways, from Juliet and Montgomery, to Edward, Alice,

and Balthasar.
While definitely creepy at times, and positively hair-rising at others, The Madman's Daughter is definitely a fabulous story. Megan Shepherd made me gasp in surprise at the revelations - some of which I suspected, while others took me totally by surprise.
While
I thought the love triangle was somewhat superfluous, I still enjoyed reading about both the boys
. With an ending you won't see coming, The Madman's Daughter is a must-read!
Other books by this author:
Untitled (The Madman's Daughter #2 - 2014 Balzer+Bray)
The Cage (The Cage #

1 - 2014 Balzer+Bray)
You're sure to fall for:
The Diviners by Libba Bray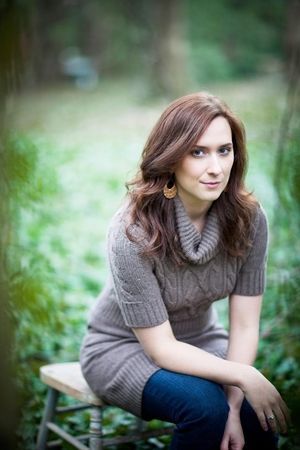 I've been many things, like a professional exchange student, park ranger in Montana, and LOST enthusiast, but what I am now is a writer.

When I'm not writing, I can usually be found horseback riding, day dreaming at coffee shops, or hiking in the beautiful mountains of Western North Carolina.
Visit Megan at: her website | her blog |

her twitter
If you'd like to visit the previous and next blogs on this tour, here is the full schedule!