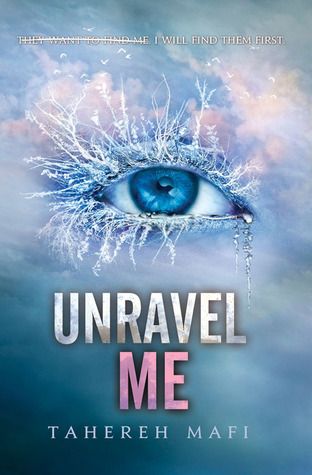 Unravel Me by Tahereh Mafi (Shatter Me #2)
Publication:

February

5, 2013 (Harper Teen)
Source: ARC from the publisher
Rating: Swoon-worthy
tick, tick, tick, tick, tick
it's almost
time for war.

Juliette has escaped to Omega Point. It is a place for people like her—people with gifts—and it is also the headquarters of the rebel resistance.

She's finally free from The Reestablishment, free from their plan to use her as a weapon, and free to love Adam. But Juliette will never be free from her lethal touch.

Or from Warner, who wants Juliette more than she ever thought possible.

In this exhilarating sequel to Shatter Me, Juliette has to make life-changing decisions between what she wants and what she thinks is right. Decisions that might involve choosing between her heart—and Adam's life.
Memorable Quote
And it's like he sees what I'm thinking, like he can feel the change happening in my head, because suddenly he's different. His energy slows down, his eyes are deep, troubled, tender; his lips are soft, still slightly parted, and now the air in this room is too tight, too full of cotton, and I feel the blood rushing around in my head, crashing into every rational region of my brain.
I wish someone would remind me how to breathe.
___
I feel his hands on my arms, I feel his skin against my skin, and I'm holding my breath. I don't move an inch. I don't say a word as his hands drop to my waist, to the thin material making a poor attempt to cover my body. His fingers graze the soft skin of my lower back, right underneath the hem of my shirt, and I'm losing count of the number of times my heart skips a beat.
I'm struggling to get oxygen in my lungs.
My Review
Picking up shortly after where
Shatter Me
left off,
Unravel Me
jolts the reader right back into the world of the Reestablishment, and into the mind of one of the most unique protagonists I've ever had the pleasure to read about. Juliette is trying to find a place to belong at Omega Point, but doing so is more difficult than she thought.
Immediately as I sank into Tareheh Mafi's second novel, any faint worries I had about a sophomore slump vanished; by the end of Unravel Me, I could say with certainty: it is better than Shatter Me.
The stakes are higher. The danger is more prevalent. The decisions Juliette has to make are more wrenching. The romance is swoon-ier.
Everything is heightened in Unravel Me.
Juliette's hope is palpable - something I felt keenly thought the novel, mixed in with her despair. Though her narration is more reliable, we still see the dying world through her eyes, and her voice, while strong, is still that of a lost girl. However through
Tahereh's
story, Juliette grows so much, and learns to own her actions, and becomes less of a victim, which I was proud to see. If possible, this made me like her even more.
The pacing was superb - one of those books where, despite the fact that not much time passed, everything that happened within that time felt realistic and necessary.
There's almost a timeless feel to
Unravel Me
, as though everything is suspended outside of reality - though there's enough going on in the broader plot to remind us of the dangers that the Reestablishment face. There's the threat of war looming, and the question of if the Reestablishment - Juliette included - will be prepared. And then there are the love interests.
There's not much I can say without spoiling key points, but I will say that as much as I loved Juliette and Adam in Shatter Me,
Unravel Me
adds new depth to their interactions, bringing the development I craved. We gain a great deal of insight into many characters in this book - Adam included. Some questions are answered, while others are posed.
Which brings me to Warner. *sighs* Oh Warner. I do this thing where I want to fix all the broken characters, and the same is true here, but in Unravel Me, despite the odds against it, Warner begins to genuinely seek, if not atonement, at least redemption. And it. Was. Beautiful.
I don't want to say too much, again - spoilers - on the emerging love triangle, but I will say something happened here that rarely does: I switched sides, and I stand 1000% behind my choice.
Unravel Me
is a spellbinding addition to the Shatter Me series that will leave readers breathless. I was moved to the point of tears several times, and wanted to shout my frustration at others. I read this book in one sitting, in a matter of mere hours; it was impossible to look away once I began reading. I'm on the edge of my seat for the final installment!
Other books by this author:
Shatter Me
(Shatter Me #1)
Destroy Me
(Shatter Me 1.5)
Untitled
(Shatter Me #3 - Fall 2013 Harper Teen)
You're sure to fall for:
Through the Ever Night
by Veronica Rossi
She's 24. She was born in a small city somewhere in Connecticut and currently resides in Orange County, California, where she drinks too much caffeine and finds the weather to be just a little too perfect for her taste. When unable to find a book, she can be found reading candy wrappers, coupons, and old receipts. SHATTER ME is her first novel.
Visit Tahereh online at: her blog | her website | her Twitter