When Harper Teen asked me if I wanted to participate in a blog tour for Unravel Me, I didn't have to think long to give an enthusiastic YES! I've already read and loved Unravel Me, and encourage everyone to go pre-order a copy now. Go now!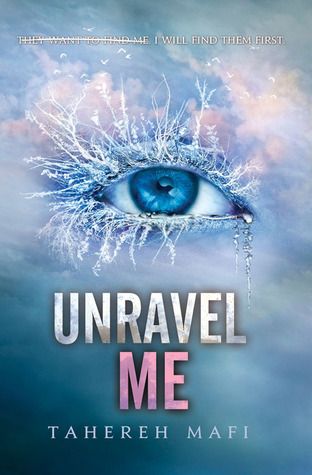 tick, tick, tick, tick, tick
it's almost
time for war.

Juliette has escaped to Omega Point. It is a place for people like her—people with gifts—and it is also the headquarters of the rebel resistance.

She's finally free from The Reestablishment, free from their plan to use her as a weapon, and free to love Adam. But Juliette will never be free from her lethal touch.

Or from Warner, who wants Juliette more than she ever thought possible.

In this exhilarating sequel to Shatter Me, Juliette has to make life-changing decisions between what she wants and what she thinks is right. Decisions that might involve choosing between her heart—and Adam's life.
This tour is focused on the steamy, sexy Chapter 62, which was definitely one of my favorite parts of Unravel Me. I think I read it at least three times and may have drooled just a bit. I can't give anything away, but if you want to know what it's about, you'll just have to buy the book yourself - or better yet, enter the giveaway in this post!
I got to ask Tahereh ONE question about Chapter 62 (holy steam, Batman!) and I chose wisely, I think!
Molli: What was it like being in Juliette's point of view as things got so heated - what were you thinking as the scene played out?
Tahereh:
I was thinking I
really
need a cold shower.
Tahereh's answer is PERFECT, and absolutely how I felt, as well! If YOU want to find out what all the fuss and swooning is about, proceed to the giveaway and may the odds be EVER in your favor! (As a special incentive, I'm going to include a small quote from Chapter 62, though it comes from my galley.)
"I feel his hands on my arms, I feel his skin against my skin, and I'm holding my breath. I don't move an inch. I don't say a word as his hands drop to my waist, to the thin material making a poor attempt to cover my body. His fingers graze the soft skin of my lower back, right underneath the hem of my shirt, and I'm losing count of the number of times my heart skips a beat."
Don't forget to visit the previous stops on the tour!
UNRAVEL ME: The Chapter 62 Blog Tour