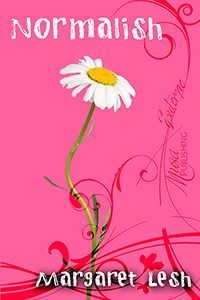 Normalish by Margaret Lesh
Publication: October, 2012
Rating: Beam-worthy
Source: Copy from the author
Fifteen-year-old Stacy questions the strange world of high school, love, her role in a harsh universe, and life, in Normalish.

People tell you high school's so great and wonderful, but they're lying. It's mostly horrible and full of disappointment. It sucks. Your best friend abandons you. The jerk you're in love with pretends to be into you, and then the big dump. The boy you've really clicked with as a friend decides to go all crushy over you, so you break his heart just like yours was -- smashed into little pieces. Your sister goes mental, and you get involved with a guy who's even crazier than she is (who you know is a very bad idea, but you do it anyway). Math only adds another stink of failure to the whole thing.

High school blows. Just ask freshman Stacy. She'd want you to know.
Normalish
is a sweet, funny, poignant coming-of-age story that I highly enjoyed. It follows teenager Stacy through her various trials, triumphs, and heartbreaks.
And while at times, Margaret Lesh's story seemed like more fluff than substance, just when I thought so, something deeper came along to surprise me during this quick, enjoyable read.
Stacy read like an authentic teenager.
Just like me when I was her age, everything was the end of the world, and she didn't always understand the gravity of certain situations.
I sympathized with her tattered home life, and wanted to hug her at times. Despite the cracks in her family, they all really cared about one another, and that was heart-warming to read. Some of the more serious issues in
Normalish
were glossed over - like mental illness - in a way that was almost offensive, but I think it was just the author trying to be "in character," as Stacy. I also didn't like the format of most of the dialogue.
Normalish
is a really quick read that made me smile more than once. (I literally read it in one sitting, in about an hour and a half.) Stacy learned a great deal over the course of this novel, and grew as a character. I liked the glimpse into her life;
Margaret Lesh
told an engaging story.
However, the issues with Normalish, and the fluff aspect kept me from truly enjoying this one more than I did.
About Margaret