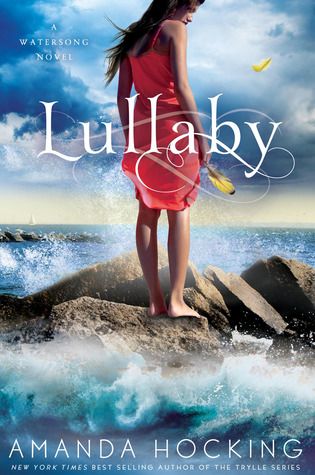 Lullaby by Amanda Hocking (Watersong #2)
Publication: November 27, 2012 (St Martin's Press)
Source: Finished copy from the publisher
Rating: Beam-worthy
___
Harper only wanted a safe, normal life. But when her younger sister Gemma runs off with a dangerous clique of beautiful girls, Penn, Thea, and Lexi, everything changes. Vowing to get her sister back no matter what the cost, Harper must face dangers unlike any she's ever experienced. Fortunately, she has Daniel by her side, a gorgeous guy who's devoted to helping her find her sister—and who's immune to the girls' dark powers.

While Harper searches for her sister, Gemma struggles to adjust to her new life. Gemma's powers are growing by the day, and the longer she lives with her new "sisters," the harder it is to resist entering their magical world. It's a realm both dark and beautiful, and where she's plagued by strange hungers and unspeakable needs. Just as she's drifting far away from her old life, Harper and Daniel find her...but no one can deny how much she's changed. All she wants is to return to her family and the mortal world, but how can she do that when she's become something else entirely—and will they still love her once they learn the truth?

Prepare to fall under the spell of Lullaby, the second book in the Watersong series from New York Times bestselling author Amanda Hocking.
Memorable Quote
"But I don't want her to take care of me," Daniel said. "If anything, I want to take care of her."
My Review
I approached
Lullaby
with some trepidation; I didn't
overly care
for Wake - it had potential, but left me wanting something more. I hoped that
Lullaby
would build on the mythology foundation laid in Wake, but instead, I closed the second novel in the
Watersong
series feeling almost cheated. The lack of action or character development disappointed me, enough that I decided not to continue with the series.
While I liked the idea behind the lovely, sinister Penn, Thea, and Lexi - deceptively beautiful sirens - I couldn't buy into Gemma's shaky transitions. One moment she was struggling to retain her humanity, while the next she was seducing an en-spelled guy, or worse. She went back and forth so many times on where she stood that I felt dizzy. There was some growth on Thea's part, which was encouraging, but even Harper - my favorite character from
Wake
- could barely carry this lackluster sequel. I felt like Harper regressed as a character. With Gemma missing,
Amanda Hocking
stripped away Harper's personality, until Harper felt more like a plot device than a character.
I did like a few aspects of
Lullaby
, specifically the small progression of Harper and Daniel's relationship. For me, they are the best thing about this series. I continued to struggle to even care about Gemma, Alex, or many of the other characters, and apathy bothers me. Normally feel SOMETHING for a book character, but frankly, I could care less what happens to Gemma.
*SIGHS*
And that's a huge problem for me.
Also, the writing really got on my nerves. Everything was written so as to happen to the characters in the past, instead of them being actively involved in the story.
Combine the fact that basically very little happens for the first 150 pages of
Lullaby
, with an unlikeable (for me) narrator,
bland writing

,
and a plot that feels too loose for me to enjoy, I won't be continuing this series. However, if YOU enjoyed Wake, then
Lullaby
is a book you'll want to check out, if only because the action finally picks up and sets up interestingly for
Tidal
.
Other books by this author:
Switched
(Trylle #1)
Wake
(Watersong #1)
You're sure to love:
Lies Beneath
by Anne Greenwood Brown
About Amanda
Visit Amanda at: her website | her blog | her twitter