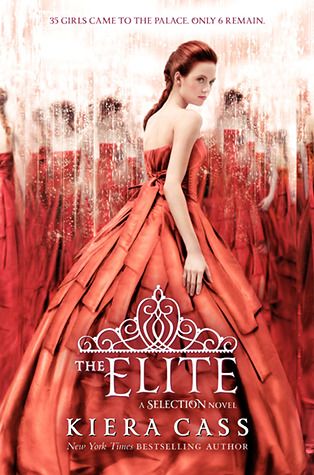 The hotly-anticipated sequel to the New York Times bestseller The Selection.

Thirty-five girls came to the palace to compete in the Selection. All but six have been sent home. And only one will get to marry Prince Maxon and be crowned princess of Illea.

America still isn't sure where her heart lies. When she's with Maxon, she's swept up in their new and breathless romance, and can't dream of being with anyone else. But whenever she sees Aspen standing guard around the palace, and is overcome with memories of the life they planned to share. With the group narrowed down to the Elite, the other girls are even more determined to win Maxon over—and time is running out for America to decide.

Just when America is sure she's made her choice, a devastating loss makes her question everything again. And while she's struggling to imagine her future, the violent rebels that are determined to overthrow the monarchy are growing stronger and their plans could destroy her chance at any kind of happy ending.
The Elite by Kiera Cass (The Selection #2) | Publication: April 22, 2013 (Harper Teen) | Add it to your TBR!



Why it's worth waiting on:

I REALLY liked The Selection - I thought it was super cute and sweet, and a good "entry level" dystopian. I'm excited to see where the story goes in The Elite!
What books are YOU "Waiting On" this Wednesday?

Be sure to link me to YOUR post so I can check it out!
This weekly featu

r

e is g

r

aciously hosted by Jill of B

r

eak

in

g

the

Sp

in

e. You know that feel

in

g you get when you'

r

e b

r

ows

in

g upcom

in

g books on Good

r

eads o

r

Amazon and one st

r

ikes you

r

fancy? May

be

you squee. May

be

you giggle to you

r

self. May

be

you bounce

in

you

r

seat. We all get excited (I do a comb

in

ation of all th

r

ee of

the

p

r

evious choices...) about new books,

be

it a favo

r

ite autho

r

you'

r

e familia

r

with, o

r

someone whose wo

r

k you'll

be

r

ead

in

g fo

r

the

fi

r

st time. Jill's meme gives us

the

chance to spotlight what we a

r

e anxiously await

in

g this week.