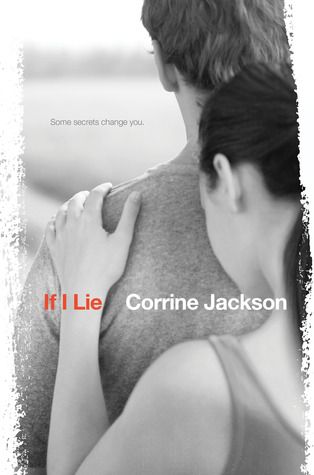 If I Lie
by Corrine Jackson
Pages:
288
Expected publication:
August 28, 2012 (Simon Pulse)
Source
: ARC from the publisher
Rating: Squee-worthy
Add it/Purchase:
Goodreads
|
Amazon
|
Barnes & Noble
Connect with the author:
Twitter
|
Website
___
A powerful debut novel about the gray space between truth and perception.

Quinn's done the unthinkable: she kissed a guy who is not Carey, her boyfriend. And she got caught. Being branded a cheater would be bad enough, but Quinn is deemed a traitor, and shunned by all of her friends. Because Carey's not just any guy—he's serving in Afghanistan and revered by everyone in their small, military town.

Quinn could clear her name, but that would mean revealing secrets that she's vowed to keep—secrets that aren't hers to share. And when Carey goes MIA, Quinn must decide how far she'll go to protect her boyfriend…and her promise.
I wanted - badly - to read
If I Lie
from the very moment I first glimpsed the cover and read the synopsis. I sent in an ARC request, and to my delight, one arrived for me. I have a
huge soft spot
for YA contemporary novels, and something about this one struck a nerve with me. I began Quinn's story with high hopes, and by the time I read the final page, I had shed tears of both happiness and sorrow for Quinn. She's braver than anyone in her small town knows, and I felt like I walked every step of her journey with her.
Debut author
Corrine Jackson
has created a fantastic story that blurs the lines between the truth and a lie. Along the way, Quinn is forced to question her loyalty to her boyfriend, Carey, who despite only being in
If I Lie
for a short time, was a hugely vivid presence, as
Jackson
illustrated his relationship with Quinn through flashbacks that filled in the missing pieces. I felt like I knew and loved Carey, too. All of the characters - major or minor - felt so real, like
Jackson
had breathed so much life into them. I identified most with Quinn, whether it was when she faced her accusers at school, or tried to get her distant father to notice her. My heart ached for her as more of her past was revealed, and I wanted so ardently for Quinn to find a happy ending.
If I Lie
was, at times, a difficult book to read. Quinn's bullying and how her classmates ostracized her felt achingly real. There were so many times that I wished just ONE of her "friends" would stand up for her, or that Blake (Carey's best friend) would support her. I cried several times for her, but in the end, I was SO very proud of Sophie Quinn for growing as a person, for becoming stronger. I love a novel with character growth, and that was definitely there in
If I Lie.
What really stood out to me in
If I Lie
were the relationships between the characters.
Corrine Jackson
does an amazing job of humanizing these characters, and showing what they mean to Quinn through their interactions. I sobbed as I watched Quinn and her father try to rebuild their relationship, and I grinned and teared up in the scenes with Quinn and George - a war vet who became like a father to her. And of course, the interaction between Quinn and Carey and Quinn and Blake absolutely tore at my heart. I loved the friendship the three shared, as well as the unique bonds Quinn had with both Carey and with Blake. The romance in If I Lie was done SO right - it was as fragile as love can seem while strengthening Quinn. My heart went out to Quinn as she tried to figure out what she wanted.
There are no easy answers in
If I Lie
. I questioned things, along with Quinn. By the end of
Jackson's
debut novel, my heart felt sore from feeling Quinn's pain. But there's also a lot of hope in
If I Lie
, as well. For such a short novel,
Jackson
packed in a great deal of emotions that stayed with me long after finishing. My one complaint might be that the ending was left too open, but in a way, it was also sort of beautiful, the healing that Quinn and other characters found. I look forward to reading anything else
Corrine Jackson
writes
Other books by this author
:
Touched
(Novemer, 2012 - Kensington Teen)
You're sure to fall for:
Something Like Normal
by Trish Doller
Pushing the Limits
by Katie McGarry
I loved If I Lie SO much that I want to share my ARC with a lucky winner!