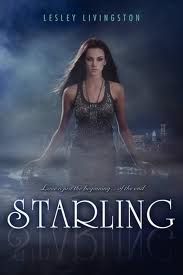 Starling
by Lesley Livingston
Pages:
352
Expected publication
: August 28, 2012 (HarperTeen)
Source:
Borrowed from
Anna
Rating:
Squee-worthy
Add it/Purchas
e:
Goodreads
|
Amazon
|
Barnes & Noble
Connect with the author
:
Blog
|
Twitter
___
"Love is just the beginning... of the end."

Mason Starling is a champion fencer for Gosforth Academy, but she's never had to fight for her life. Until now. When a ferocious storm rips through Manhattan and unleashes terrifying creatures onto Gosforth's campus, Mason barely escapes alive. Without help from the mysterious stranger who appeared in the midst of the storm, she might not have made it at all. But now, in the aftermath, Mason's life begins to spin dramatically, mystically out of control, and the only one who seems able to help her is the stranger who can remember nothing but his name: Fennrys Wolf.

As Mason and Fenn uncover more about Fenn's past and the strange events that surround them, they realize that Mason's family — and its dark allegiance to the ancient Norse gods — is at the center of everything. A predetermined fate seems to be closing in on Mason, but is it possible to change one's destiny?

Readers who fell in love with Lesley Livingston's Wondrous Strange trilogy and those who love Cassandra Clare's Mortal Instruments series will be captivated by the sweeping romance and pulse-pounding action of Starling.
Starling is one of those rare books that manages to juggle non-stop action and danger with a glorious mythos, as well as a touch of romance, yet never feels too busy. Steeped heavily in Norse mythology, this is a story of pulse-tripping adventure, where the stakes are never less than high. Author Lesley Livingston keeps the story moving along at a good pace, yet gives us time to fall for the characters and the fantasy she's spinning around us.
As we are introduced to the main character, Mason Starling, we barely have time to get to know her before a ghastly storm that heralds nightmare creatures attacks Mason and her friends and brother. I've heard it said that character is most clearly revealed in times of trouble, and I think it's true. Mason proves herself to be a brave and caring person, even though she's terrified of the beasts surrounding them. Enter Fennrys Wolf. *happy sigh* Fennrys saves Mason and her friends, and seems able to handle himself dangerously with a sword, yet knows next to nothing about his life. Fennrys's strength of character compliments Mason's own - for all his oddities, he's still a person capable of great empathy and love, as we discover throughout the course of Starling.
I almost don't know what I can say about Livingston's novel that will make any sense - it's THAT good, so good, in fact, that although I finished it almost a week ago, I'm STILL thinking about it and wondering where the characters will go next. I fell head over heels for Mason, Fennrys, Cal, and Roth (Mason's brother.) I loved that all these characters felt so REAL, like people I might have gone to school with or worked with, and I liked that we got to peek into their various points of view, although the main POVs belonged to Mason or Fenn.
Plot-wise, the storyline is just as richly developed as the characters. Between the various mythologies at work, which gave Starling the sense of being just steeped and wrapped in mystery after mystery, and the knowledge of competing entities, all who are working against one another to bring about different results, I was HOOKED in no time! Add in Fennrys and the enigma that he is, and I couldn't stop reading Starling! The more I read, the harder I fell for Fennrys, not to mention his incredible bond with Mason. I loved their interactions so much - and never fear folks, there's no insta-love here, just two people with an amazing connection, and more of a beginning than a "be-all-end-all-overnight" relationship. Nevertheless, it's clear that Fenn and Mason care about one another!
Lesley Livingston's novel is a breathless thrill-ride with a delicious touch of darkness. I had hardly recovered from one twist before there was another one staring me in the fact. By the end of Starling, I was SO bereft that it was over, because Holy Mother of Cliffhangers! My only complaints are that a few things seemed to happen TOO easily. But beyond that...I will DEFINITELY be splurging on a beautiful, finished copy so that I can re-read this amazing novel!
Other books by this author: